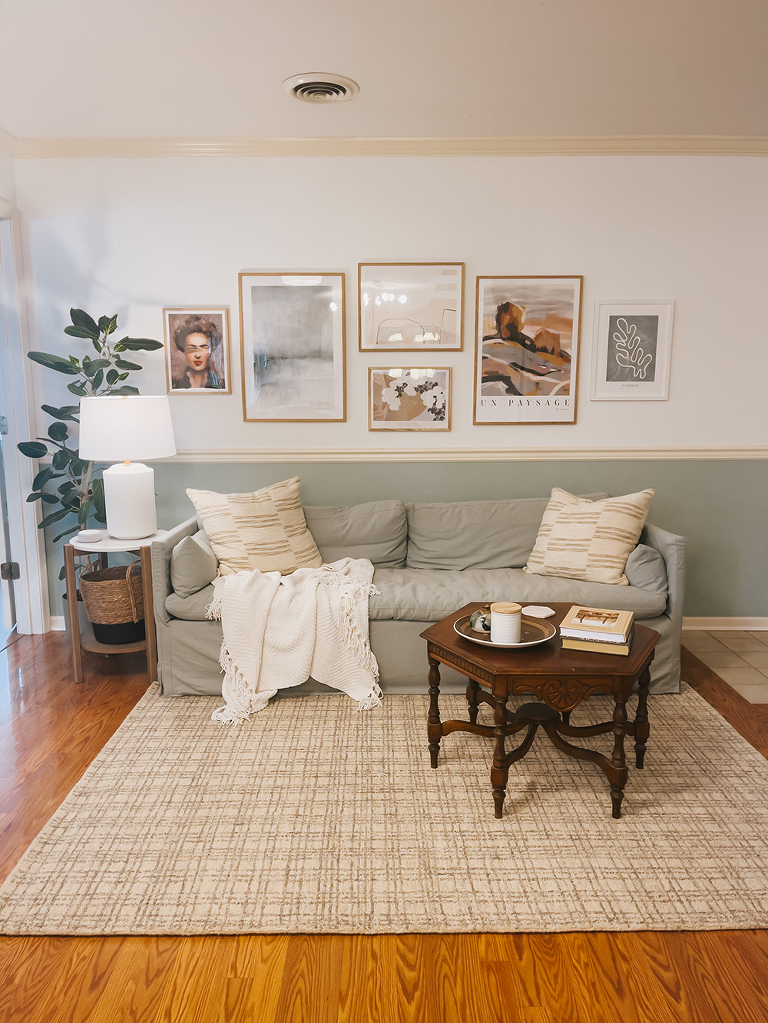 *Today's post was made possible by Loloi, and features gifted product for the purposes of a candid review. All opinions are my own.
Now, to be honest, I'm not one to usually get overly hyped about sales days (the mayhem of Black Friday completely confounds me), so trust me when I say that I'm not encouraging irresponsible consumerism here with today's blog post. This is intended more as a review-style theme based around the Loloi rugs that I heard will be available for a discount during this year's Amazon Prime Day sale. These rugs have all been physically laid out in our home over the years, so I can give you my real life opinion, that way you can decide whether the sale fits your needs and is worth it or not. I can say with confidence that each and every one of the five rugs I'm about to tell you about are worth the price—even if the sale is over by the time you're reading this! Let's dive into the details.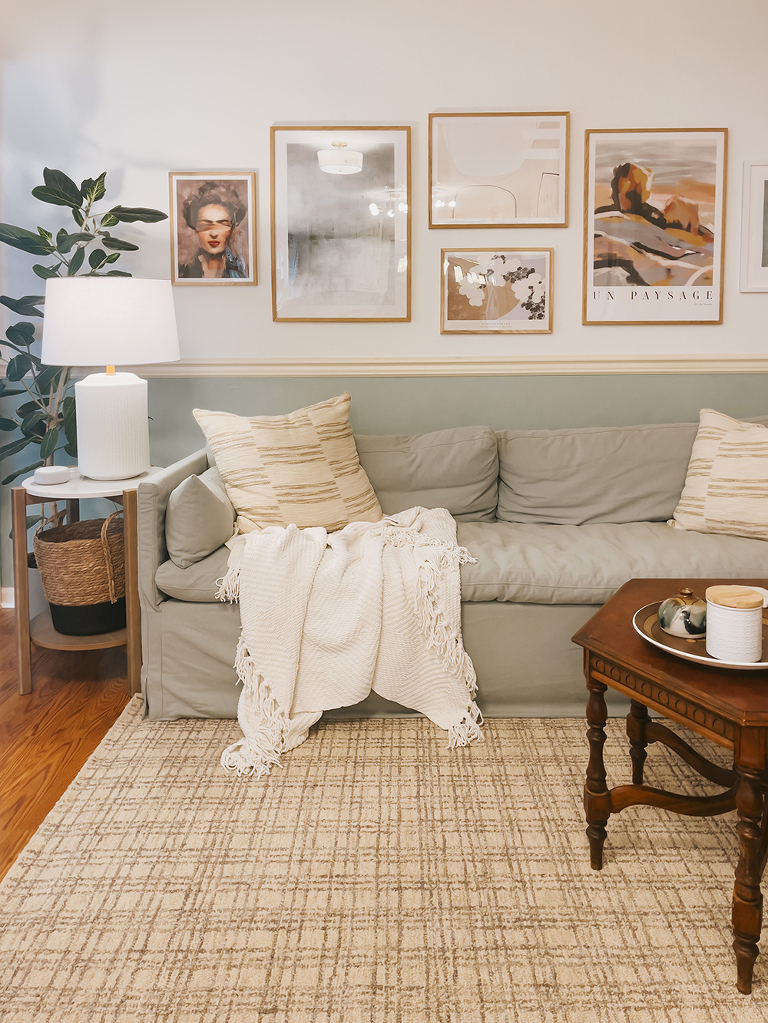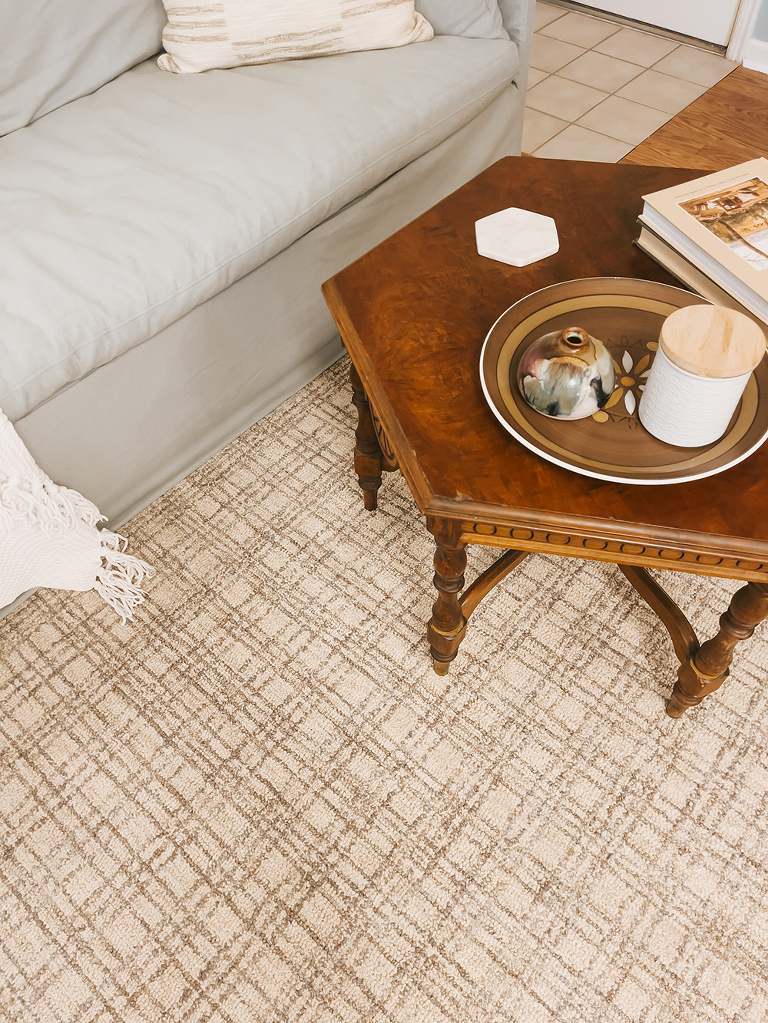 Polly – POL-03 CJ Antique / Mist
The first rug I'm going to tell you about is the newest addition to our collection. I ordered it with the intention of layering it into the nook just off our kitchen, and it was the perfect fit! This design is called the Chris Loves Julia x Loloi Polly – POL-03 CJ Antique / Mist, and we got it in the 5'x7'6" size to fit this slightly awkward pass-through seating area. I wanted something with a light-colored background in it to help brighten this naturally dark space, and it worked like a charm. This rug is extra thick underfoot, and the hand-tufted wool and jute construction makes it really durable, too, which is key since it's situated right by the garage entry door, kitchen, living room, and sunroom. In other words, we walk across this rug a lot, and it has held up great so far.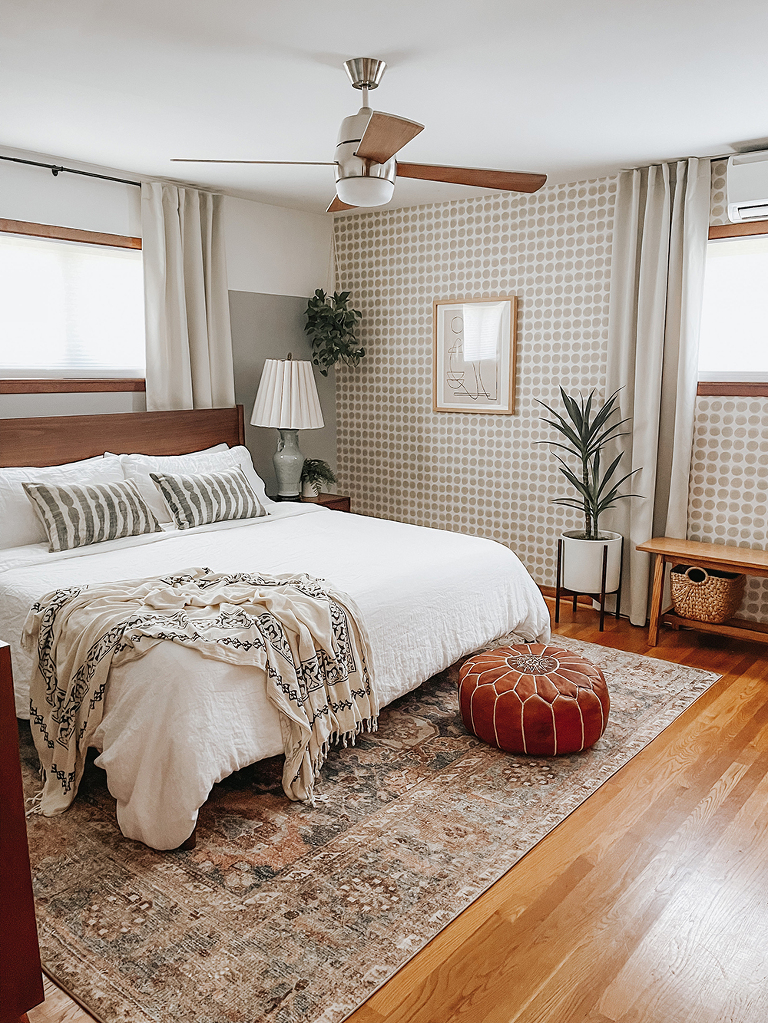 Margot – MAT-03 Area Rug
If you haven't tried a Loloi rug featuring CloudPile yet, you're missing out. These ultra soft area rugs feel almost like a chenille blanket on top, but have a very thick durable backing that helps them stand up to everyday wear and tear. We had the Margot – MAT-03 Area Rug in our main bedroom at the old house, and John and I were immediately hooked on that soft CloudPile texture. I really love the vintage-inspired multi-color pattern on this rug, too. I should mention that the CloudPile feels really delicate and luxurious, but it's actually very easy to clean. It stood up to everything we (and, more importantly, our pets) tossed at it on a daily basis.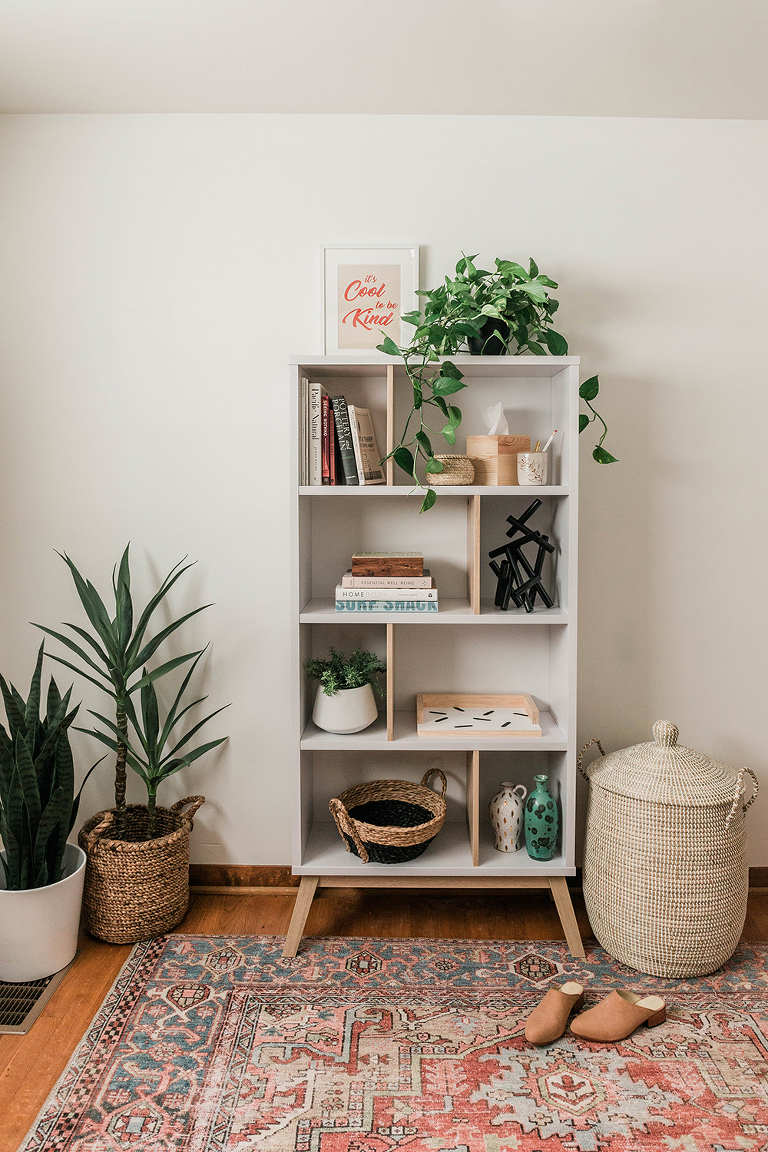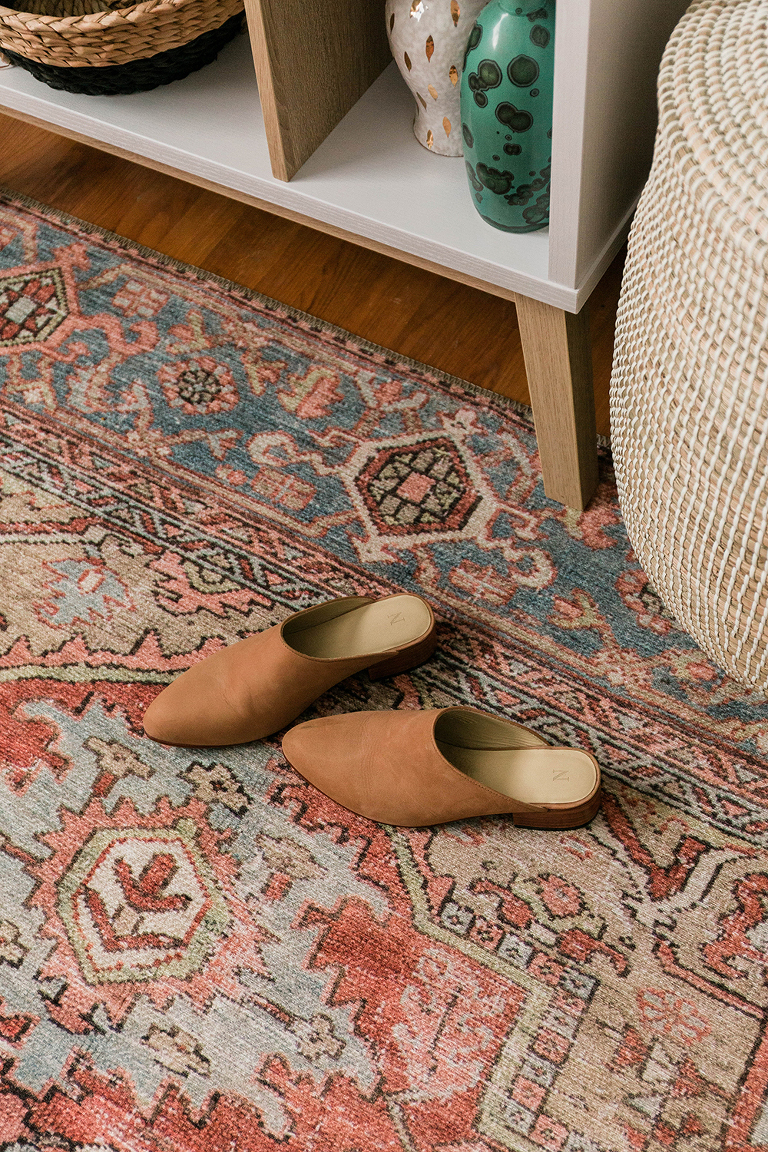 Loloi II Loren LQ-15 Terracotta/Sky
I think one of the most-asked-about rugs on my blog and Instagram is the Loloi II Loren Collection LQ-15 Terracotta/Sky. The bold color palette is so eye-catching thanks to the combination of red, pink, blue, charcoal, and cream. There's even a hint of light green running through the pattern that helps make this rug feel extra youthful and energizing. The flat printed texture of the area rug also makes it a breeze to clean, and doesn't shed at all.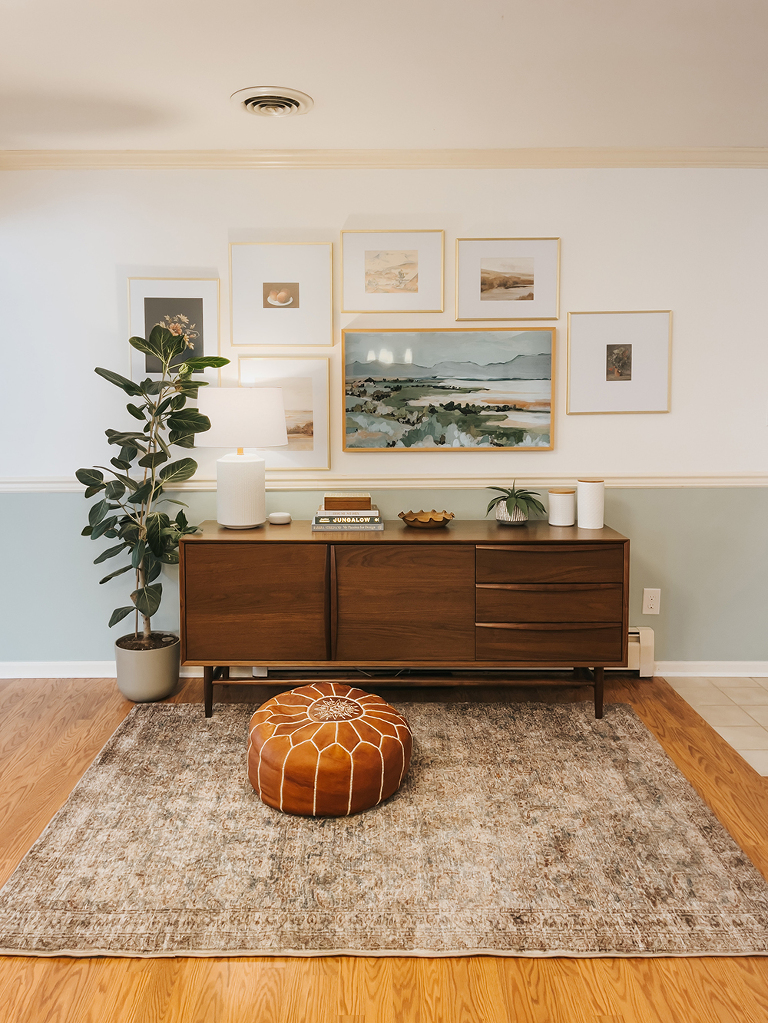 Morgan – MOG-04 Area Rug
There's so much to love about the Amber Lewis x Loloi collection—especially this particular Morgan – MOG-04 Area Rug. It, too, features that CloudPile texture we love so much, and the variation in the pattern on top looks so authentically vintage, but without the high price tag and delicate construction. The earthy color palette makes it a good fit for nearly any room since the colors don't distract from other décor elements in your home. It's a very understated focal point, which some rooms need rather than something so in-your-face that you can't look away. The Morgan is very sophisticated, in my opinion, and is definitely one of my all-time top picks.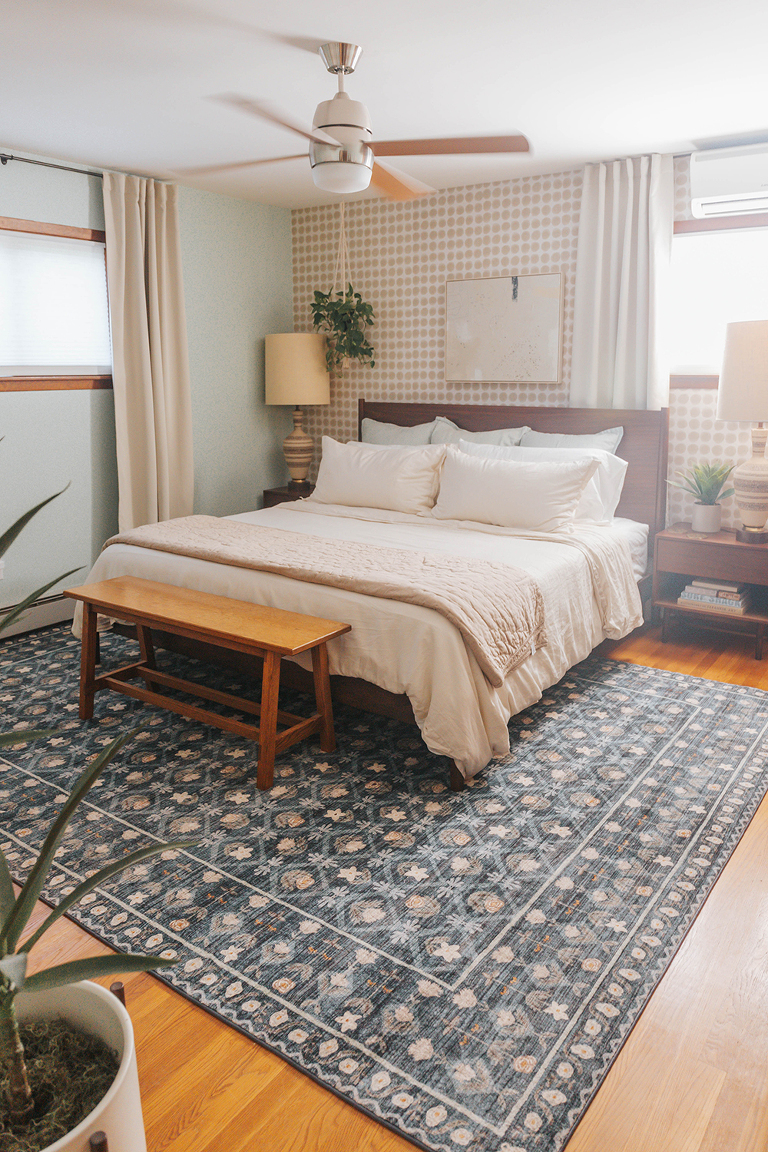 Eden Collection EDE-03 Lattice Indigo
Lastly, I wanted to mention the Rifle Paper Co. x Loloi Eden Collection EDE-03 Lattice Indigo Area Rug. I styled this for a blog photoshoot in our main bedroom at the old house, but ultimately gifted it to my parents for their living room. That space in their house is used constantly by Mom, Dad, their pair of cats, and two massive black labs. Somehow the rug has stood up well to those sixteen paws, with only a few snags to be seen since laying the rug down a year ago. Happily, those initial snags are all easily clipped away, and it's good as new. Again, the CloudPile texture makes it a family favorite. My sister and I have been known to lay across it to watch movies during the holidays, and it's just as cozy as any floor blanket would be. Oh, and isn't that floral pattern just a dream?! We love it.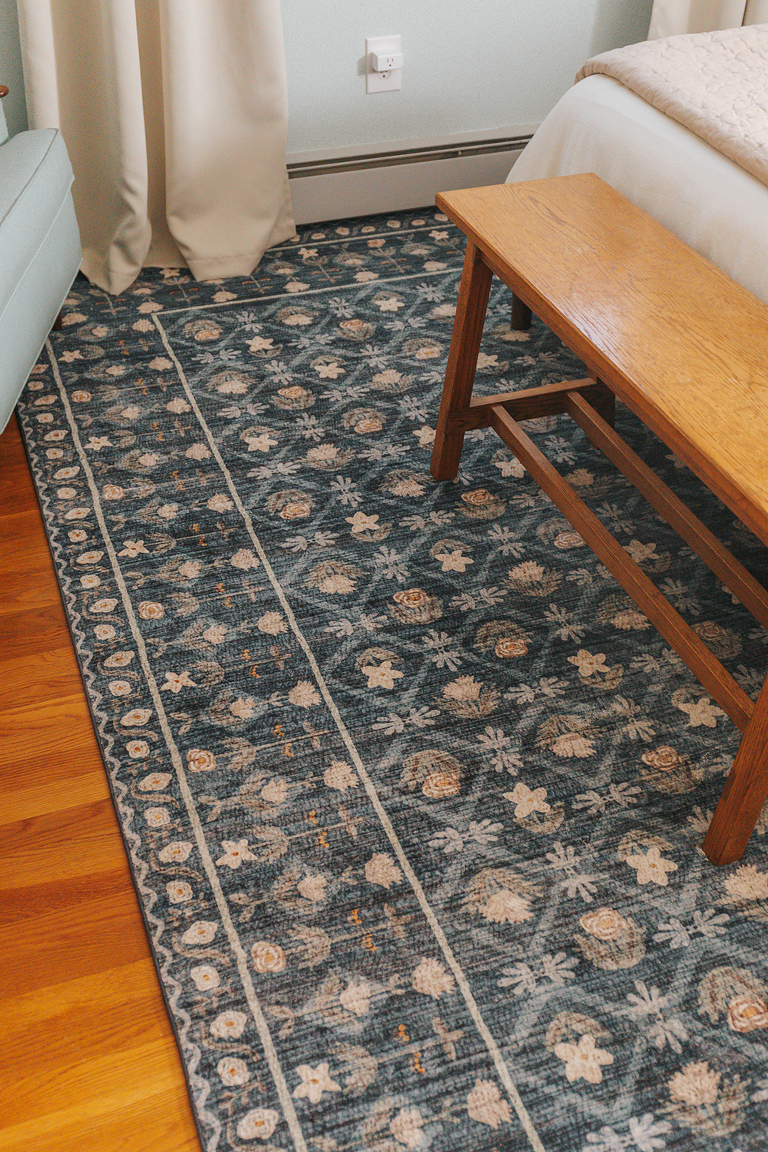 So there you have it—five of my favorite Loloi rugs from over the years. I wish that I could tell you exactly how much the rugs will end up being during this year's Amazon Prime Day sale, but the algorithm apparently changes in real time depending on stock, demand, and other complicated digital parameters. I've got my fingers crossed that the deals are all still rolling when you're reading this.
Let me know in the comments if you spot any other Loloi rugs in the sale that I didn't mention here. I tried to call out only the ones we've actually had ourselves, but there are going to be dozens of other options included in the sale, too. I can help you make a good decision based on the rugs we've had plus reviews I've read from my fellow Loloi lovers in the home design influencer realm. Just ask below or shoot me a message here!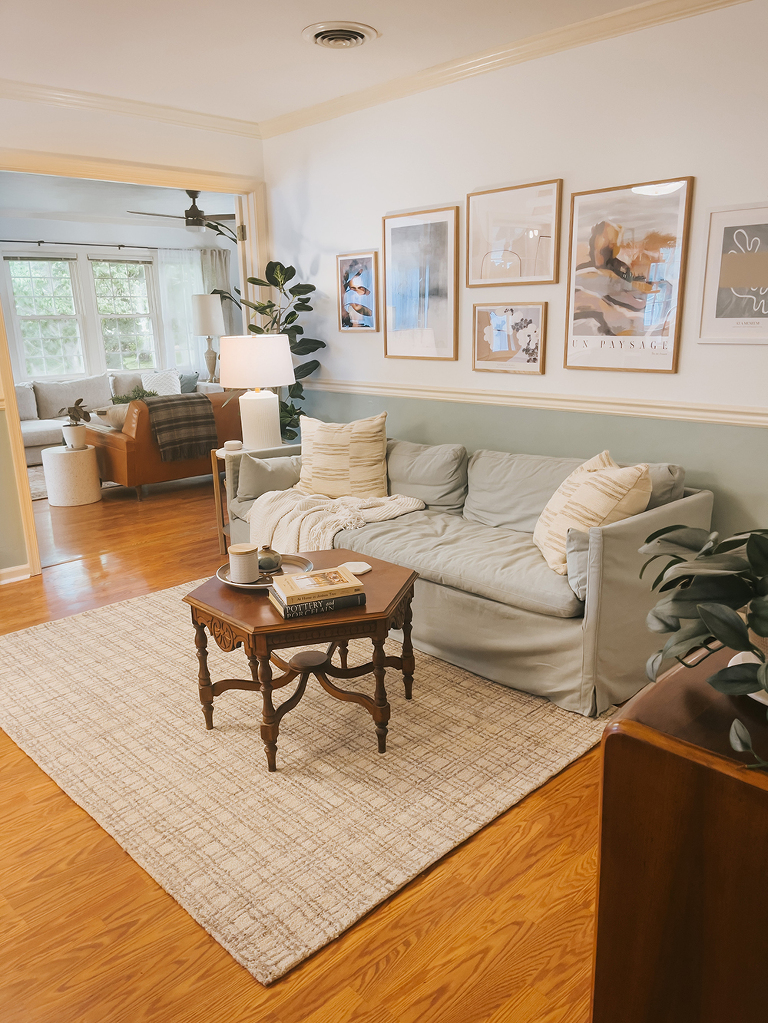 *I earn a small percentage from purchases made using the affiliate links above. Affiliate links are not sponsored. Rest assured that I never recommend products we wouldn't use or don't already love ourselves.