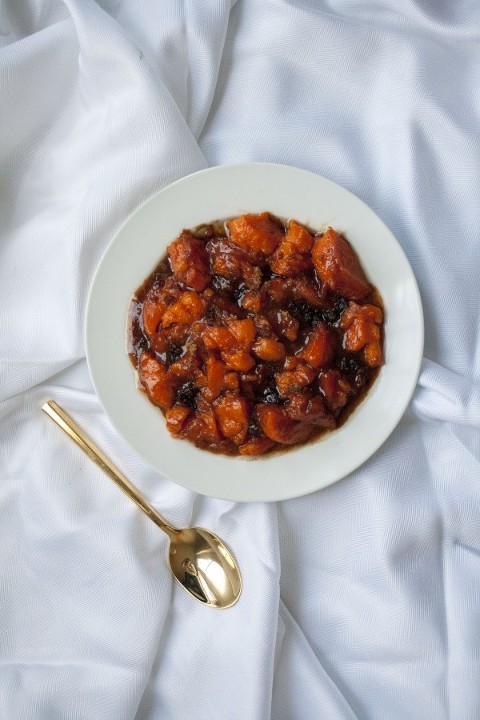 Yams are a brand new thing for me. Either mom just didn't cook them back in the day, or she graciously allowed my picky tendencies to skip them, but I don't really remember yams being a star player on our Thanksgiving tabletop. For John, it's a different story though. To this day, his mom always brings a platter of candied yams to the table, and so this year I decided to try my hand at the dish in our house. Happily it was as easy (and tasty!) as can be, and the perfect way to finish off our Thanksgiving table.

1 pack frozen yam patties
3 tablespoons butter
1/3 cup brown sugar
3 tablespoons water
1/2 teaspoon salt
Start by preheating your oven to 350 degrees. Next, lay the yams in a baking dish, side by side in rows. Pour the remaining four ingredients into a pan and simmer over medium heat, stirring constantly until combined. Pour the sauce over the yams, and then bake for 20 to 25 minutes. Gently break the cooked mixture up into bite-sized pieces with a fork and then pour into a serving dish. Enjoy immediately!
In case you missed them, be sure to click back to my recipes for Couldn't-Be-Easier Turkey, Broccoli + Cheese Casserole and John's Famous Mashed Potatoes. And don't forget to enter for your chance to win a $200 Minted credit to put towards your own holiday fête.