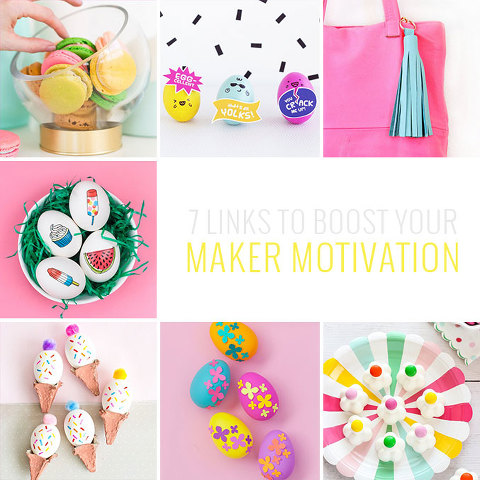 We here in Virginia are experiencing the most blissful weather this week! It has been just dreamy to be able to work out in the sunroom with the fan going and birds chirping like mad right outside the window. The bad news though is that our good weather streak apparently isn't going to last for long because they're calling for 30-degree temperatures and snow on Sunday. Yup. On the first day of spring.
Oh, well! At least the slightly sad weather will give me an excuse to stay in and put our Easter plans into place and holiday crafts into motion. Here are seven spring-themed links that caught my attention this week.
7 DIY Links To Boost Your Maker Motivation
And in case you missed some of the fun content that went live right here on DGD, click back to see My Top 10 Mid-Century Inspired Fabric Patterns, a quick DIY Semi-Permanent No-Sew Patched Straw Hat, my DIY Easter Wine Glass Charms & Spring Punch Recipe, and a breakdown on How To Properly Hang A Woven Rattan Chair. Got a fun link of your own to share? Drop it in the comments!
Get daily maker inspiration on Pinterest