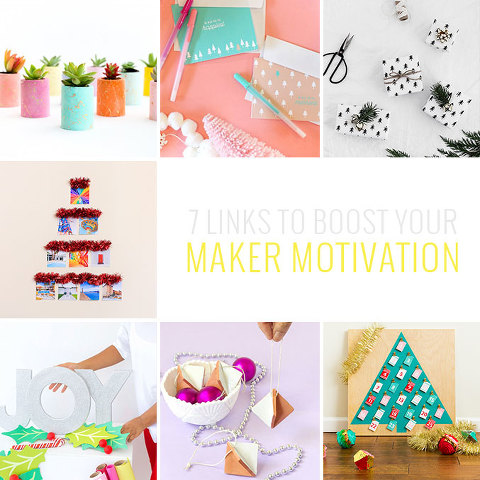 Anyone else feeling drained this week? I wasn't all that busy, but I guess it was just tough getting back into the swing of things post-Thanksgiving. I'm also just counting down the days until my big Christmas/New Years vacation, so I think I'm not fully "out" of holiday mode, which is making motivation hard to come by.
Thank goodness for the Michalaks' YouTube channel, which has helped get me through the more mundane tasks on my to-do list. In other news, here are seven fun Christmas crafts that caught my eye this past week!
7 DIY Links To Boost Your Maker Motivation
And in case you missed some of the fun content that went live right here on DGD, click back to see a list of 10 Personalized Gifts They'll Love This Christmas (including a $250 giveaway!), my tutorial for A DIY Painted Wall Block, a list of 20 J.Crew Factory Gifts For Girls This Christmas, and 14 Bloggers Share Their Christmas Traditions. Got a fun link of your own to share? Drop it in the comments!
Get daily maker inspiration on Pinterest