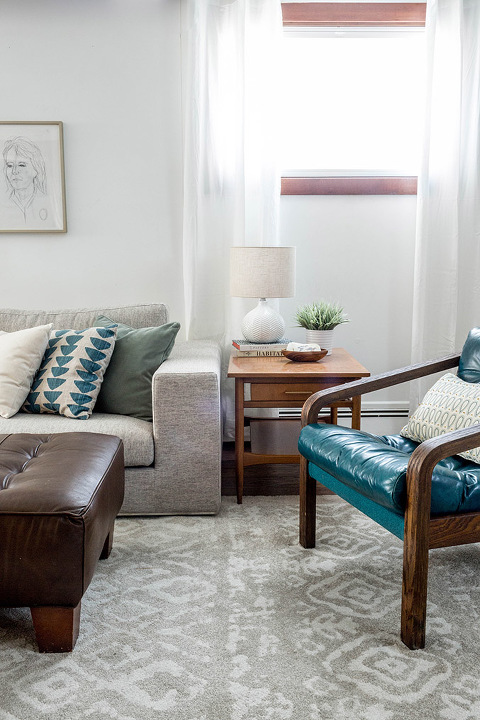 We've lived in two houses, and waited more than seven years, but John and I finally have the sectional we've always dreamed of. It's no secret that a new sofa (whether sectional or standard) is an investment, and we just never felt like the timing was quite right for pulling the trigger. Our last house was just too small to accommodate the behemoth of a sofa we dreamed of, so we waited until we moved to a larger home.
But since moving into said larger home, we played it safe. John was overwhelmed with the idea of coordinating such a large furniture delivery, and I think I was nervous about my ability to design a space around such a big sofa, so we waited some more. Happily, we've since gotten over those worries (thanks to some careful measuring and re-measuring) and are the proud owners of a new Interior Define sectional that we couldn't love more. It's almost like the piece has officially turned this house into a home because we waited so long for it.
You might already know that I'm typically an "instant gratification" type person, but adding such a major piece like this one to a space really requires some thought and planning. I'm glad we waited, but I sure am glad that I finally get to share the finished look with you guys today. Scroll on for the mini tour and for my tips on styling a large sectional sofa.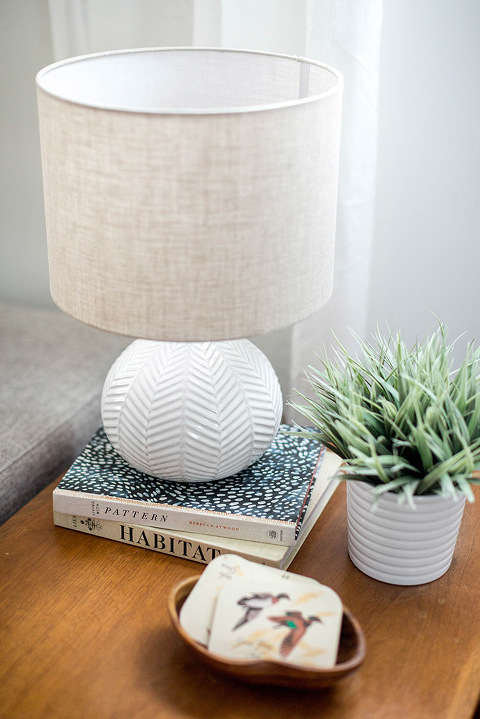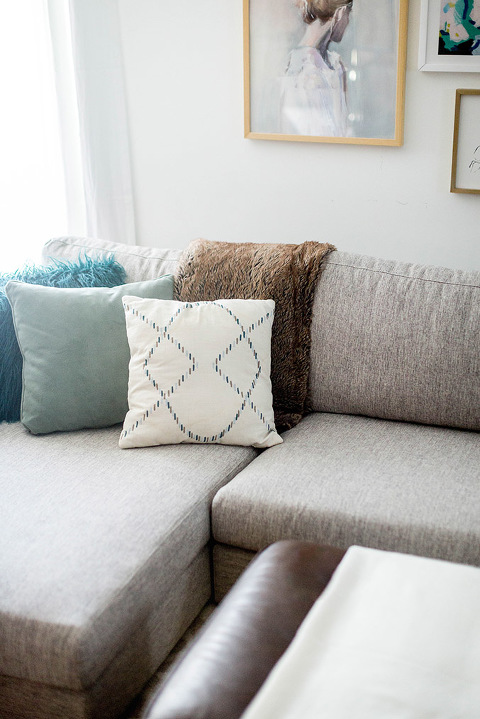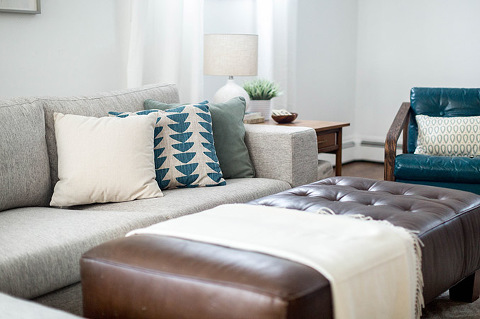 I think one of the main reasons this particular sectional blends in so well with our existing decor (see the room before here) is because we chose such a neutral fabric. Our Walters sectional sports Interior Define's "Earth" cross weave, which has a bit of a textual look to it—perfect for masking pet hair, of which our home has a lot—but the soft gray color keeps the sofa from taking over the room visually. Instead, it blends in with the white walls a little bit, making it a gentler type of focal point.
The ultra low profile of this particular sofa design also gives it a softer look that doesn't overwhelm the room. Because the sofa sits so close to the floor, it makes the room feel like a true lounge. You walk into the space and immediately want to flop onto the cushions.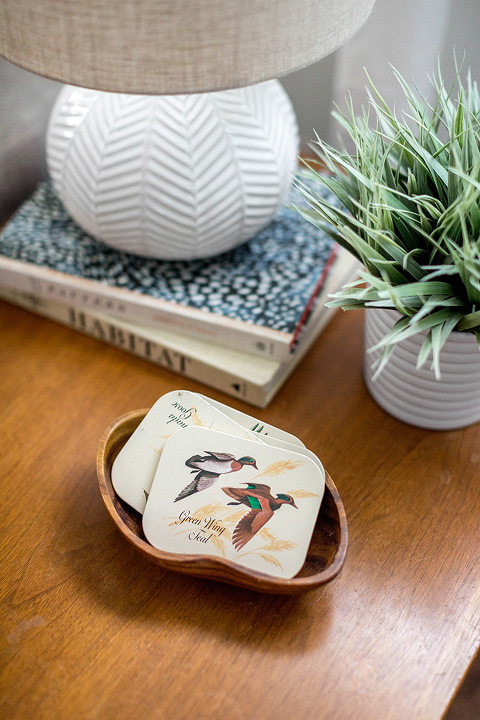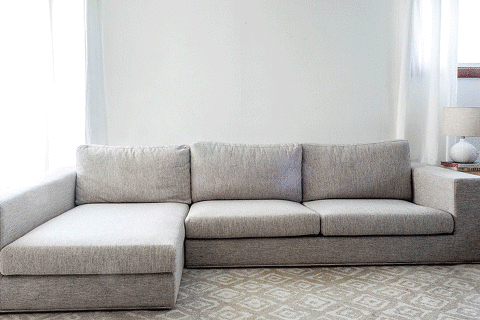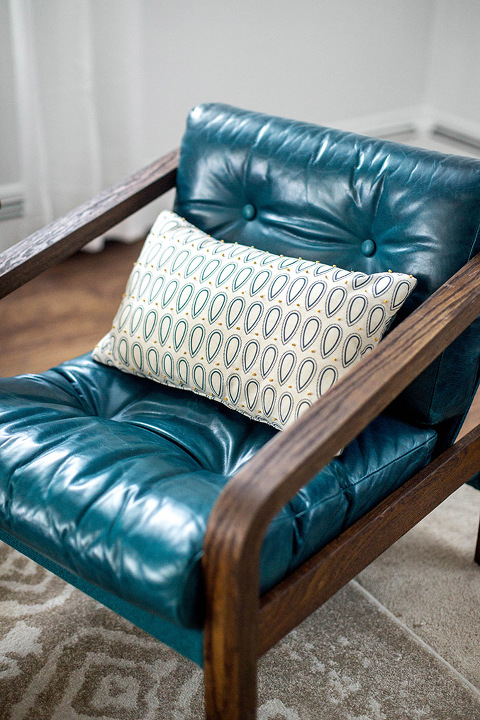 As for the styling, you may remember when I asked for your help in deciding on a particular mood board to base the decor of the rest of the room around. Between your comments on the blog post and social media, a blend of the two designs seemed to win out—a gallery wall rather than a single piece of large scale art, more wood furniture, cool-toned accents, and a few metallic elements, too.
While the mood boards I put together gave me the excuse to purchase new pieces to go with our sectional, I decided to try using things we already owned. Unforeseen complications in our mid-renovation hall bathroom have us pinching pennies, so I managed to rearrange a few pieces of art we already had to create a gallery wall, pulled throw pillows from other rooms in the house, and even reused the tufted ottoman we already had.
While I certainly would have loved the go all out with brand new everything, this project and exercise helped me see that rearranging things we already have and shopping our own home can make a room feel brand new—even if only one piece really is truly "new."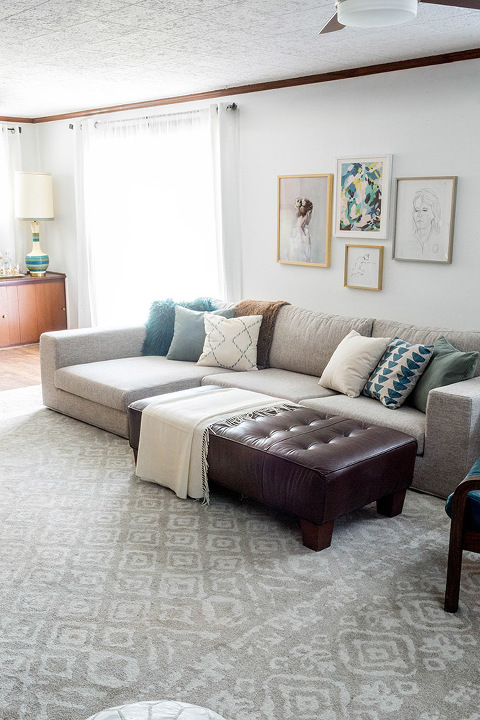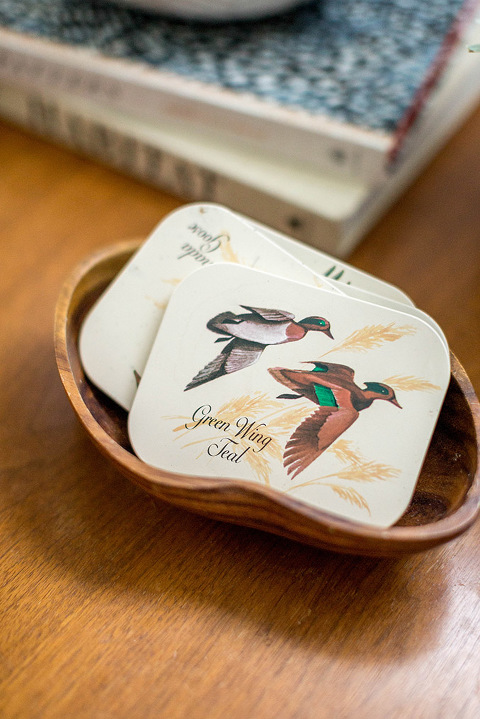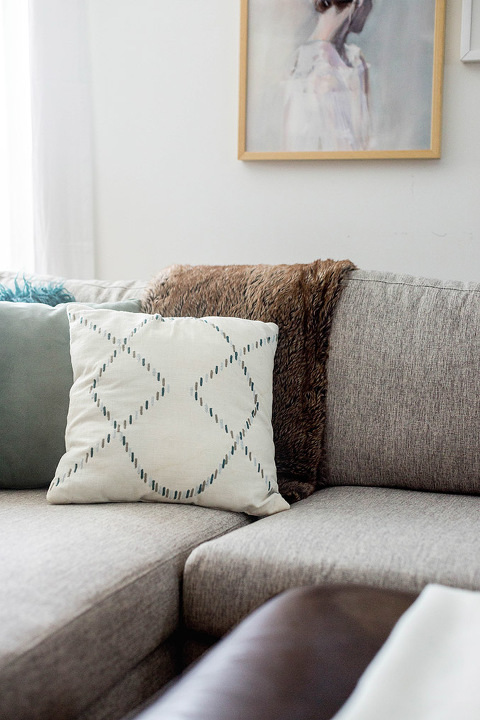 Having never owned or styled a sectional sofa before, I didn't realize just how many throw pillows you need to fill one up. We actually upsized our sectional to the 115-inch option (you can add length to your own Interior Define sectional with a quick mouse click before ordering), so it was fun to pack ours with cozy, feather-filled pillows perfect for lounging.
All told, I managed to get 6 on the sofa, and have actually added a seventh since this photoshoot happened. And the good news is that these throw pillows aren't just for show—John and I love creating little "nests" with the pillows along the expanse of the sectional as we cozy up for our nightly Netflix viewings. A couple of throw blankets draped over the ottoman and back of the sofa finish off the styled textiles and provide even more functionality.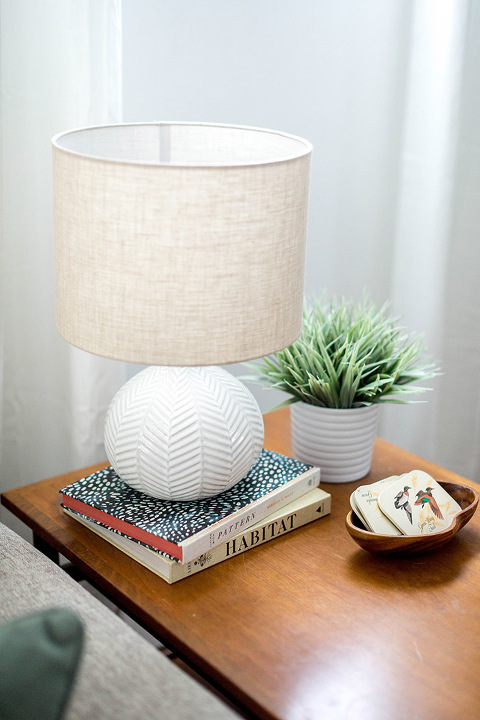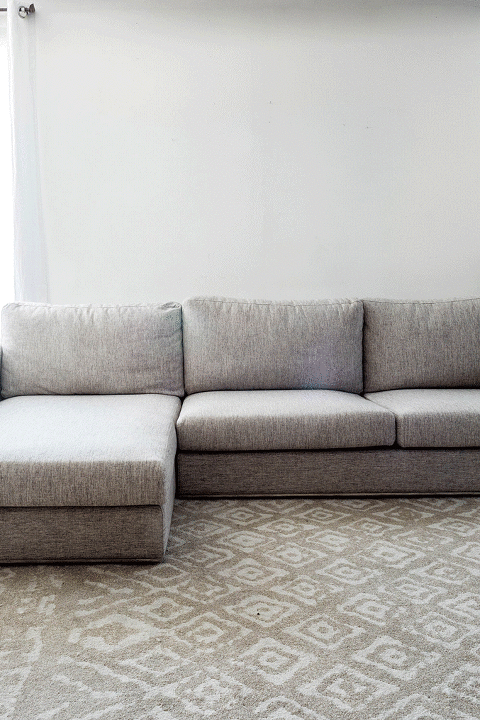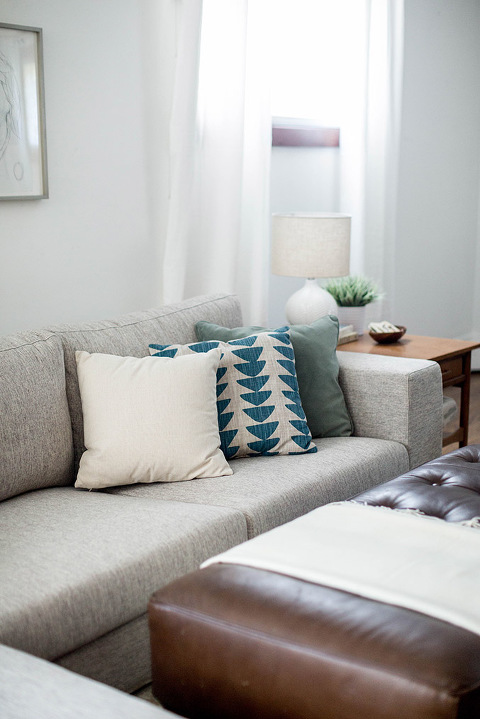 So what do you think of the final look? Don't you feel like this room was just begging for an oversized sofa now that you see it in place? I wish I could invite you all over to test it out in person with a bowl of popcorn and a Disney movie. Thanks, as always, for following along, and for helping us choose the right look for our room as we pulled it all together for today's final reveal!