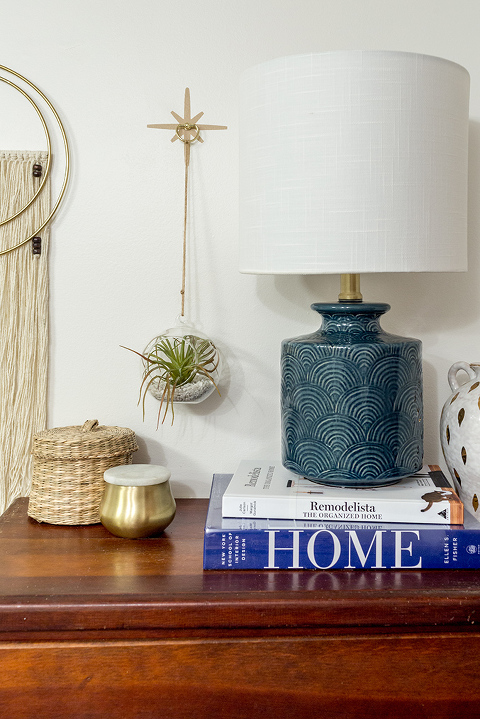 One of my very favorite parts about crafting on a regular basis is that each project teaches me to get more and more creative with materials. I love rethinking supplies to give them uses that go beyond their more traditional purpose (think: wallpaper used as a drawer liner, or embroidery hoops turned into a jewelry organizer).
So, when National Hardware reached out with a challenge to use their screw rings in a crafty home décor project, I was quick to accept—we're talking lightening fast. Scroll on to see how I turned a simple brass screw ring into a DIY hanging air plant holder, including a brand new video that shows the process in action!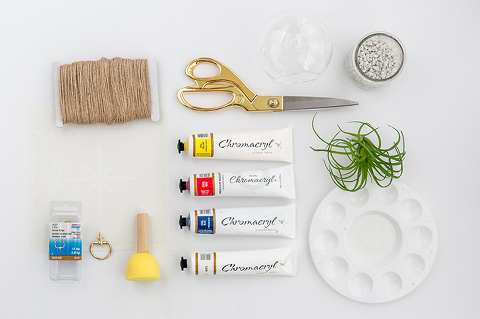 Here's What You'll Need:
Twine
Scissors
Mini glass globe
Pebbles or small rocks
Air plant
Acrylic paint
Plastic paint palette
Paint brush
Round foam pouncer
Stencil
Drill and drill bit
Wall anchor
Hammer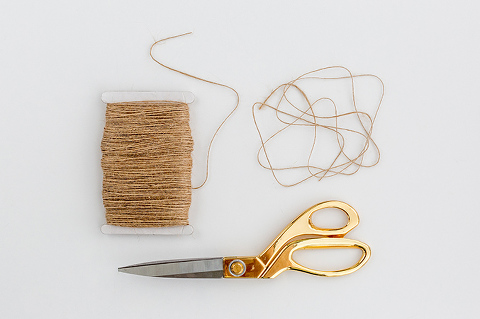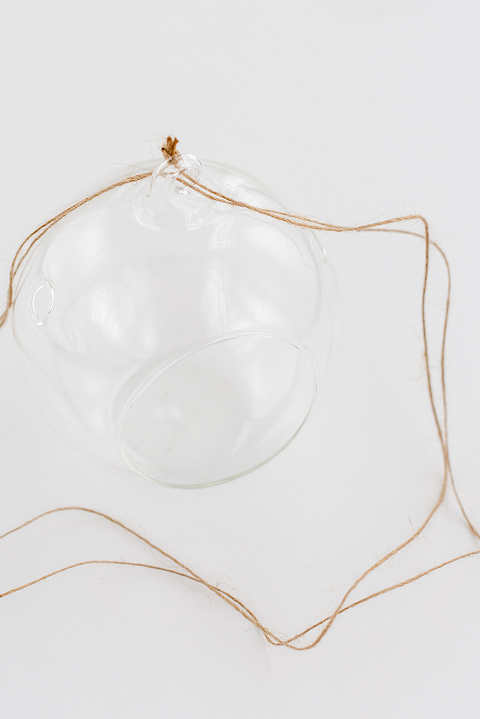 Step 1
Cut about 3-4 feet of twine off the spool, depending on how low you want your air plant to hang. I always tend to cut more off than I need since it's easier to trim off excess at the end as opposed to having to recut a longer length of twine. Run the twine through the top of the glass globe (I did this twice for added strength), and double knot the twine at the ends.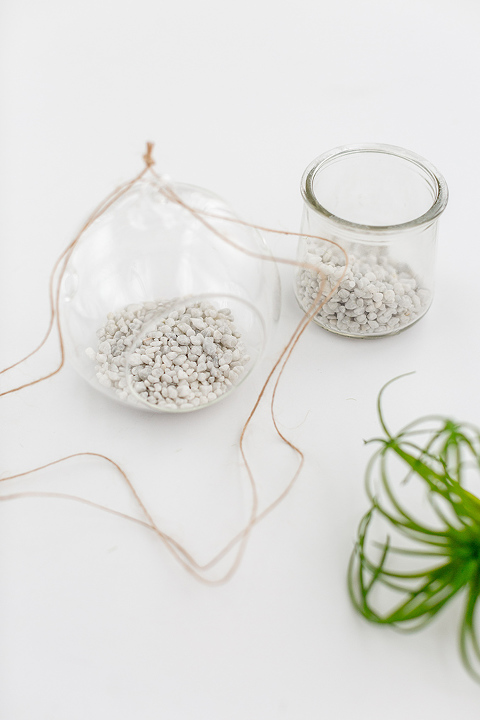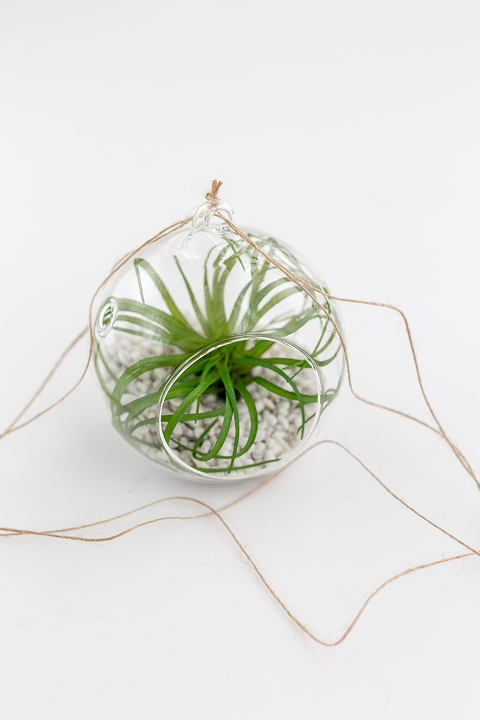 Step 2
Fill the globe with pebbles or small rocks, and then push an air plant into the globe, aiming the stem end down into the rocks. I actually used a faux air plant since I tend to have bad luck keeping real plants alive.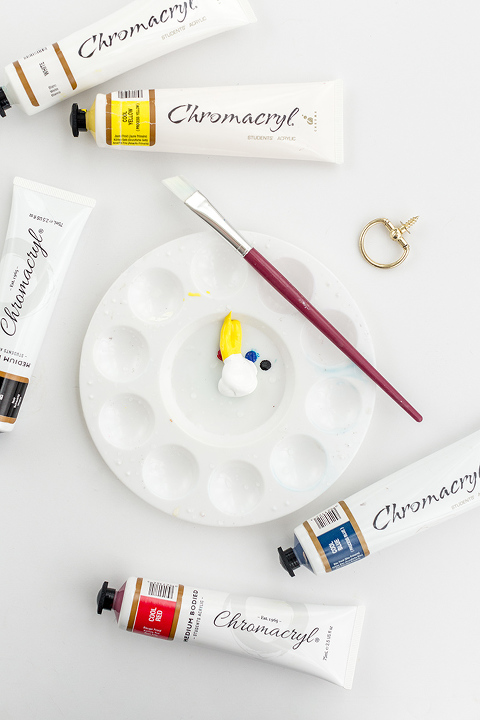 Step 3
Next, it's time to mix your paint. You can choose any type of accent color you'd like for the stenciled shape, but since this design calls for the stencil to be right behind the screw ring, I decided to try my best to match the brass color of the ring itself for a seamless look.
I started with the proportions of paint you see in the photo above—tiny dots of red, blue, and black, alongside large dollops of white and yellow. After mixing the colors with a paint brush, I was left with the color you see in the photo just below. To make it match the brass ring just a little bit better, I added another dot of blue and another hearty squeeze of yellow paint. The resulting color is seen in the photo two images down.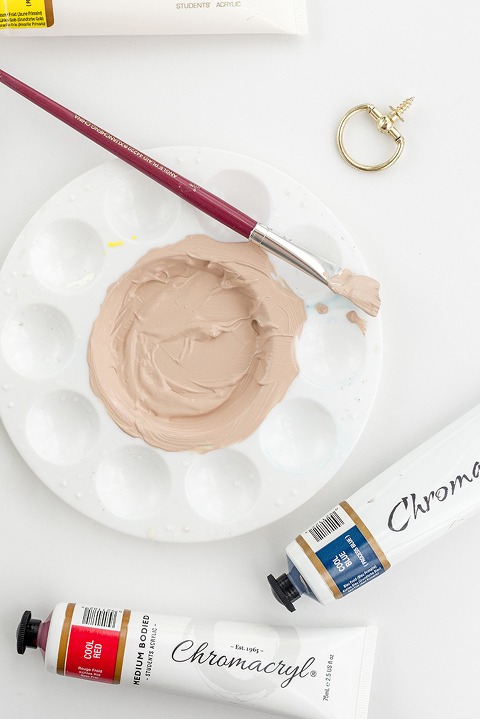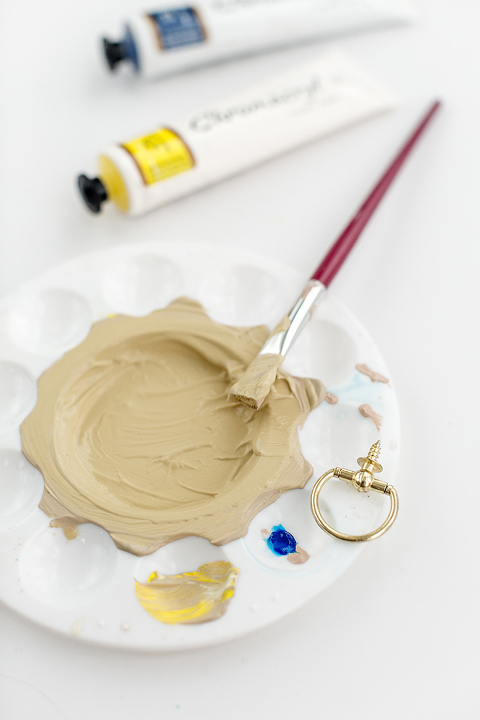 Step 4
Now, go ahead and stick your stencil to the wall right where you'd like your screw ring to be. Our retro starburst stencil came from Etsy here, but you can use any shape you'd like. Press the edges down firmly with your fingertips, then use a drill and drill bit to put a hole in the wall toward the center of your stencil. Hammer a wall anchor into place, and then use a round foam pouncer to cover the entire area (anchor, and all) with the paint you mixed in Step 3.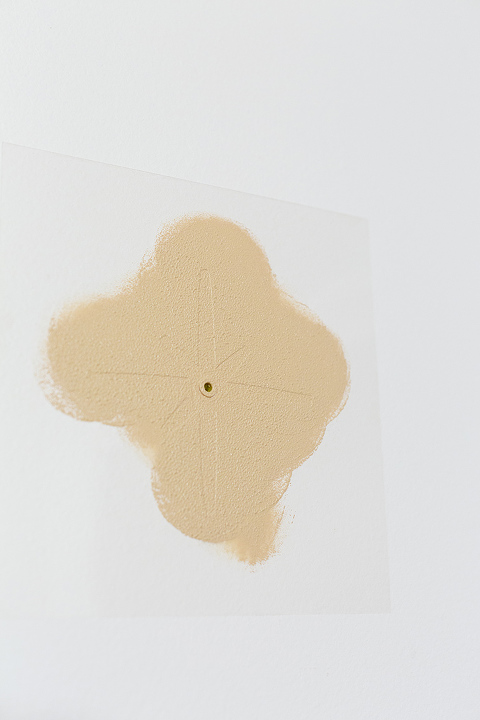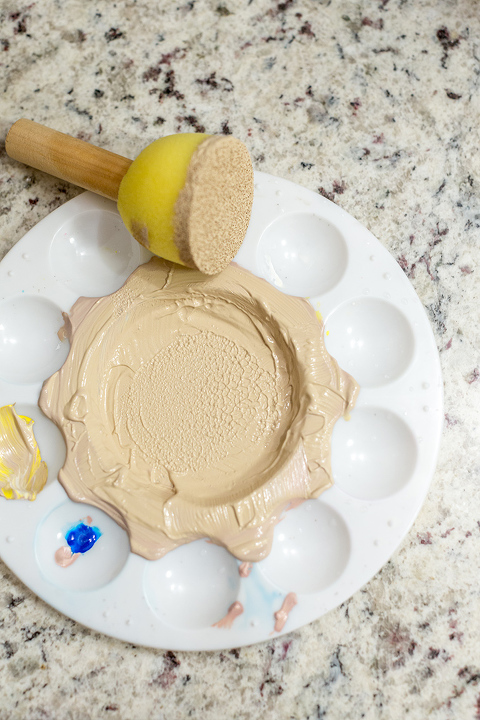 Step 5
Remove the stencil while it's still wet, then allow the paint to dry for about an hour. Finish by screwing the screw ring into the anchor in the wall, and knot the globe through the ring by feeding the tail of the twine through the screw ring, looping the globe through, and pulling down. You can see this step demonstrated in action in the video I share next.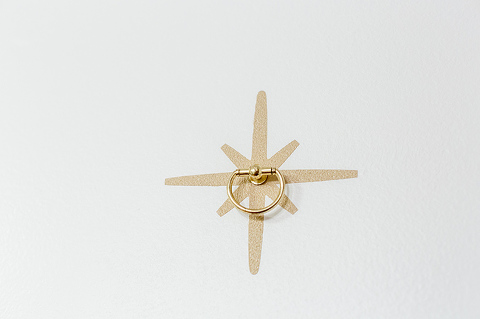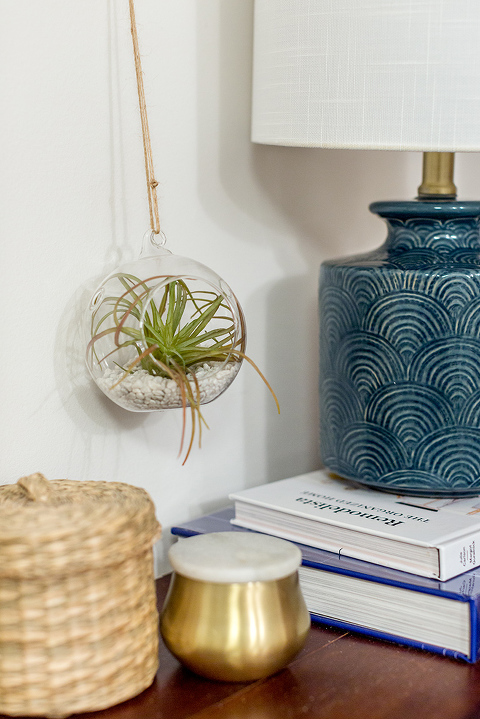 Click 'Play' above to watch the entire process, or visit our YouTube channel to see the tutorial in action over there. This turned out to be such a fun project to work on, especially since it gave me an excuse to think creatively about how to use a screw ring at home. Before I knotted the air plant holder to the screw ring, my mind was racing with thoughts of using the stencil and ring to create a DIY drawer pull (sort of like this). Can you picture it in the shot two photos up?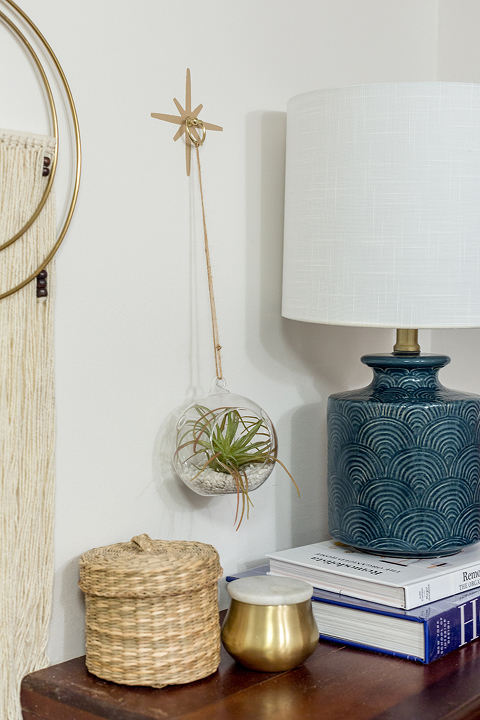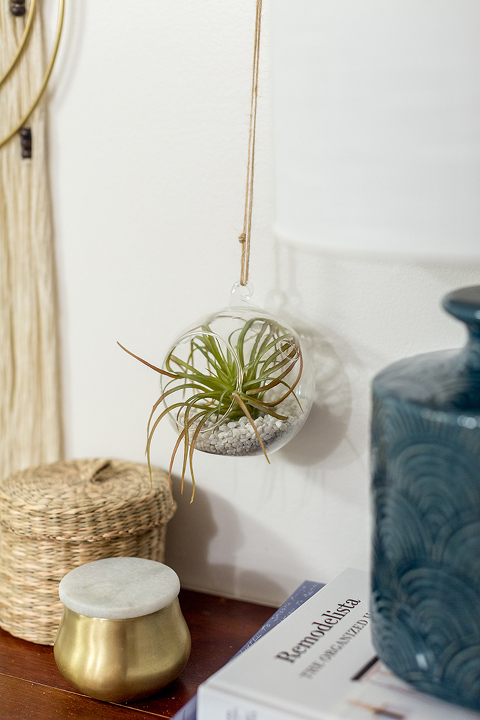 Big thanks to the folks at National Hardware for partnering with me on this fun project, and feel free to shout out your own ideas for repurposing a brass screw ring in the comments below!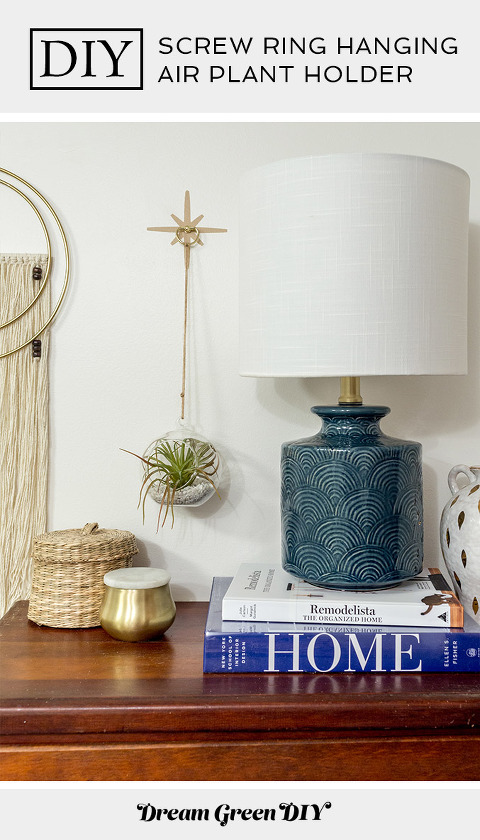 *I received payment and free product from Spectrum Brands to produce this project and post. The opinions expressed here are my own. Thank you for your continued support of the brands who support Dream Green DIY.
**Don't forget to sign up for the Dream Green DIY newsletter! The next issue hits everyone's inboxes tomorrow, and includes our family recipe for banana bread. You can sign up to get on the newsletter email list here.