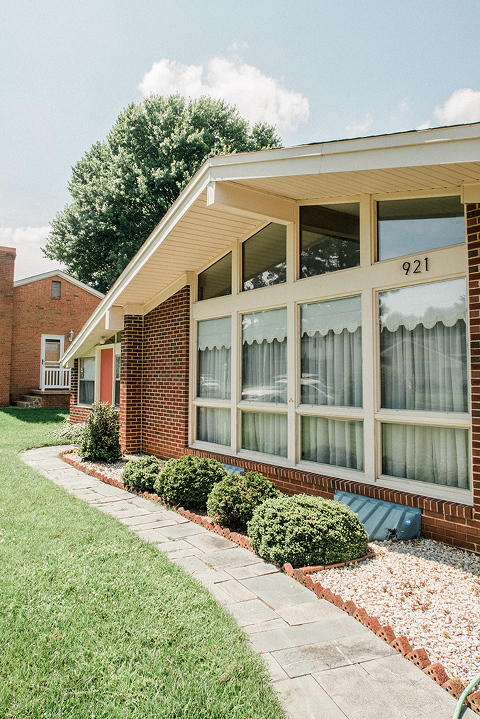 It's 8:43 a.m. on Friday morning as I type this, and I'm going a little bit out of my mind. Why, you ask? Well, we're currently playing host to a crew of people who are replacing our old roof. I'm an INFJ personality type, which is relevant purely because we INFJs are extremely sensitive to loud noise. It's a stress trigger, so to say I'm a little on edge because of the incredible commotion going on at our house right now is an understatement. A big one.
I knew I was going to be stressed when the roofers finally made it out to our house for the job, but the contractor we chose didn't quite warn me of the actual day he planned to send his crew. They are truly some of the nicest people I've ever met, but the fact that they showed up this (Friday) morning at 7 a.m. sharp, with me still in my pjs, was a tough pill to swallow. Maybe it's better that I wasn't able to mentally prepare, though. All this to say that we've got a lot going on at our house! Let me explain.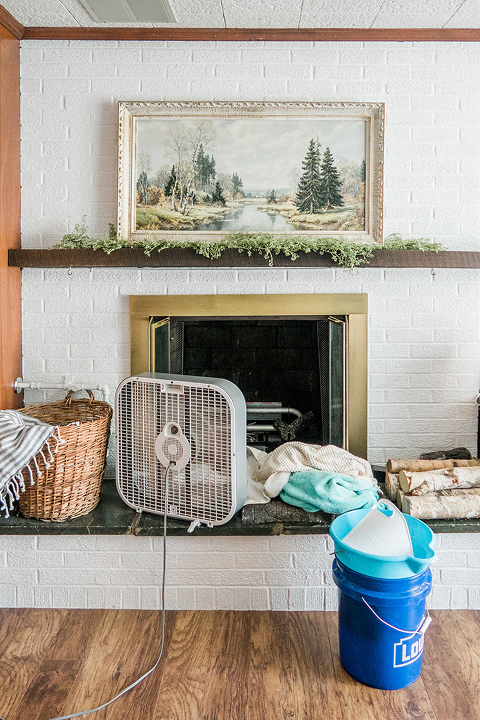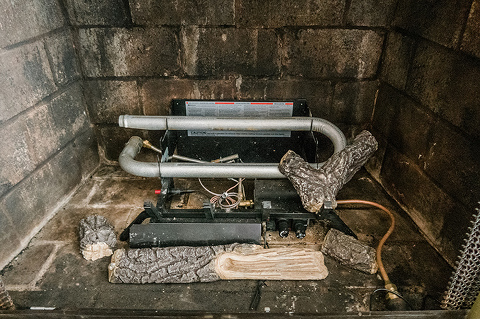 The main issue that got the ball rolling on plans for a new roof was actually our fireplace. I know. Sounds like a funny place to start for inspiring a brand new roof, but it turns out that things can snowball quickly with home repairs and maintenance.
Long story long, John and I were hanging out in the family room (where the fireplace is) one rainy evening earlier this summer, and noticed the sound of water dripping inside. We glanced over at the hearth where the sound seemed to be coming from, and could just barely make out a little glisten inside the fireplace where our gas logs are. We walked over and immediately jumped into action. There was water pouring into the fireplace from the chimney. I'm talking steady rivulets, not drips—although we had drips, too.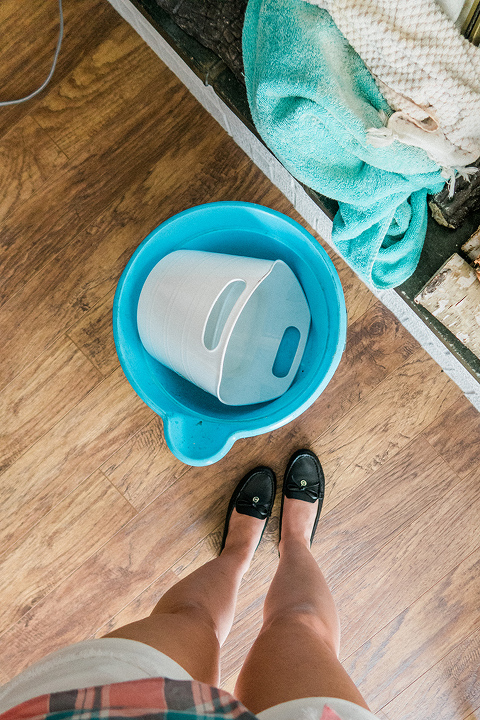 We filled the fireplace with buckets and towels, and have essentially been refreshing those every couple of days as they fill up. If you happen to live under a rock (wink, wink), you might not know that the weather across the world is pretty wild these days, including here in Waynesboro where it seems to be raining nonstop.
As soon as we noticed the water issue, we put calls out to local chimney repairmen. One $2,500 quote later, we found out that our chimney needs a crown repair, a new cap, fresh flashing, sealant, and also a cricket added to the roof behind it.
If that quote sounds a little astonishing to you, you're not alone. We were floored, and decided to call around to make sure this was real life. We got another quote from someone who said they could do it for $1,700, but finally settled on a contractor both of our parents used back in Lynchburg. His response to the other two quotes we got? "That's the most ridiculous thing I've ever heard." Not surprisingly, he's our new best friend, and we somehow managed to make him feel so sorry for us that he's driving an hour and a half up from Lynchburg to help us this morning.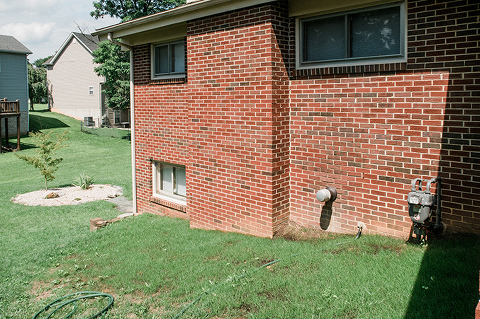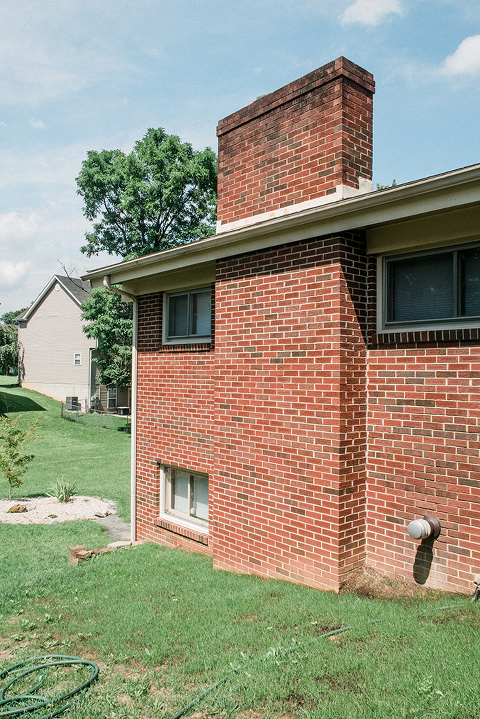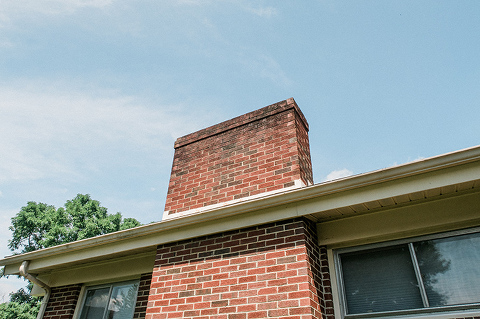 As for the new roof and how that factors into the whole situation, here's the deal. Because we were told that a new cricket structure needed to be build behind the chimney (this will redirect water down to the edge of the roof rather than letting it build up behind the chimney) we decided to hire professional roof installers to do that part of the project. We've been saving up for a new roof since we moved in because our inspector told us it only had a few more years left in it anyway, so this year turned out to be the one when we finally pulled the trigger.
Did we mean to have the chimney and new roof happening on the same day? Nope, but I sure hope the two major repairs will fix our water issues in the fireplace. Those gas logs are the only heat source we have in the lower level, so we need to have it up and running come fall/winter.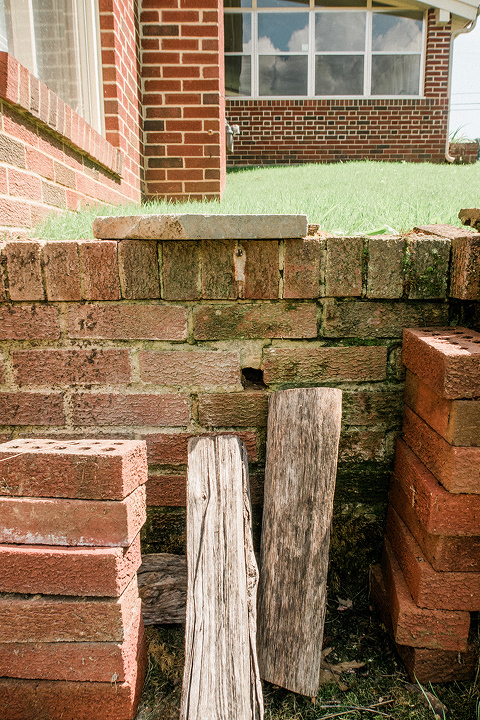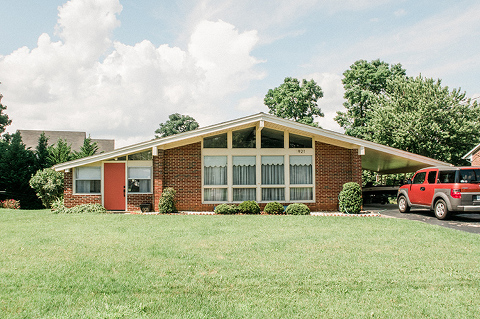 Unfortunately, that's not quite where things end in this saga. Another water issue we've been dealing with outside is our back yard spigot. The contractor we had come out to finish our bathroom remodel used the water source for a lot of the tile work he had completed in the shower. What we failed to take into account was the fact that we should have been turning off the water to that spigot when he wasn't working on the tile, because it eventually burst thanks to too many cold days and nights this past winter.
We didn't notice the burst pipe until spring (yes, you read that right) when John happened to use the hose to water some plants in the backyard. He turned it on and the water just started bubbling up right out of the ground. You can see where the spigot used to be in the photos above and below—it's the little hole you see in the middle of the brick retaining wall.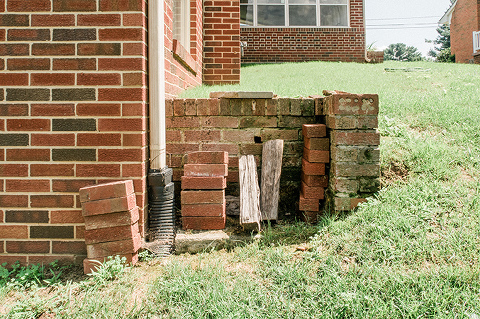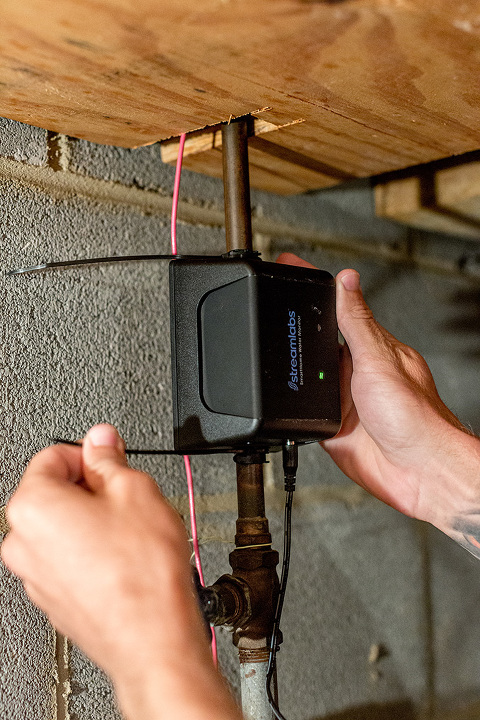 We think the pipe was broken in a spot buried underground behind the brick wall, but hadn't totally busted apart until that day that John used the hose. Even still, water had been leaking from the active pipe for months. Soon after discovering the burst pipe, we were able to shut the water off to the spigot and could breathe again. That is, until we got our $500 water bill (usually it's around $200 every other month).
Again, another tough pill to swallow! I remembered reading about a water leak detector on another blog earlier in the year and immediately put out a call for help to the brand mentioned in the post. StreamLabs kindly sent along a device for us to test, and I have been keeping a close eye on our water usage via their app on my phone ever since. Had we been relying on it before the pipe burst, I think the detector could have easily paid for itself. Live and learn!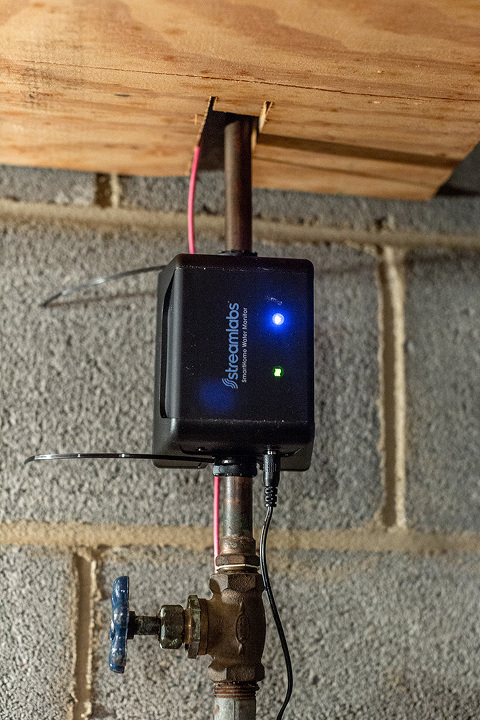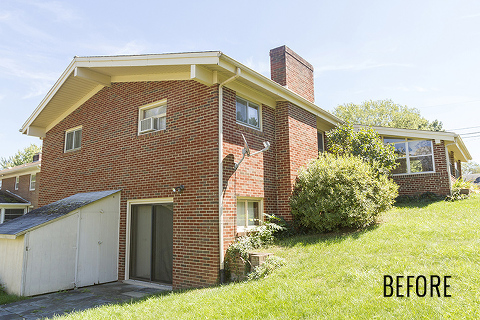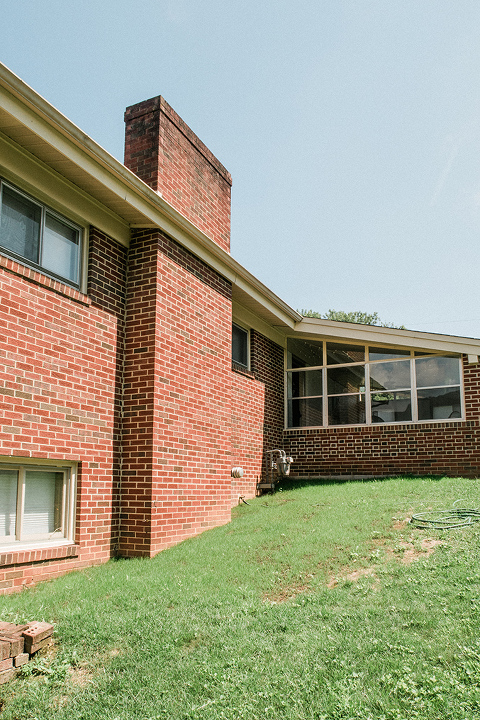 With a busted pipe on our hands and a defunct spigot in our backyard, we needed to come up with a game plan. Luckily, the spigot had its own shutoff valve inside, so we turned it off and kind of left it alone for a month or two while we gathered the mental and physical energy to deal with it.
After talking it over with my dad, he decided to come up one weekend to take a closer look. Together, he and I (and John, too, after he got home from work!) managed to rip out all of the overgrown shrubs and trees that covered the area where the pipe was, dig up and discard the old busted pipe, cap the old pipe off from the inside, and redirect the water to an existing second spigot that we had uncovered after digging out the old shrubs.
After that, John and I worked to backfill the lawn with top soil and reseed for fresh grass. As you can see from the photos above and below, we're making good progress. The new grass is coming up nicely after only a few weeks. The only area we need to keep working on is that corner of the slope right behind the chimney. We want to build that up a bit to make sure water doesn't collect in the angle there and get into the fireplace from ground level.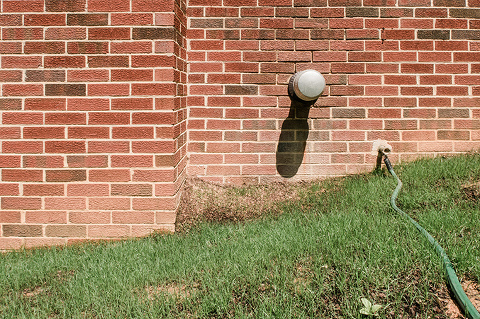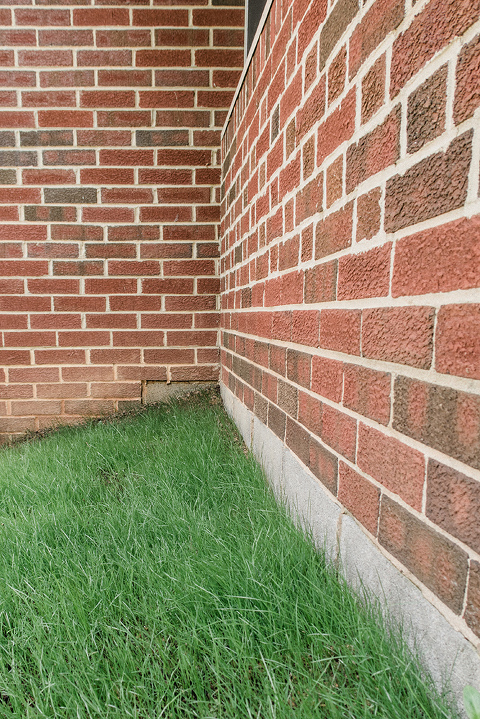 Since dad was in town and we had an extra pair of hands on deck, we decided to keep the ball rolling and also pulled up an overgrown tree on the opposite side of the house. You can see it "Before" in the image just below. It was a fine tree (or shrub—not sure what it is exactly), but it blocked a lot of natural light from reaching the kitchen, and it also blocked access to the AC units on that side of the house. Taking the tree out would allow us to get back there and clean those more regularly, and I'm glad we decided to go for it because we cleaned the units right afterward and they needed it badly.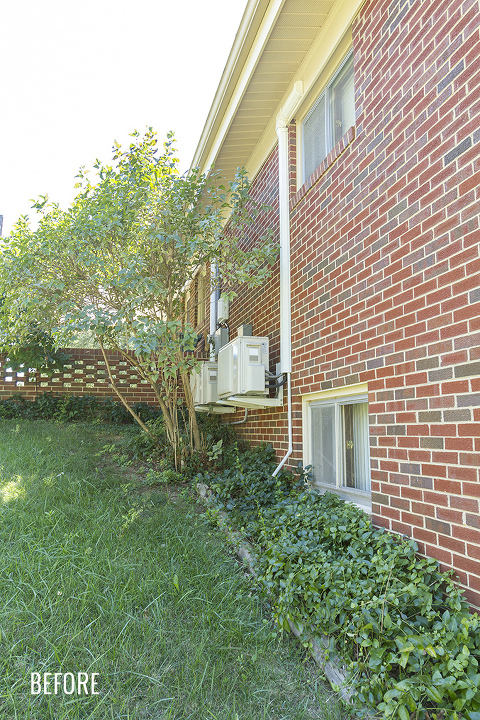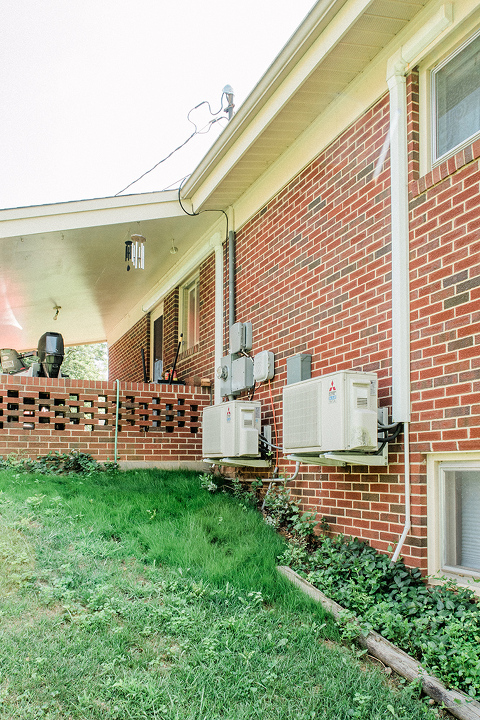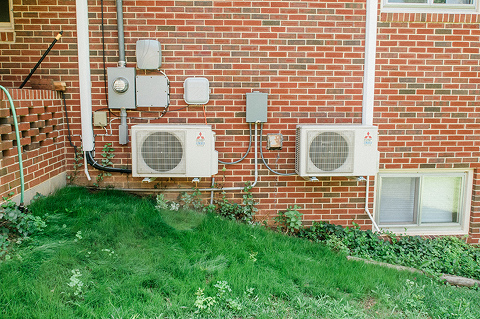 You can't see either of these corners of our lawn from the road, but we're just so grateful to have them nice and sleek and clean now. We're not very good with ornamental landscaping, and tend to prefer simple rock beds with a few evergreen shrubs here and there. The clean plains of grass make us really happy, and having better access to things like a working spigot and the AC units also makes us feel a lot better. The new grass looks so lush coming in over on this side, doesn't it?!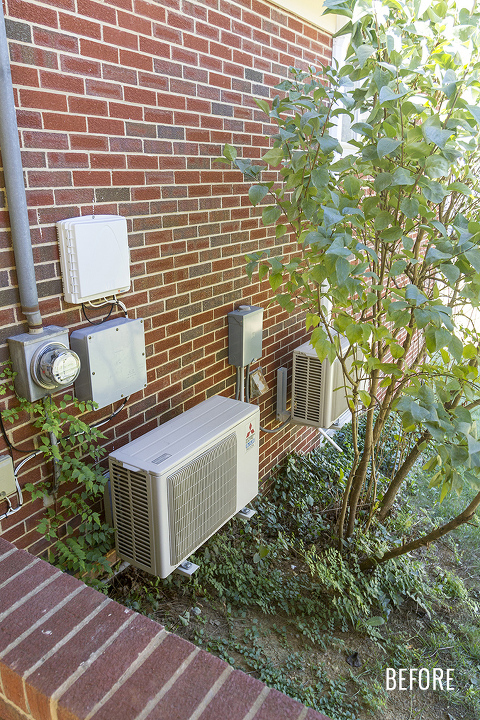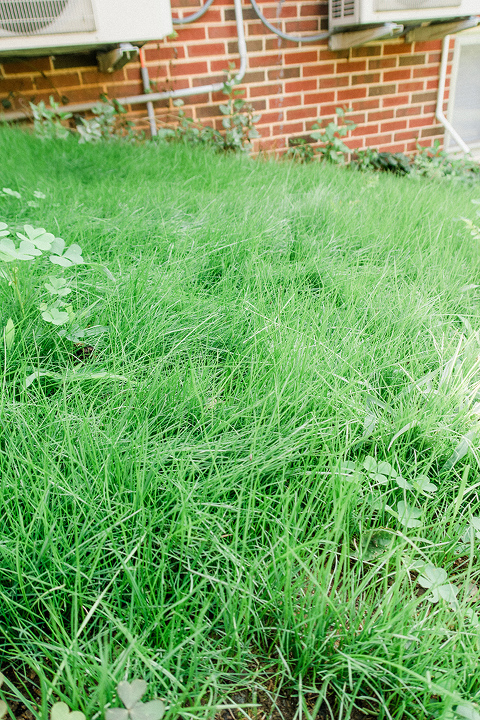 One final update before I call this big, long saga done: the overgrown garden in the corner of our yard. As you can see in the "Before" photo below, the weeds, bushes, and flowers had grown completely out of control thanks to our inexperience with landscaping. The only good thing about the shaggy greenery was that it blocked a little bit of the neighbors' back yards (yes, our neighbors are that close—sigh), and it also hid two big stumps from sight.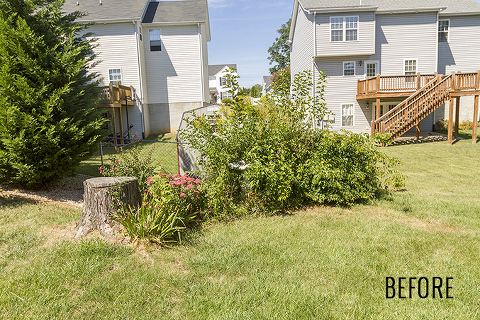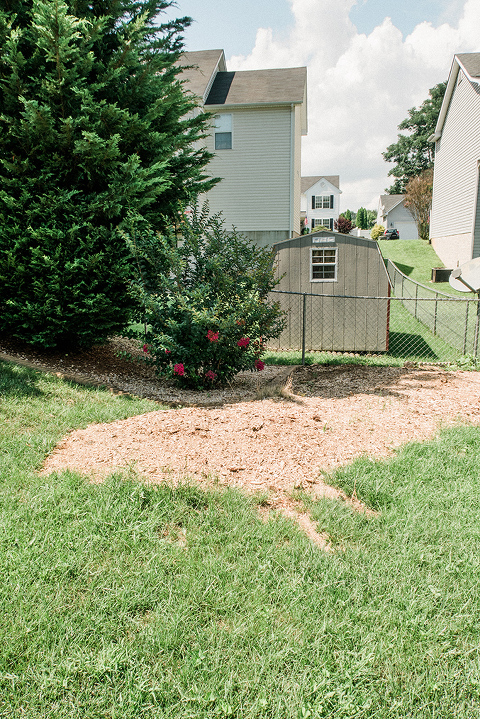 Earlier this spring, John made it his mission to get the garden bed under control, so he ripped everything out and has been using a vinegar solution to keep it all at bay. We also had a professional tree crew come out to remove two stumps leftover from the previous homeowners. The trunks were ground down into natural mulch, which we're currently using to cover the now-defunct garden. All that's left is to decide if we should reseed this to grass, add a couple of low maintenance trees, or put a new shed on top.
So, my friends, that's what's been going on outside our house lately! It's a lot, but all really good things to be taking care of. I have my fingers and toes crossed that all goes well this next week as we build things back up, and would love to have you do the same on our behalf if you're willing to spare a moment or two. Oh, and if you happen to have any stress-relieving tips, please feel free to share them in the comments. I could use them.