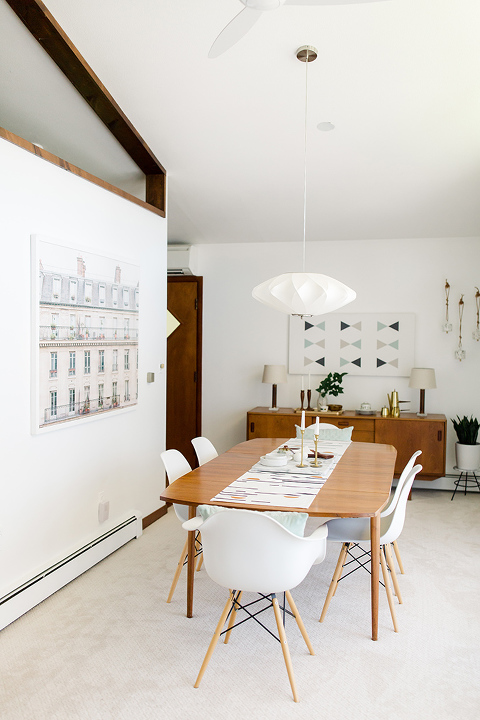 I'd love to start this brand new week off with a design question: should we go open concept between our dining room and kitchen? Call me crazy, but now that we've been project-free for a few weeks, I'm feeling the itch to make more changes around here. Our hall bathroom renovation is complete, and our new roof is all done, so now I'm setting my sights on something we've never tackled before…Removing a wall!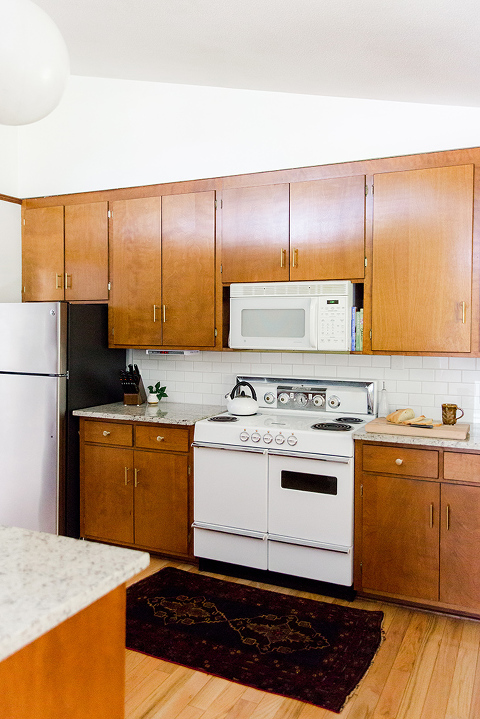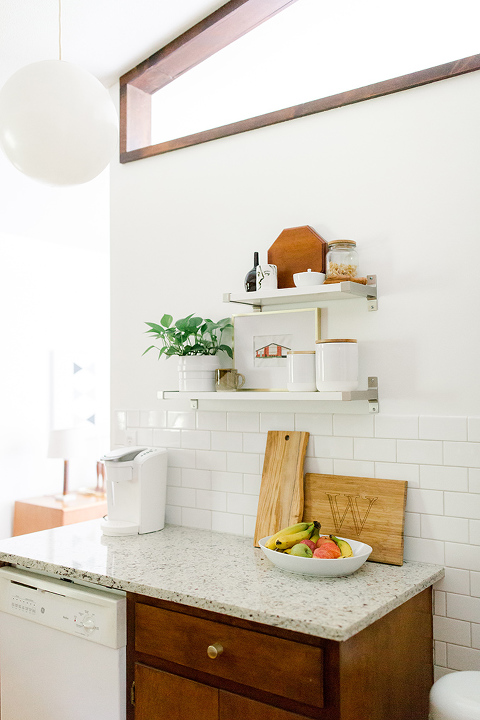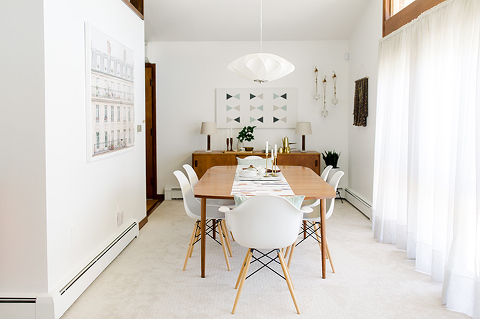 One of the things I appreciated so much about this house when we first toured it was the fact that the kitchen is separated from the dining room by a partition wall. That said, now that we've lived here for three years, I'm wondering if this layout really is the best for our particular space.
It's a little hard to explain without you being here, but in the front room of our house (which consists of the kitchen, dining room, and living room) there's a wall that extends from the middle of the space to just a few feet from the exterior wall. On the dining room side, the wall has a giant framed photo on it, whereas the other side faces into our kitchen and has open shelving on it just above some lower cabinetry and the dishwasher.
As you can see in the photos above, the wall has a cool angular cut-out detail at the top to allow a bit of natural light from the open concept dining and living room to spill into the kitchen—a fact I love because that room gets very little natural light otherwise. I really do appreciate that the rooms have a bit of separation between them, but then I came across this inspiration image below and the wheels in my head started turning.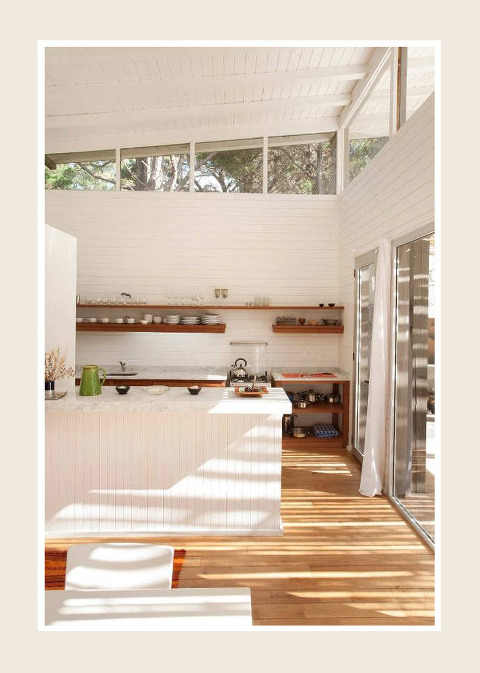 Should we consider removing the wall to let more of that gorgeous sunlight into our dark kitchen? The inspiration photo stopped me in my feed-scrolling tracks on Pinterest the other day because it gave me such a good sense of what our own home could look like if we just removed part or all of that separating wall.
Similar to the inspiration image, we have light-colored, speckled countertops and dark wood cabinetry. We also have white walls, and a similarly angled mid-century-style ceiling. I can totally see this translating into our own retro home, but don't want to regret embarking on another chaotic renovation project if it's a terrible idea.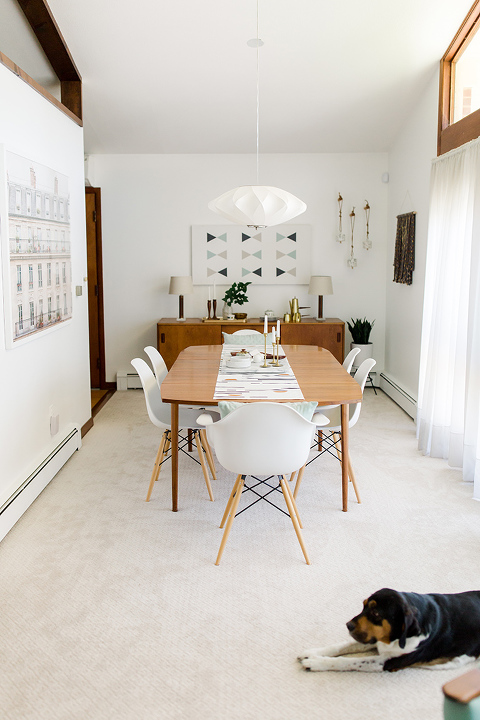 The picture of our home just above gives you a pretty good sense of the difference in lighting between the spaces. The dining room is filled top to bottom with glorious sunshine, while the kitchen (mere inches away!) gets barely anything because of that partition wall.
One option is to leave the wall between the kitchen and living room as it stands (the one right behind the liquor cabinet you see there), and bring the partition wall perpendicular to it down to about counter height to allow more light to get to the kitchen. There would still be a bit of separation and we wouldn't have to move the dishwasher, but the light could be shared between spaces.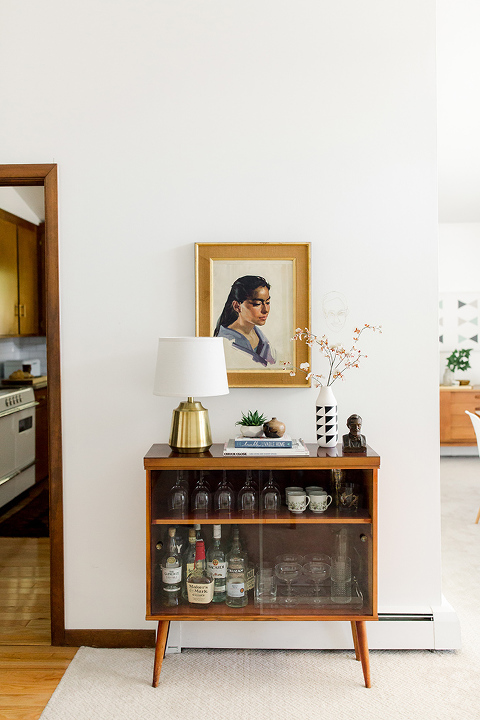 What do you think? Am I crazy to be considering this? Those of you who have truly open concept homes: do you appreciate being able to see right into your kitchen from the dining room, or do you wish you had more separation between the spaces? I'm dying to hear your opinions and personal perspectives, so please spill in the comments below!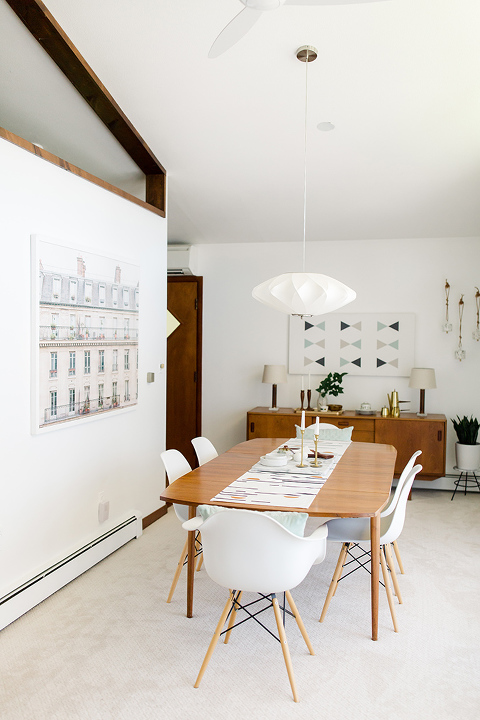 **See what our home looked like when we moved in here!