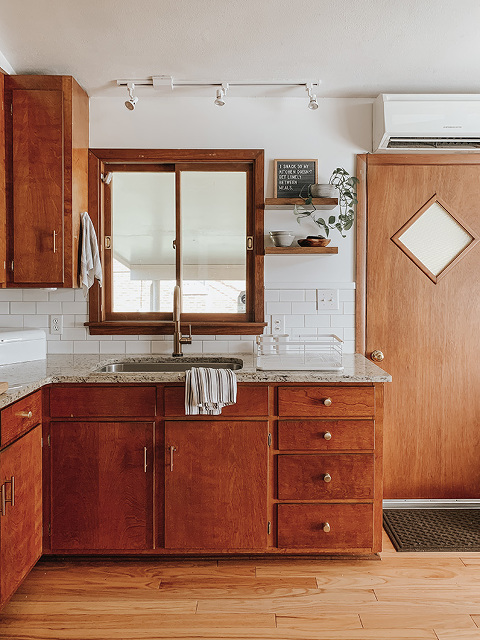 Week 1 | Week 2 | Week 3 | Week 4 | Week 5 | Week 6
(FYI that links will "go live" one at a time as the event progresses)
Just one more week to go in the Fall 2019 One Room Challenge event! Can you handle the suspense? I am so thrilled, excited, elated to share the final space because I really think you guys are going to love it. I've made a few last-minute changes to my overall design, and am guessing you're going to be more than a little surprised by the final look. At least I hope you will be. I'm getting way, way ahead of myself, though—especially if you're hopping over here from the One Room Challenge website, and have no idea where this saga all started! If that's the case, let me quickly catch you up.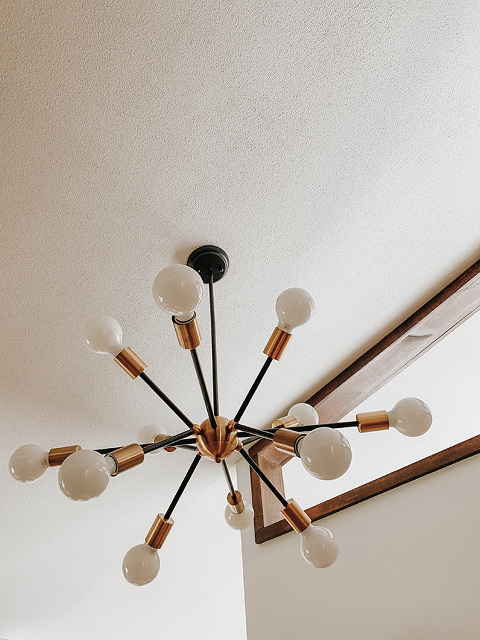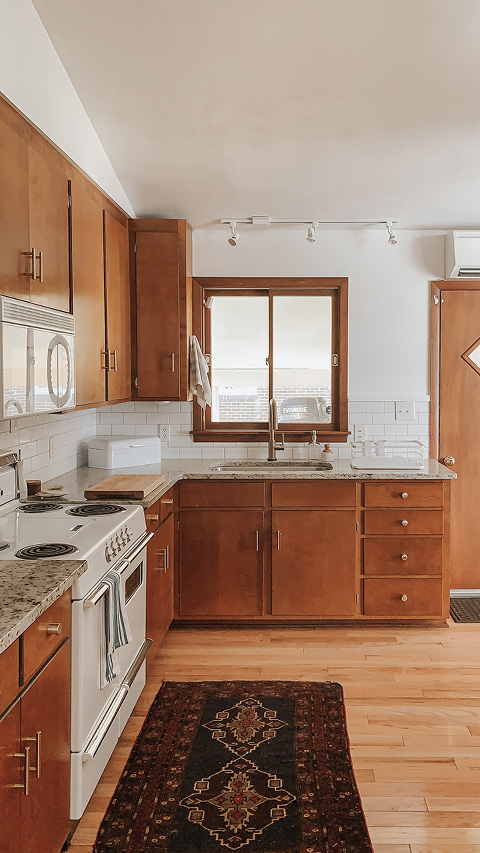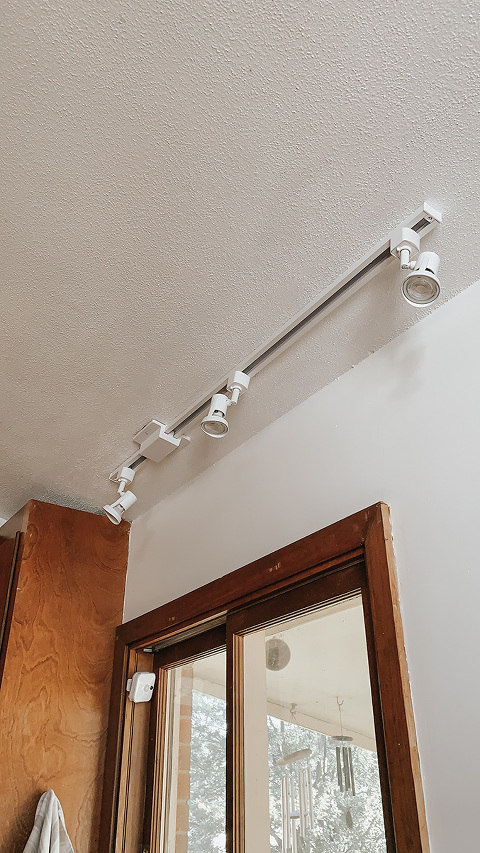 First, my best advice would be to click back here to see a whole slew of "Before" photos, plus a long-winded explanation of our goals. Essentially, though, my husband John and I are anxious to turn our dark retro kitchen into a much brighter space that's functional to work in and stylish to boot. The kicker is that we're hoping to make it feel as bright as possible without breaking into the walls or roof (i.e. a skylight or open concept layout isn't in the cards for us).
So far we've come up with a game plan to paint the upper cabinets bright white to help bounce light around (even though the majority of folks are adamantly against this proposal), we've already removed a cabinet to let more natural light into the room, and we've upgraded the lighting, too. Now, we're moving on to possible paint prep (weigh in on whether or not you think we should go for it here!), and a few stylish upgrades—like new open shelving!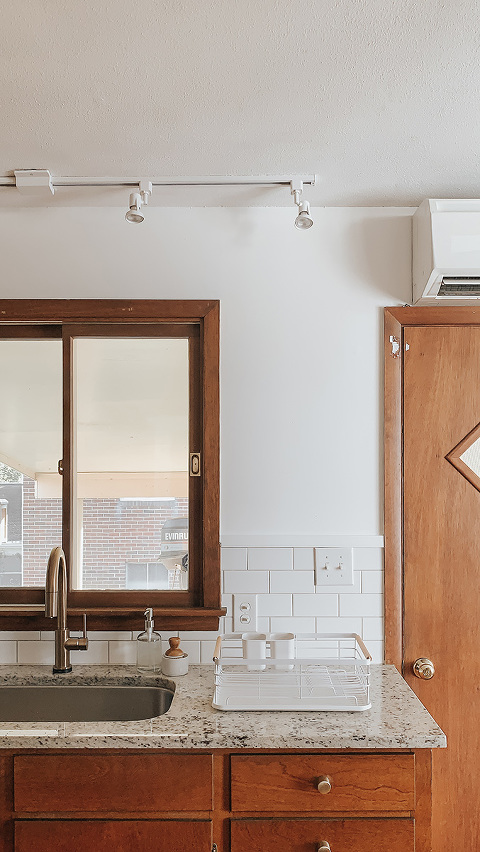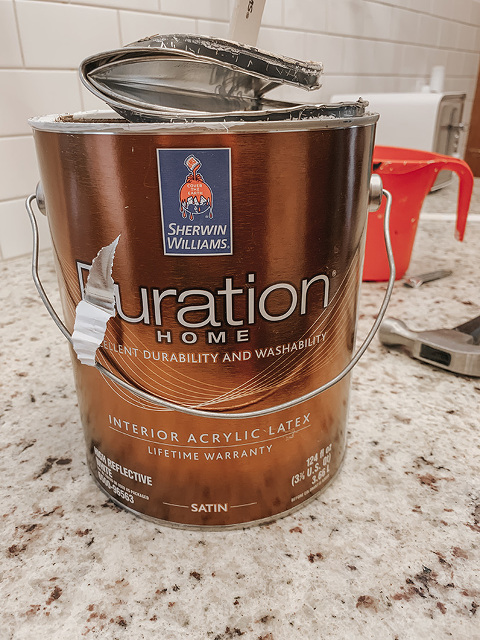 So, now that you're all caught up, let's dive into this week's project: the aforementioned open shelving. After removing the cabinet by the side carport door (the one you see in the photo below), I needed to do a little bit of drywall patching and repainting. Luckily, I found an old can of white paint from when we painted the rest of the rooms in our house white, so refinishing the exposed drywall didn't cost a thing. By the way, we used "High Reflective White" from Sherwin Williams in every room of our house, and love it. It's the perfect pure white, in our opinion.
Since the cabinet on the other side of the window is a blind corner cabinet and connects with the adjacent wall of upper cabinetry, we can't remove it. So, I thought it might be nice to balance things out with a new set of wood stained open shelves installed right where we removed the righthand cabinet. The only problem was that we already had open shelving on the other side of the room, and I was worried it was going to look redundant. My solution was to paint those existing shelves white to match the wall so they blended in a bit more.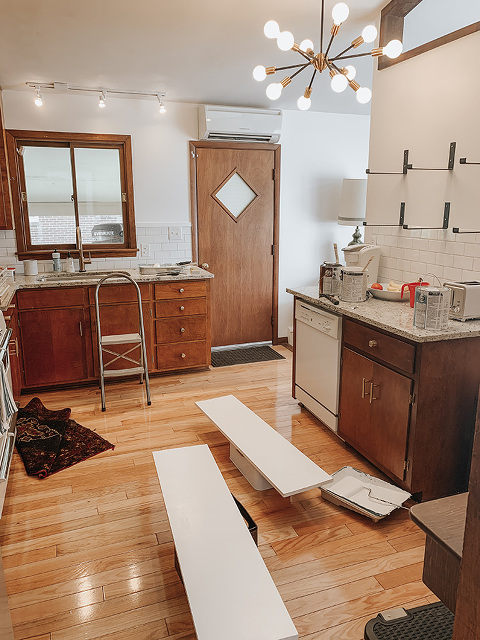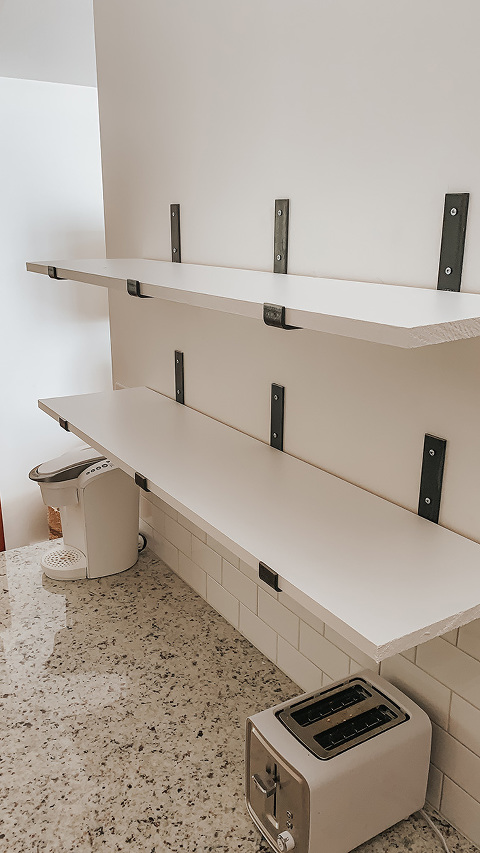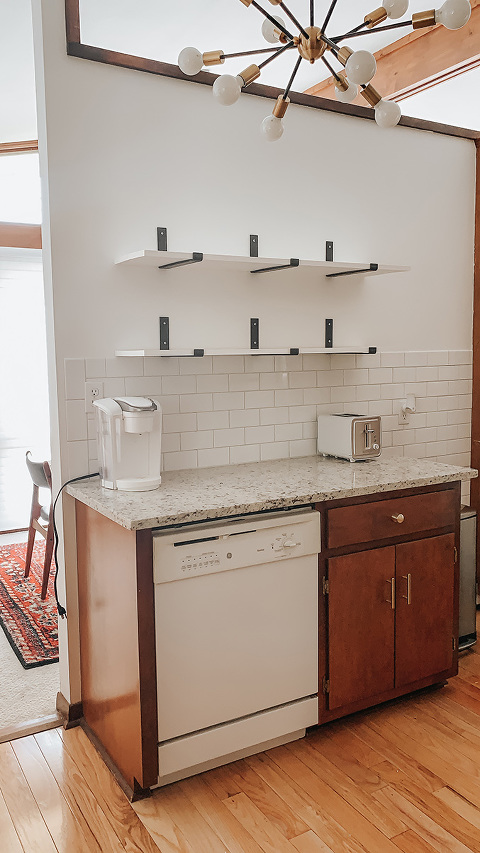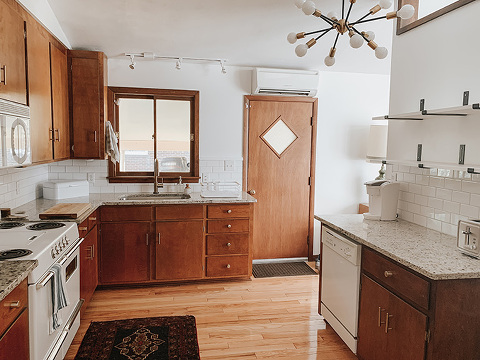 I like how the old wood shelves look now that they're painted white, but I'm honestly still not convinced that it's not too redundant with the new shelves we later installed to the left of them (see below). You'll have to wait until next week's reveal to see if they ultimately made the cut, but feel free to weigh in below with a comment telling me your vote! Should they stay or go?
What definitely isn't going? Our new wood stained open shelves by the sink! I purchased them straight from Amazon, which was a bit of a gamble, but this whole 6-week One Room Challenge schedule really puts a time crunch on things. I would have loved to find and order custom hardwood shelves from Etsy, but there just wasn't enough time—and, frankly, not enough money in the budget for that. Which is why I defaulted to Amazon.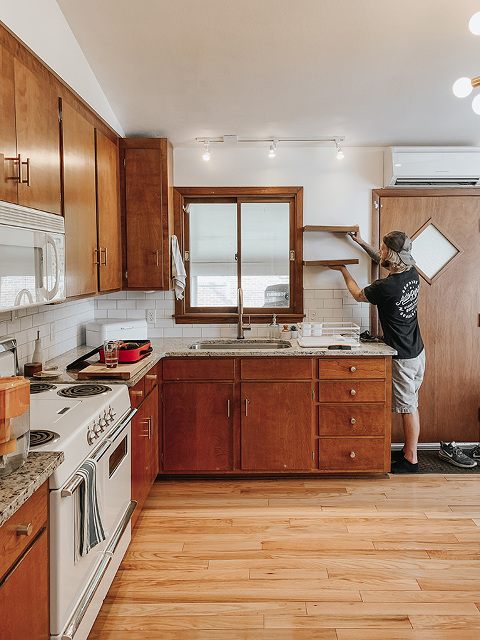 Happily, our quick-turnaround shelves are actually 100% perfect, and the price can't be beat: $32.99 for the set of two. John helped me install them the same day they arrived, and it was so easy. I think it took about 30 minutes from start to finish, and they feel sturdy, too. You can't store anything really heavy on them—like a cast-iron pot or something— but they're perfect for lightweight everyday objects. Anyway, I couldn't recommend them more if you're on the hunt for simple, stylish open shelving. I might even order a second set for our bathroom!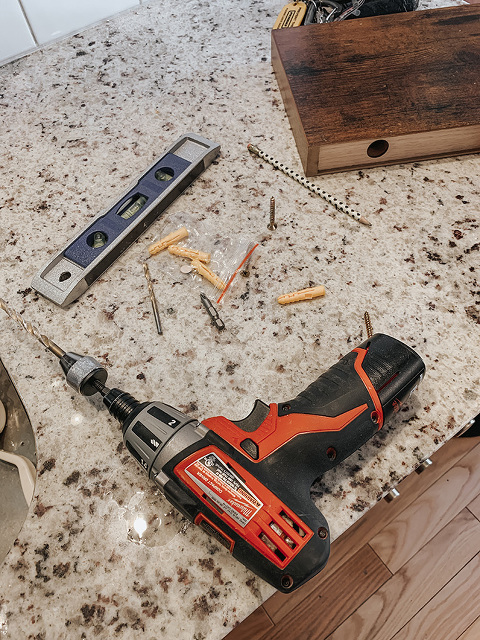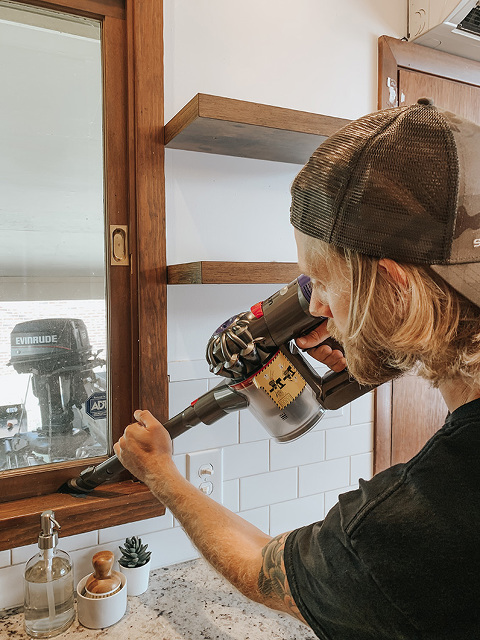 If you know me at all, then you're well aware of my severe lack of patience. As soon as I stepped back to confirm that I loved the new look, I was racing around the house looking for things to style on the shelves. In the end, I decided on a couple of cereal bowls, a thrifted wooden bowl that John now uses for his sunglasses and keys, a plant, and my letter board, complete with a new kitchen-themed quote for good measure.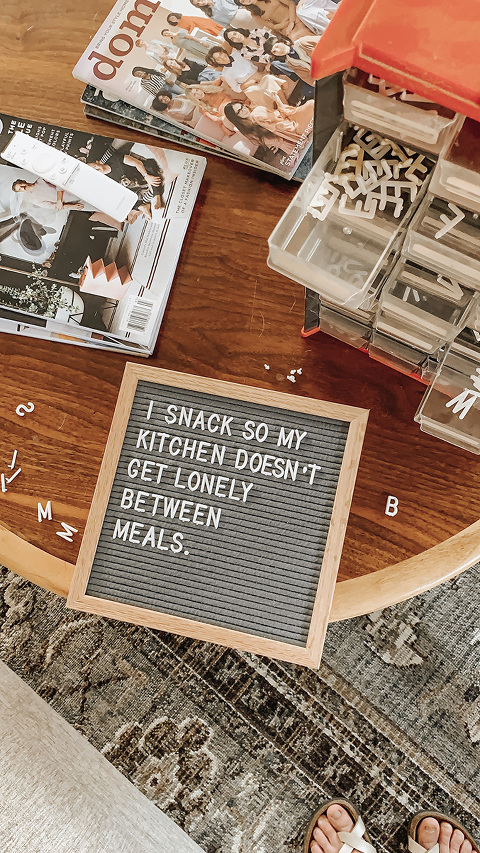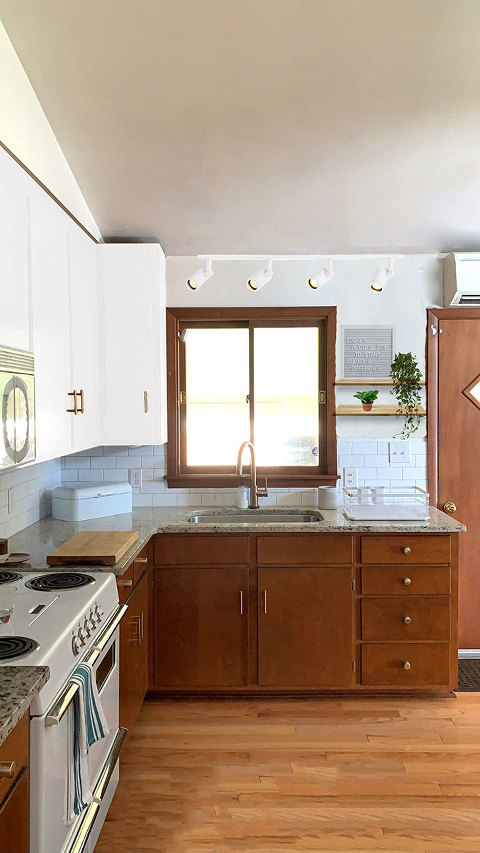 With just one more week to go in this challenge, we've got a lot on our plate. The biggest question is, of course, should we paint the upper cabinets? I'm including the mockup I've been referencing ever since we started this whole crazy journey to help try to convince you (and maybe to help convince me a little bit, too). How cool is it that almost my exact vision for open shelves and new track lighting is now a reality?! It makes me so happy when things work out like that in design…
The bottom line at this point is that I'm still not totally sure I want to finish things off permanently with paint since the wood cabinetry really is so lovely. That's why I'm literally leaving this last project until the eleventh hour. Vote in the comments below, and don't forget to visit the One Room Challenge event website hosted by Linda, of Calling It Home, for more design inspiration and other final project updates!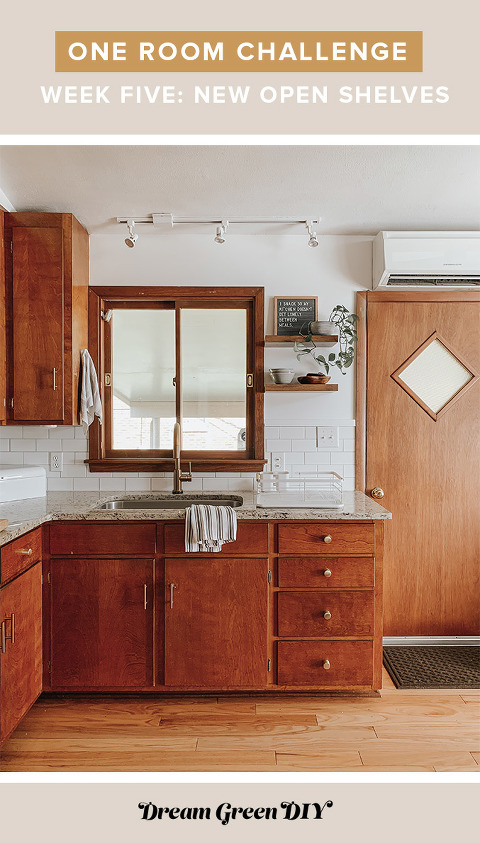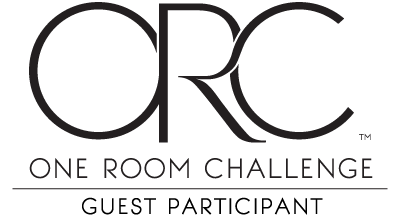 *I earn a small percentage from purchases made using the affiliate links above. Affiliate links are not sponsored. Rest assured that I never recommend products we wouldn't use or don't already love ourselves.