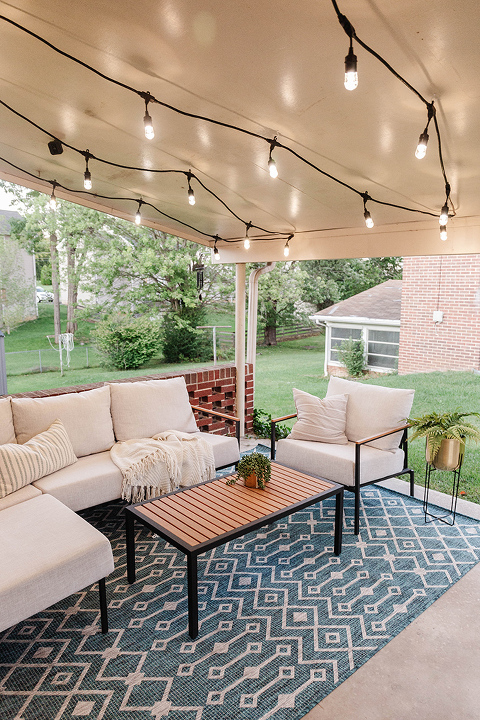 **This post features gifted product from Jasco. All opinions are my own.
Most people probably consider summer their time to get outside and live life to the fullest under the sun. For me, though, that time of year is definitely fall. I don't actually like full sun, and really sort of loathe the heat, so summer just doesn't hold much sway over me. Sure, I love heading to the beach for vacation, but once I'm there, I invariably spend most of my time in our air-conditioned rental home or seated squarely in the pool with a good book and lots of sunscreen. I'd just rather be cool any day, so fall is where it's at for me.
As you might have picked up on this year, we've been spending far more time outside working on house projects, like our DIY platform deck, and it's all in the name of prepping for fall outdoor living. This is the time when I truly love to go on walks, venture to the river with John and his boat, sit on the patio at our favorite winery, and just generally live outside. I love the way fall smells and the feel of that cool autumn breeze on my skin.
All this to say that I'm really excited to put our brand new outdoor spaces here at the house to better use now that it's fall! I teamed up with Jasco to help promote their smart café lights from Enbrighten over on social media, and even though a full blog post wasn't part of the scope of my contract with them, I just had to add it in as a freebie because I'm genuinely so impressed. I wanted to make sure those of you who aren't on social media could still benefit from the info, so keep scrolling for details in case you're looking to add more lighting to your outdoor areas this fall season (or next summer!).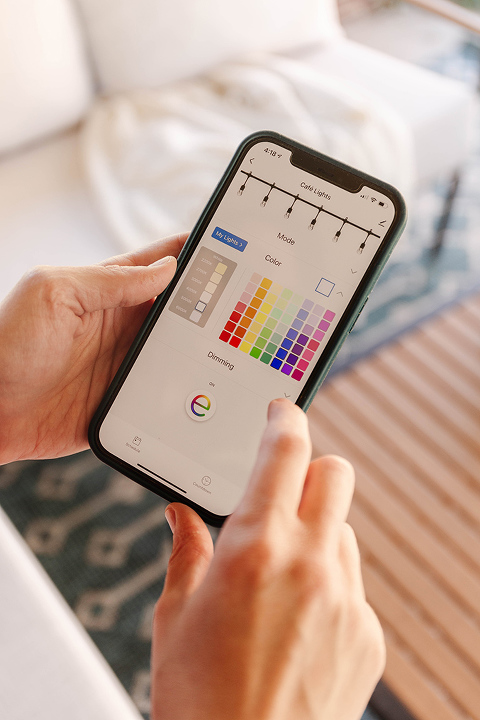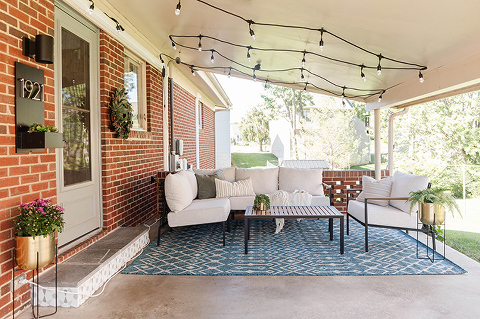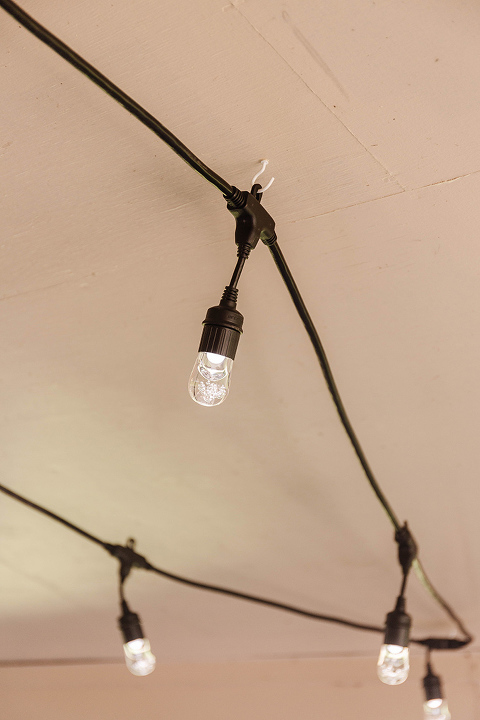 First of all, let me clarify that the setup pictured in today's post is, indeed, temporary. We don't have any poles or a cover over our deck out back yet, so I don't have any way of outfitting that space with café lights. I was also under a pretty tight deadline with the brand for the social media content I needed to produce, so instead of hustling to build something for the deck, I decided to take it easy and install the lights under our covered carport.
I knew that going this route would give me a chance to get to know the lights, if you will, and it would also allow me to demonstrate how to install the lights under a covered porch ceiling since I know that's so many of your situations. When we get around to figuring out our needs for the deck after we've had more time to use it, I'll move the café lights down and around the back of our house. For now, though, I didn't mind temporarily moving our patio furniture up front. This new little covered seating area has been so much fun to enjoy under the carport, especially with our new smart string lights.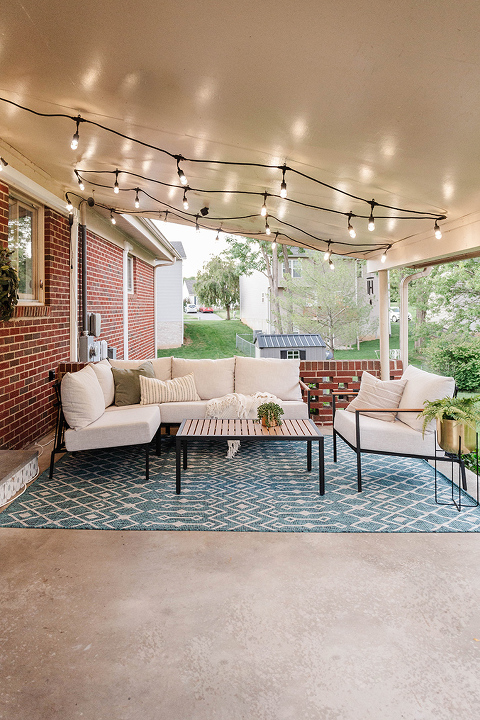 The cool thing is that the lights took only about 20 minutes to install, so it wasn't a big hassle to install them temporarily here. First, we laid the 48-foot strand of lights out on the ground in a zigzag pattern so we could see how far we needed to space them out to cover the back half of the carport. Then, we pre-drilled tiny holes in the ceiling one by one right above the light strand laid out on the floor. We screwed white cup hooks into the drilled holes, and then looped the string lights on. There's a plastic hole situated above each string light along the strand, which is perfect for looping over hooks. We hooked every other light to give it more of a draped vibe.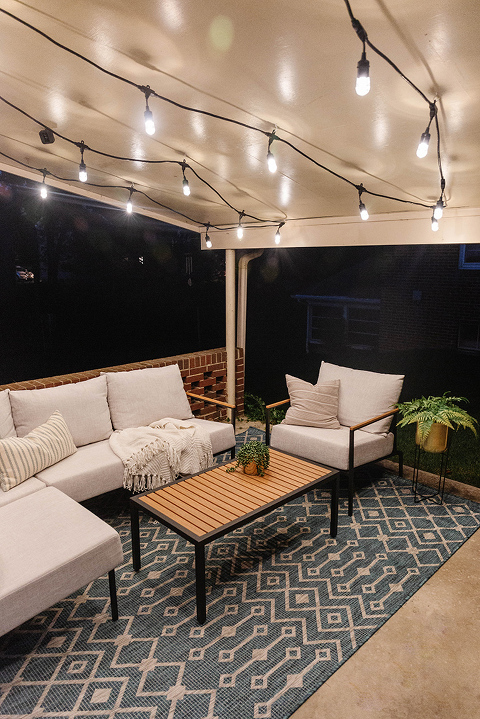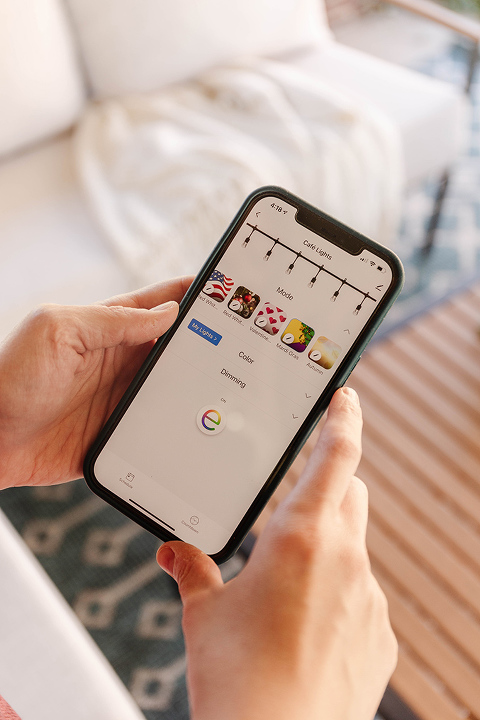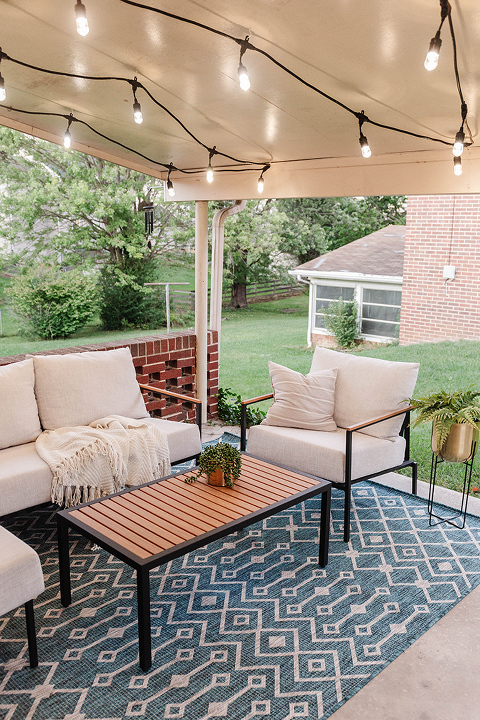 Now, how about the "smart" part of these lights? You need to download the Enbrighten app, and then add your product to your account, which you'll need to set up (takes about 30 seconds to make your account). We had the lights added and operational through my phone in just a few minutes, and then I had full control over the lights. I could turn them on and off from my phone, change the color of the lights if I wanted them to be solid-colored, and there are also a number of pre-programmed light themes to choose from (think: red and green for Christmas, orange and red for autumn, pink and red for Valentine's Day, etc.). You can also dim them, and choose the color temperature of the bulbs on the pure white setting using the kelvin scale. See all of these steps in action in the video I produced for Instagram here.
I could clearly go on and on (and, again, I'm not being paid to tell you all of this!). I just never knew I could love string lights so much, and that's saying something considering this horror story from a couple years ago…Anyway, I'm a big, big fan of these lights, and if you like the look and sound of them, too, you can use code "INSIDER10" to get 10% off the 24-foot and 48-foot Enbrighten WiFi lights. Where would you hang your smart café lights?