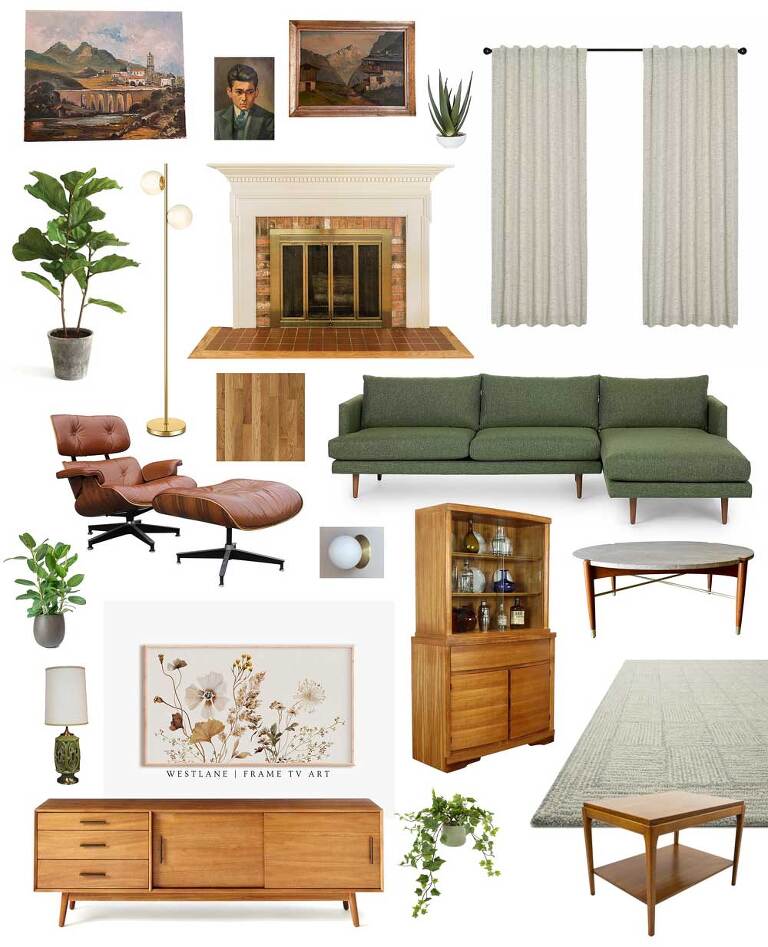 In case you're just tuning in, I'm in the middle of a running series where I talk through each of the design mood boards for the rooms in our new home. I've spent months coming up with these detailed plans for each space ever since our offer was accepted. This process, first of all, was a chance for me to plan out where all the furniture was going to go to help with our move, and second, it was a chance to think about the broader picture of our move and the direction we wanted to take the design. This house is quite a bit more formal than our last one, so the designs are a fairly big departure from what I'm used to doing. Let's dive into my plans for our new formal living room!
New Home Mood Board: Living Room
1. I forgot to include a paint color in this mood board, but we ultimately decided to keep the original pistachio green color already painted on the walls by the previous homeowner. You can see it in detail in this home tour post. I don't know what the name of the paint is since the sellers didn't leave any information, but I think it's close to a color from Sherwin-Williams called "Gratifying Green."
2. We definitely didn't plan on keeping the paint, but as soon as we set our mid-century stained wood furniture in the space, it just worked! The wood credenza, side table, and hutch that you see pictured in the post are stand-ins for vintage items we already had. You can get a sneak peek of the space on Instagram here.
3. As for seating, we brought our secondhand leather Eames-style lounge chair and ottoman and also our green Burrard sectional sofa. We still love both and, happily, they fit right in with the wood furniture and green paint color in this room.
4. The fireplace you see pictured in the mood board above is our actual fireplace. I Photoshopped it into the design plan since I wanted to be absolutely sure that it worked alongside the rest of my design. I had originally been thinking about painting over the brick surround or the red tile, but once we got our furniture in place and had a chance to live with it for a few weeks, we love it exactly how it is. The red tones complement all of the green in the room so perfectly!
5. One part of the fireplace that we do plan to change, though, is the lighting. There are hardwired sconces on either side of the fireplace that we are considering replacing (see them as they look now in this post). I love the idea of a more modern globe fixture, like the one you see toward the center of my mood board. If you have recommendations for great mid-century sconces, please let me know.
6. We decided to hang our bigger Samsung Frame TV in this room, and I added this new piece of digital art to display on the TV when it's not being watched. I love how the vintage-style florals look alongside all of the green in the room.
7. The three pieces of art you see at the top of my mood board are photos of the actual secondhand original paintings we put in the space. I love how the green tones, again, play up our retro pistachio green walls.
8. We used these curtain panels and these sheers, just like we have in almost all of the other rooms in this house.
9. One thing that has already changed from this mood board plan is the coffee table. I ended up selling our old coffee table before our move to make things easier on us, so I was in need of something new. My original thought had been to get a round or oval marble coffee table, but I ended up finding something so different and about as far from marble as you can get! I can't wait to show you…
10. Here's the grayish-blue geometric area rug we decided to put in our living room. It used to be in the main bedroom at our old house.
As I mentioned, this room has already had its debut on social media here in case you want to see how our design plan is currently shaping up. The living room was the easiest space to put together so far since we essentially just plopped our existing furniture and art in place and called it done. It's one of my favorite rooms in our house, though, which makes me think it was simply meant to be. I hope you like it!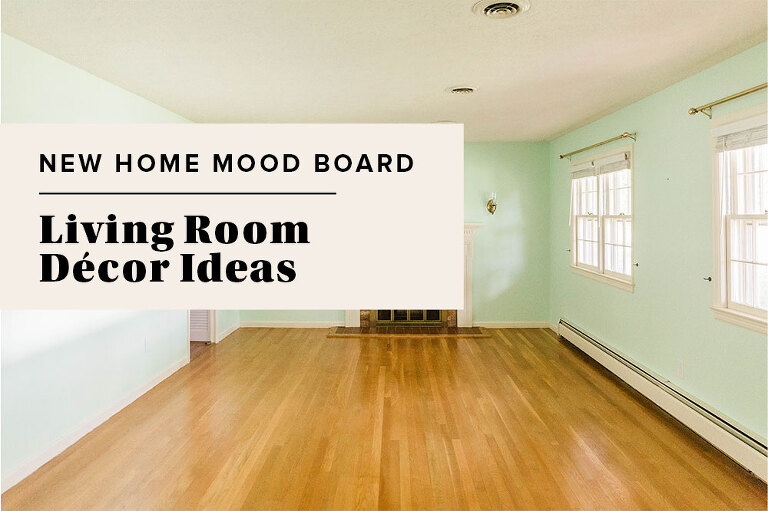 *I earn a small percentage from purchases made using the affiliate links above. Affiliate links are not sponsored. Rest assured that I never recommend products we wouldn't use or don't already love ourselves.