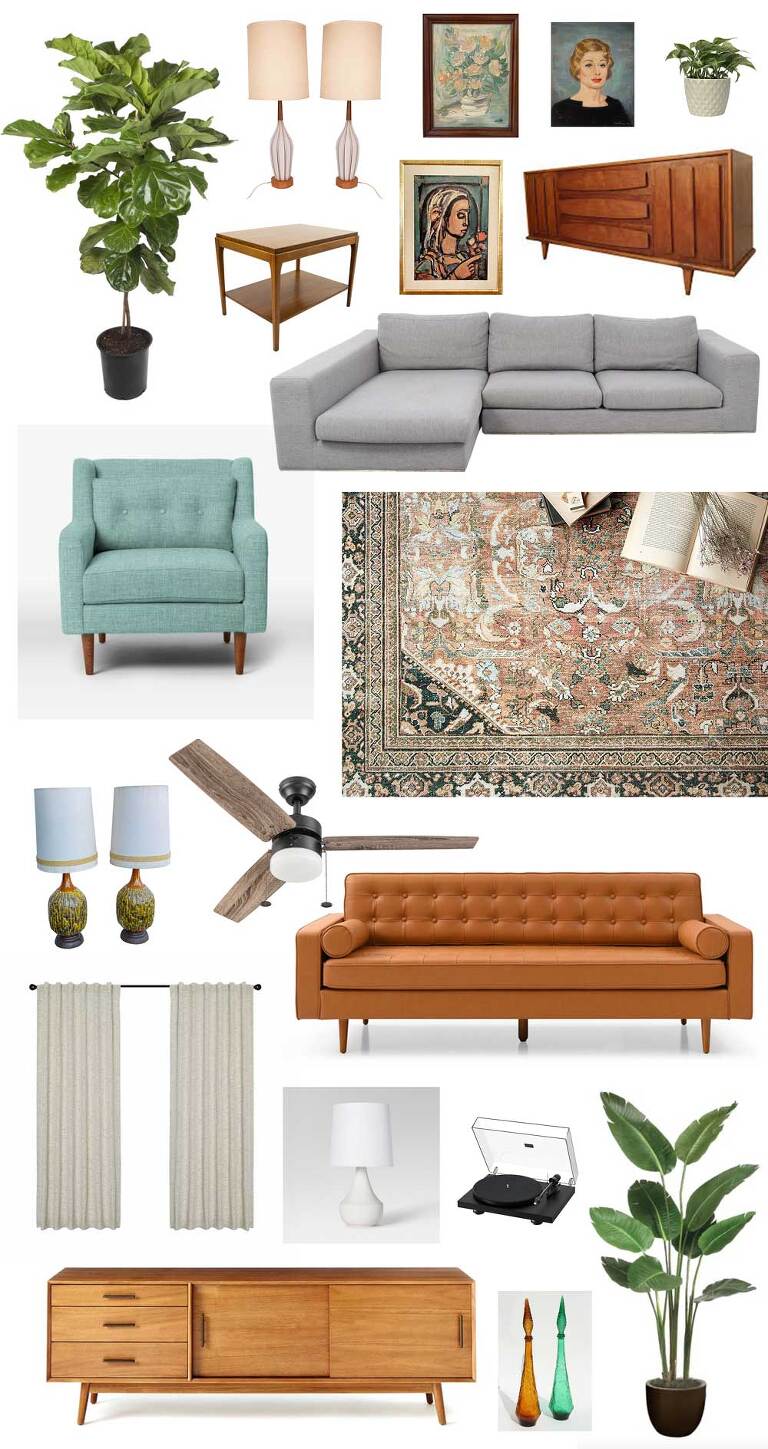 There are lots of rooms in our new house that need work. Our primary bathroom needs major help, my art studio still has half the old wallpaper up on the walls, and my home office is so empty of much-needed furniture that it practically echos. There are plenty of rooms that need attention in our new house, but the sunroom actually isn't one of them. We managed to cross this entire room makeover off last month, although I haven't revealed the finished space anywhere yet. I plan to publish a full tour of the updated room in the new year, but in the meantime, here's a sneak peek of what we've already managed to pull off.
New Home Mood Board: Sunroom
1. Right after we sold our old house, I let go of a bunch of furniture to make our move a little easier on us. This meant that when we got to the new house, we were in a position to purchase some things to refill our new rooms. It has been so much fun going antiquing for bigger pieces again, like the pair of vintage lamps and side tables that I bought for our sunroom (photos of similar vintage items are toward the top of the mood board above).
2. The art you see pictured in my digital mock-up shows the actual items we put in the room. I've been collecting antique paintings for years, and these three pieces fit our new sunroom perfectly.
3. This room is the brightest one in our entire house thanks to its three walls of windows. There are eleven windows total, which has allowed our collection of live potted plants to settle in nicely. We have a large Bird of Paradise in the space, as well as our 9-year-old Fiddle Leaf Fig tree. I also placed a number of smaller tabletop plants to help fill in the space. I firmly stand by the fact that a room is never complete without plants of some kind, even if they're artificial!
4. We did bring a number of pieces of furniture from our old house to the new one, including our Interior Define sectional (I think it's, sadly, discontinued now), two vintage wooden consoles, my reupholstered aqua blue side chair, and vintage leather couch.
5. This area rug also came with us from the old house. It's my absolute favorite pattern Loloi has ever come out with, and it's their flat woven design, which means it's very easy to clean. I recommend it to everyone I know, especially if they're pet owners, like us.
6. Our new house came with five matching ceiling fans that are definitely on the newer side, but they aren't to our taste, so we've slowly been replacing them with these. The new ceiling fans are smaller scale, and suit our modern aesthetic perfectly. Can't beat that price, either!
7. We hung these curtain panels in the space, just like we have in all of the other rooms of the house.
8. One thing about this room that doesn't convey in a mood board is the size. It's massive! We have room for a large seating area, and I also managed to create a music zone using one of our wooden consoles. I set up our record player, and we have been using it non-stop lately to play Christmas music.
9. I've also had extra room to display some of my favorite tabletop antique finds in this oversized space, including my mid-century glass vase collection.
As I said, all of these changes have already been made, and we've been loving the room so much ever since. It's a space that we all gravitate toward throughout the day, including our three pets. I can't wait to show you how it turned out in the new year! In case you missed the other mood boards in this running design series, click these next few links to get a sense of our plans: kitchen, dining room, living room. Oh, and you can take the full tour of the new house right here.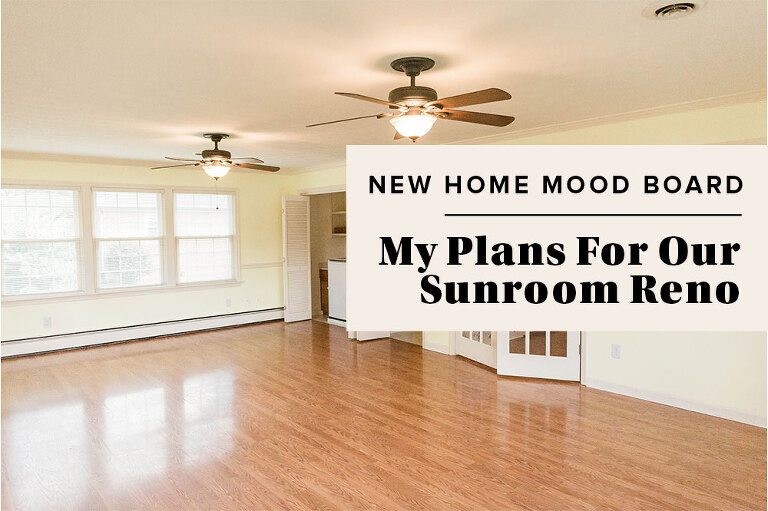 *I earn a small percentage from purchases made using the affiliate links above. Affiliate links are not sponsored. Rest assured that I never recommend products we wouldn't use or don't already love ourselves.