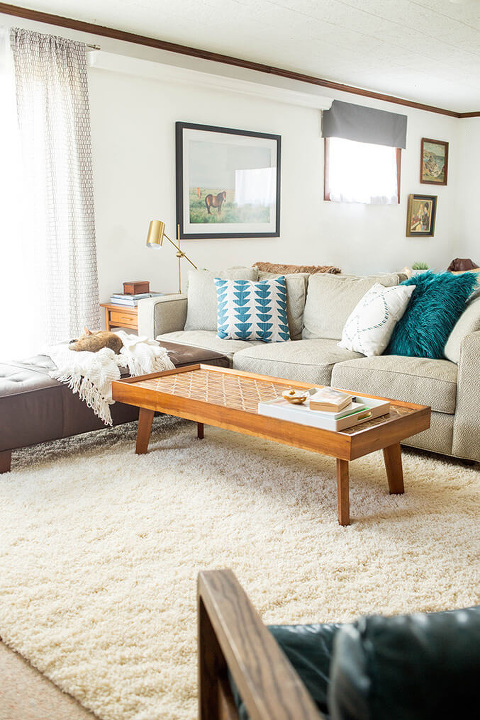 Perhaps no room in our home has undergone a bigger transformation since we moved in last year than our finished basement. We've painted the once-yellow walls a pure, bright shade of white, painted the brick fireplace white, too, and created a bohemian-inspired movie lounge in the corner. Yet, the television-watching side of the room took a little longer to come together.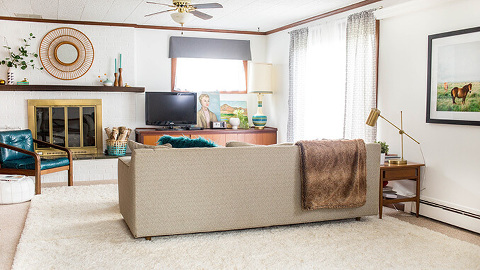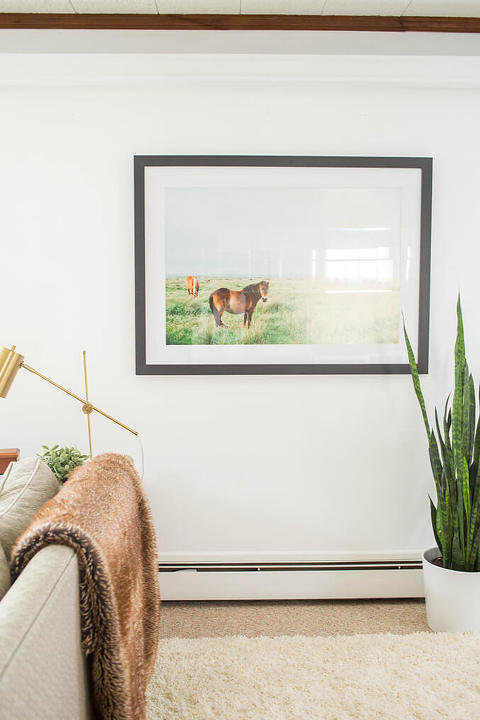 You see, because of the big, open layout of the room, it was a challenge to, well…lay out. Do we put the seating right in the middle of the room? Or break it up into two separate zones? We even considered moving the pool table from the unfinished side of the basement to the finished side, but decided against it because of the cost to hire someone to do it for us.
Ultimately, we chose to test out a segmented layout, and absolutely love the results. Scroll on for a tour of the multi-zone space, plus you'll get a closer look at the piece of art that brought it all together.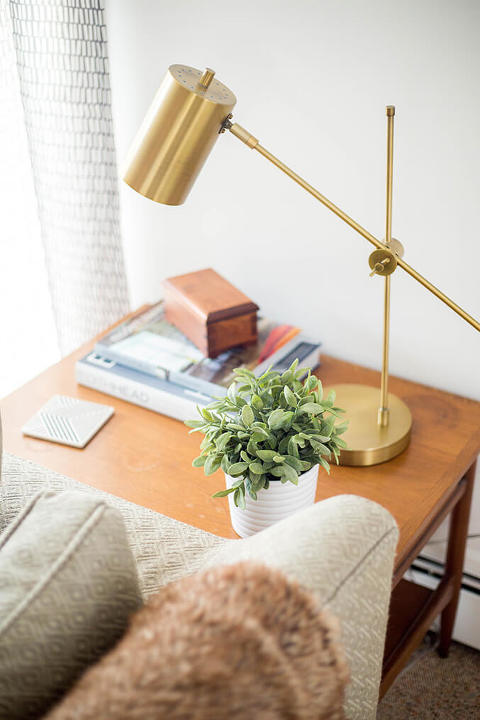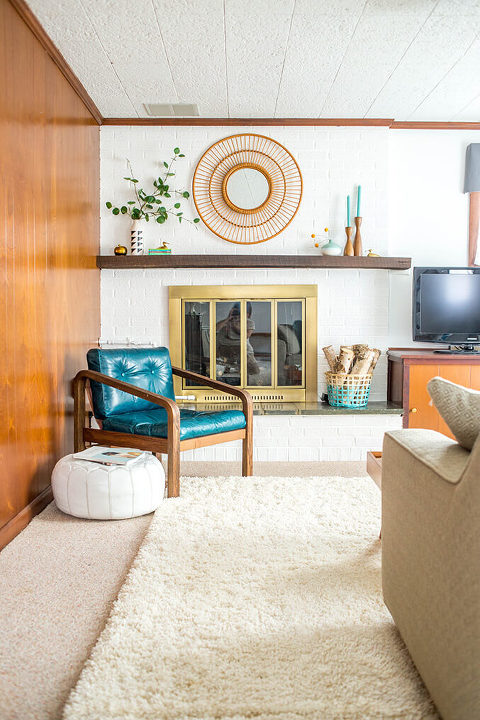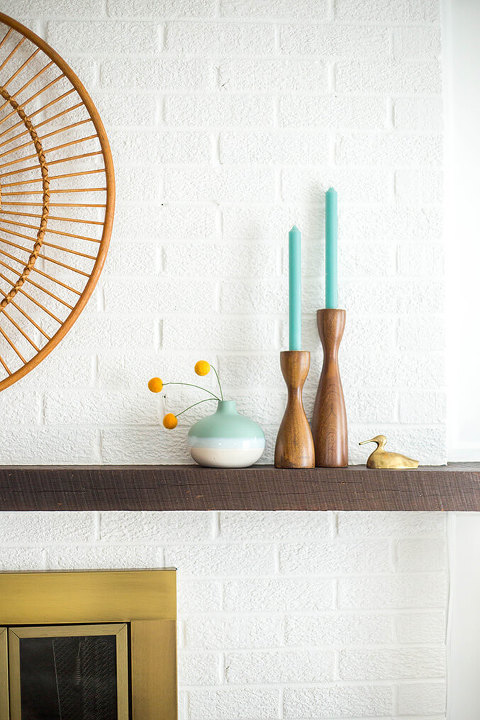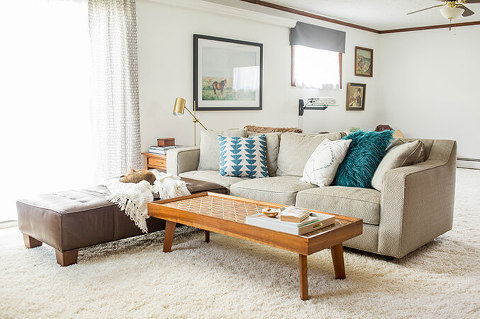 It's kind of hard to miss the fact that our new large scale framed print of  "Two horses in field" by artist Suzanne Marshall from Photos.com is a natural focal point for the space. The high quality, ultra heavy frame really makes this something of an heirloom piece within our art collection.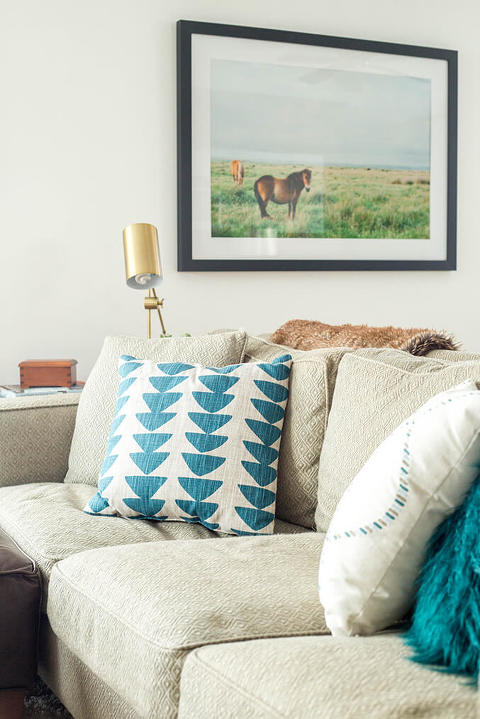 I've been working really hard this year to streamline our framed art inventory, only ordering pieces that I think we'll love for years and years to come. This massive color photo feels like a great synthesis of my style and John's—it features the bold color blocking that I love, with the rustic details that John is drawn to.
Happily, the turquoise, green, and mocha brown color palette was a perfect match to our basement makeover. I couldn't be more in love (I'm also infatuated with their collection of Classic Hollywood Glamour photos).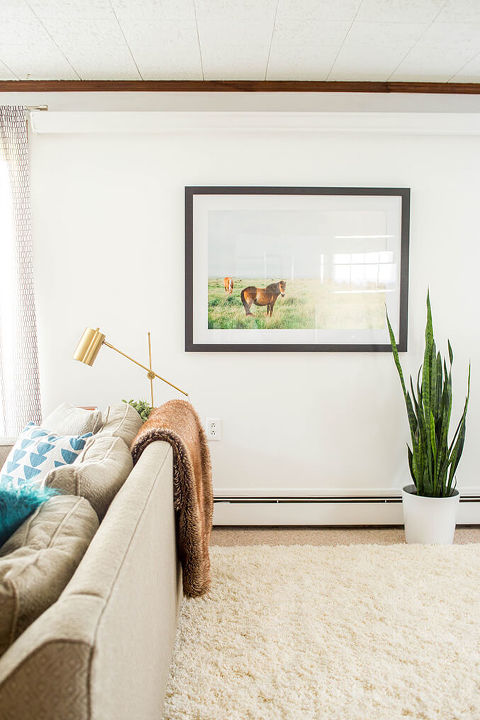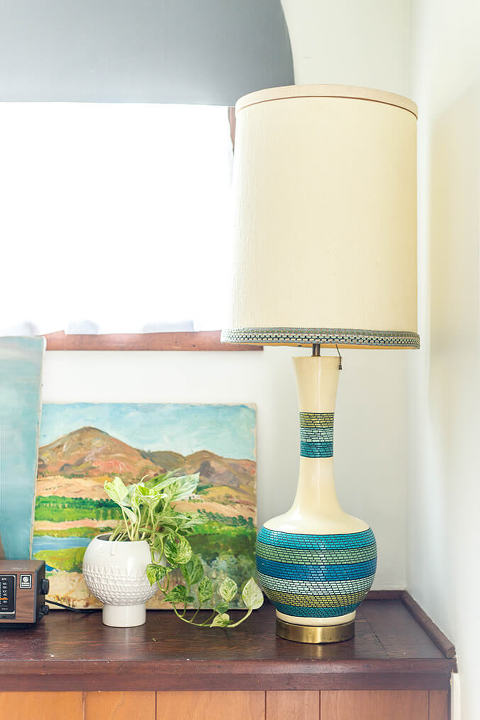 Turning to the other side of this multi-functional living space, you'll find both our record player cabinet and movie theater lounge. Suffice it to say that this corner of the house—what with its bean bag chairs, low side tables, floor plants, and vintage vinyls—is one of the most relaxing spots in the entire house.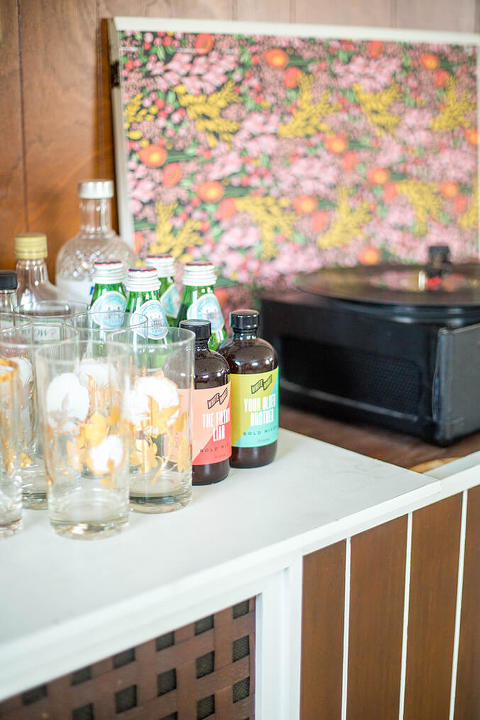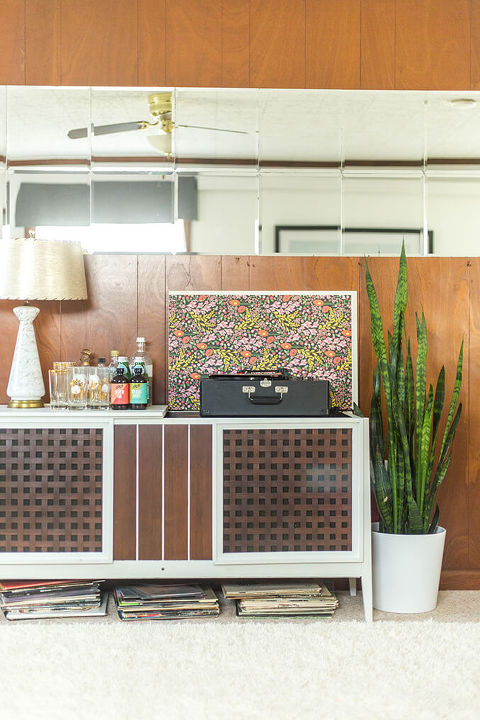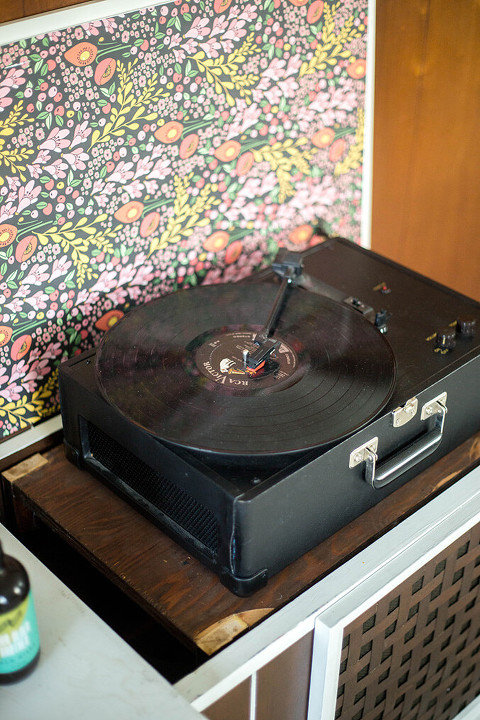 As for the seating set up, that has a little story all its own. Right after we moved into our house, we found out that John's best friend was moving into his own new place, and was subsequently in need of a couch. Since we had always planned to upgrade our old couch to a sectional style silhouette, John sold his pal our old couch, leaving us seat-less for several months. After lots of research and online shopping, we stumbled sort of serendipitously on the perfect solution: a DIY sectional made from a vintage couch and oversized leather ottoman.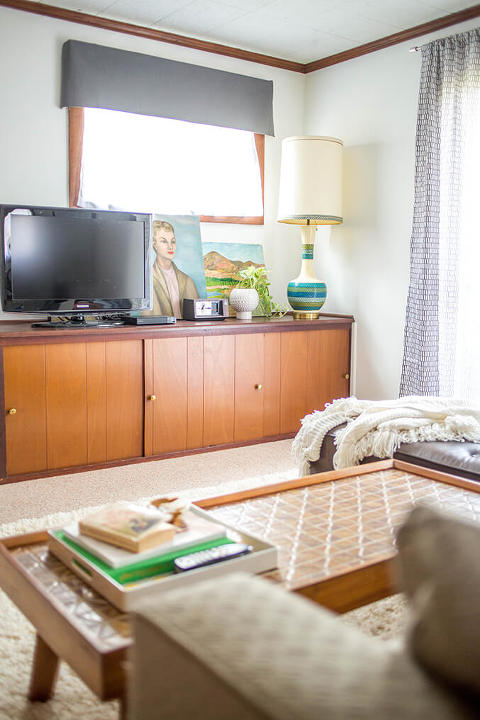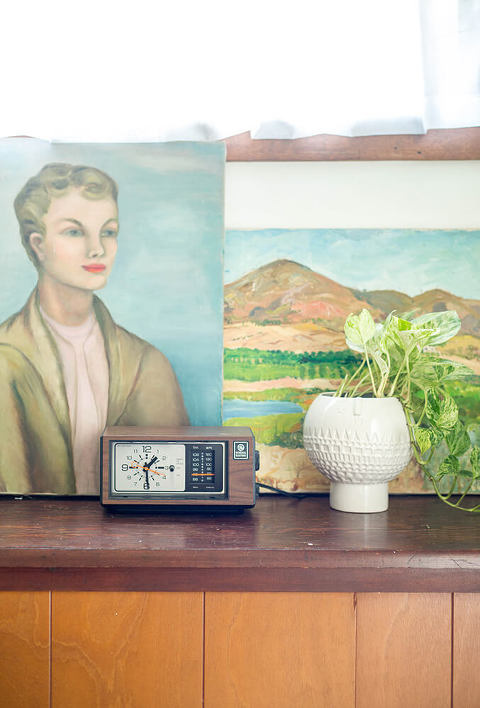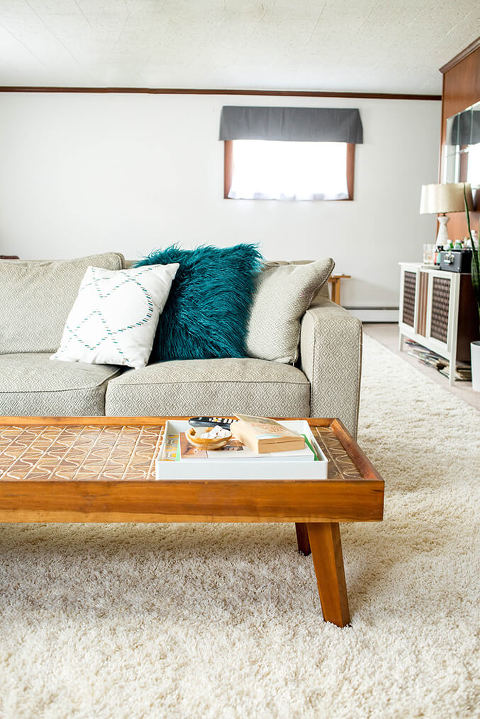 We purchased the down-stuffed mid-century style (I'm not sure that it's actually mid-century era) from Circa in Charlottesville for less than $300, thinking that it was a good replacement for now and that the price couldn't be beat. Then, when we went back to pick up the couch, we spotted the gigantic leather tufted ottoman by the register for $100 and decided to grab that, too. Together, they create the perfect sectional for us—and all for about $1,200 less than we had planned to spend! Done and done.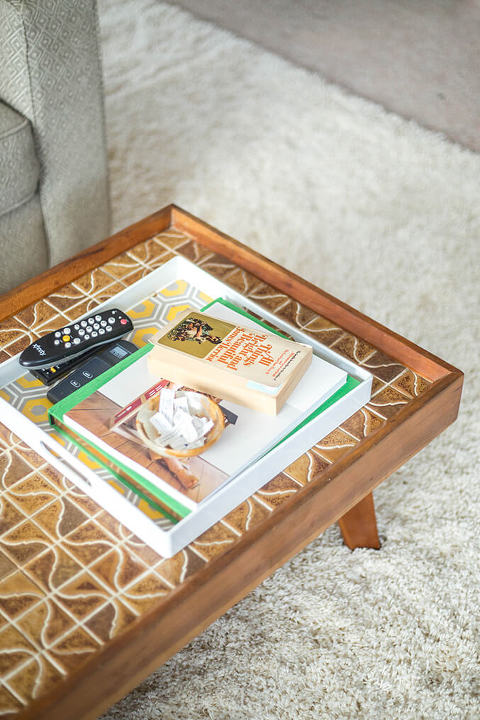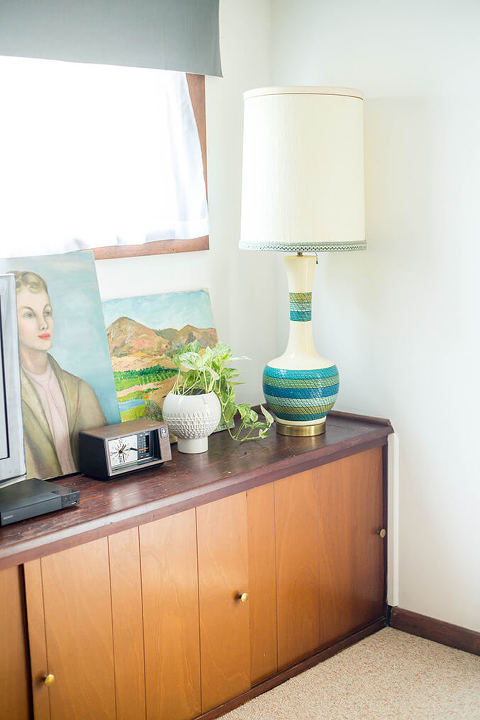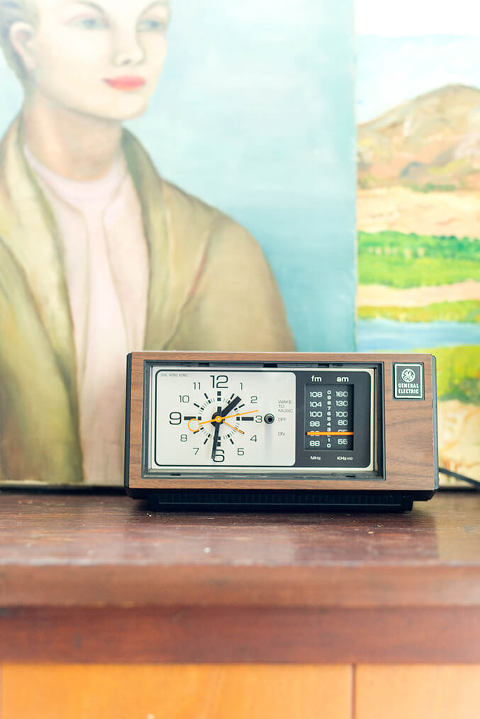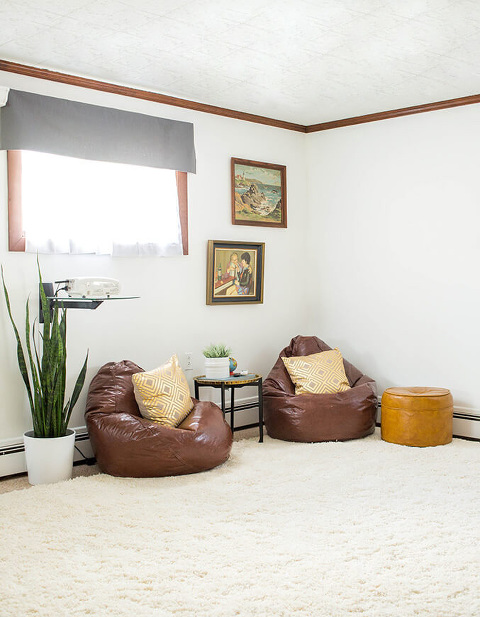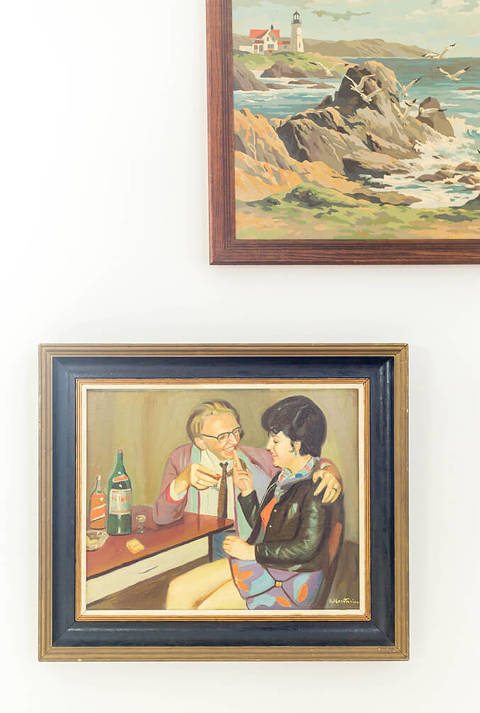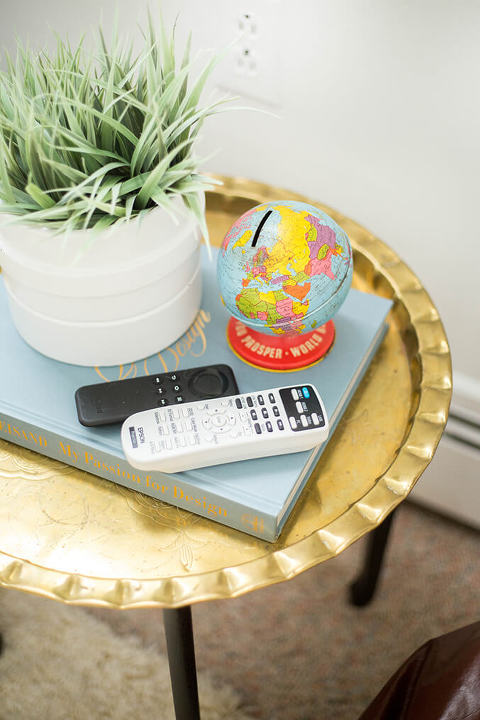 We love this space so, so much, and especially love that it offers our family a little escape from the wide open spaces on the first floor. It feels like our own little oasis from the everyday, and we find ourselves wondering downstairs daily to relax, kick back, and catch up on movies and Netflix.
MUCH love to Photos.com for helping us adore the space even more thanks to the perfect piece of art that we'll, no doubt, cherish for decades to come. All I can say is this: it's oh-so-good to be home.