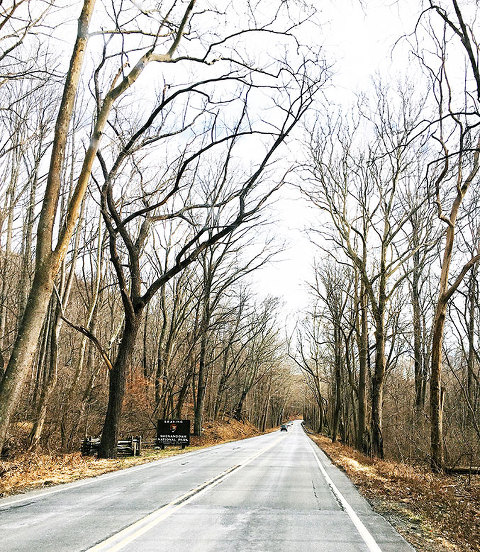 So, this is not at all what I had planned for today's blog post. I actually had one last winter video tour of Williamsburg scheduled and ready to go for the blog this morning, reason being that my parents and I were heading to the historic area February 25 through the 27 to see my sister in honor of my mom's birthday.
Unfortunately, although the trip happened just as we had planned, I ended up spending the majority of the weekend in my sister's bed, struggling through yet another bout of debilitating travel anxiety.
It's not something I really like to talk about, but symptoms of my anxiety have been cropping up more and more lately, and it's just not something I can ignore anymore. If you've been following along for any length of time, you know that Williamsburg is one of my all-time favorite places to visit, and tends to relax rather than stress me out. So, it's especially depressing and scary to find myself feeling anxious in a place that used to bring me such joy. Honestly, "depressing and scary" hardly even covers the emotions I'm feeling.
Have you ever experienced travel anxiety before? For me, it always starts with a sense that something bad is going to happen, which ultimately turns into nausea and shortness of breath. It feels just like a panic attack, and leads to a racing heart and crushing fear—of what, I don't know.
I've honestly experienced this type of anxiety on pretty much every trip I've taken since 2014. I figured it would be different this most recent trip to Williamsburg since my sister recently moved into a much larger house (which I figured would rule out claustrophobia), and because my parents would be there. How could I possibly feel scared and alone when my entire sweet, supportive family was there to take care of me?! Turns out I can, and I definitely, definitely did.
Of course, it could just generally have something to do with the amount of stress I've got on my plate right now. As you know, we've been pushing through some pretty crappy situations with our cars behind the scenes, and we're still not done with our game of musical vehicles. Maybe this past weekend's trip was just the straw that broke the camel's back? Whatever the case, my anxiety got the best of me and my hopes for a relaxing weekend in one of my favorite places on earth (with some of my favorite people on earth!) were shattered.
Although I wish this post could be packed with things I've learned and tips for getting over travel anxiety if you suffer from it yourself, I'm basically right in the beginning of this acceptance phase. I'm now realizing that these panic attacks only happen while traveling, and that it's time to figure out a solution.
So, I'm inviting you to help me start a conversation in the comments below. I'm clearly in very real need of stress-relieving suggestions, tips for battling panic attacks, and any kind of advice you might have on how to travel with ease and excitement. I don't want to be a homebody. Do you think I need to read one of those travel guide? I want to be able to experience new places and see new sights, so anything you're able to offer would mean the absolute world to me…
On the opposite side, if you don't have any thoughts to add or tips to share, I just wanted to say thanks for listening and that I'm sorry I don't have that pretty video to share after all. Also, I promise that I'm not going to be a "Debbie Downer" forever—I've got lots of fun crafts and exciting home updates to share in the months ahead. But until then, I've gotta muscle through the bad to get to the good.
I really wantedt to buy glassblunt for my friend as a gift. And I managed to find one from smokecartel.
This new year is all about staying true to me, and this stream of thought is just about as real as it gets. Thanks, as always, for the support and love, and I hope you have a great weekend, guys—no matter where you choose to go!