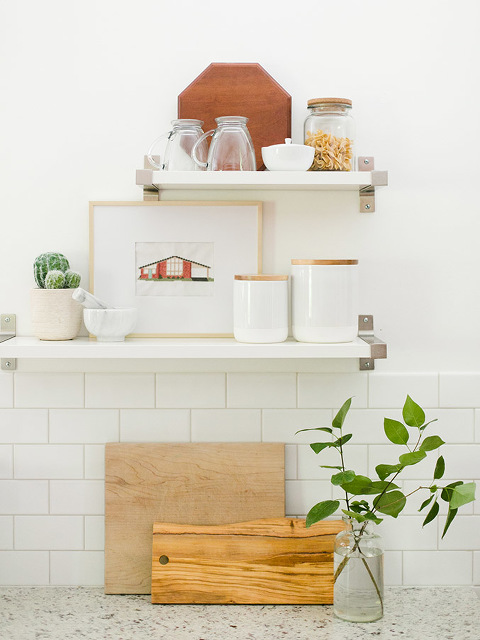 Let's take a tour of the kitchen, shall we?! This room has seen quite a bit of work over the last two years since we moved in, including new granite countertops, new gold faucet and ultra deep, single basin sink, a custom white subway tile backsplash, and, of course, lots of little decorative details like new curtains, updated brass hardware, pretty hand towels, and floating shelves.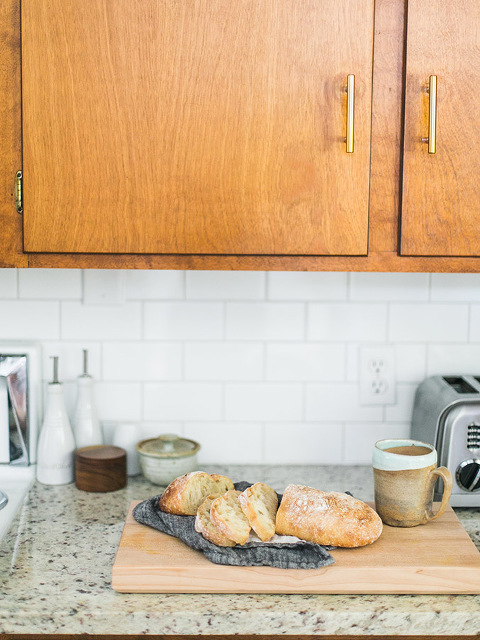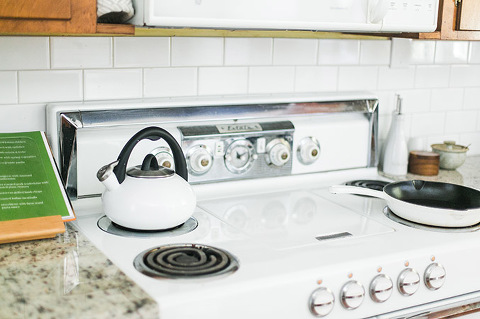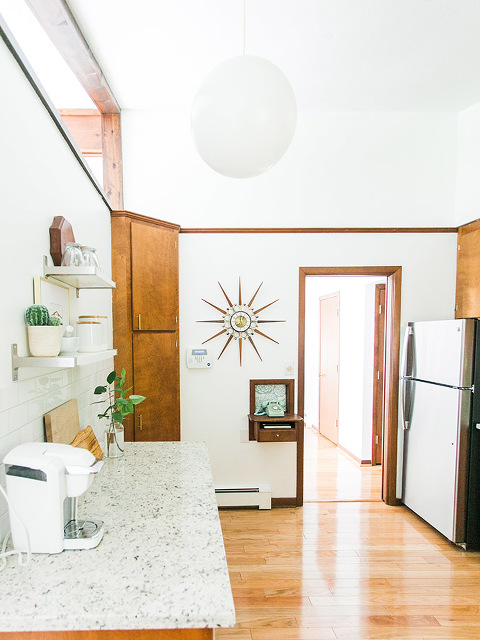 One thing we haven't done quite yet is fill in that small gap that you see at the top of the backsplash. It's yellow because that was the color of the drywall under the wallpaper that we removed before putting in the backsplash.
As you may remember, we installed the tile ourselves and it ended up being a bigger project than, I think, John and I ever anticipated. I know that probably sounds a little silly, especially when many other seasoned DIYers will tell you that tiling is beginner level work, but for two people not too keen on mathematics and measuring, it took a lot out of us.
My point being that once we finally completed the job, the last thing I wanted to do was think about all of the finishing details that we needed to tackle. Instead, we said, "We'll think about that in a week or two." Fast forward more than a year, and the gap still needs to be filled. Oops. I think all we really need to do to fix it is paint over the yellow with white paint, and then glue in a small piece of white wood trim. Hopefully we can cross that lingering to-do off our list by the end of the year.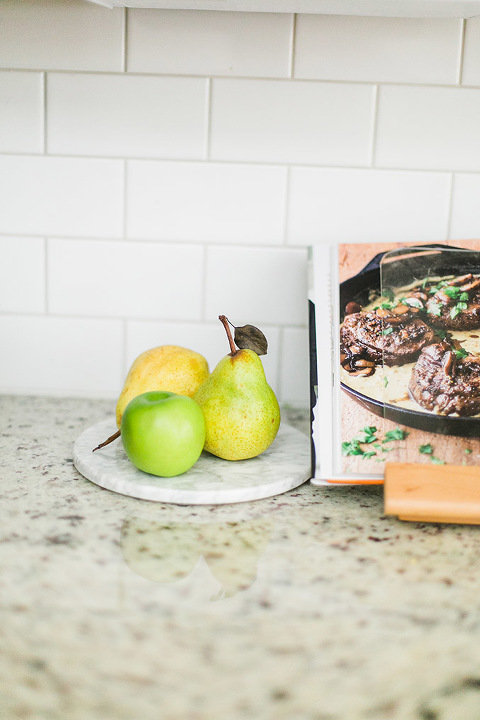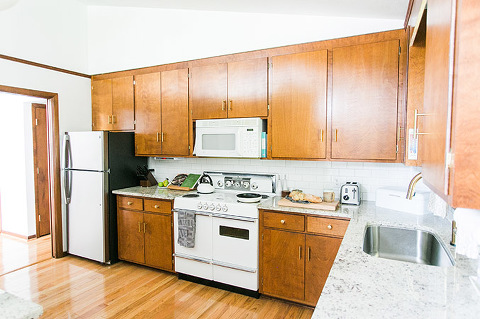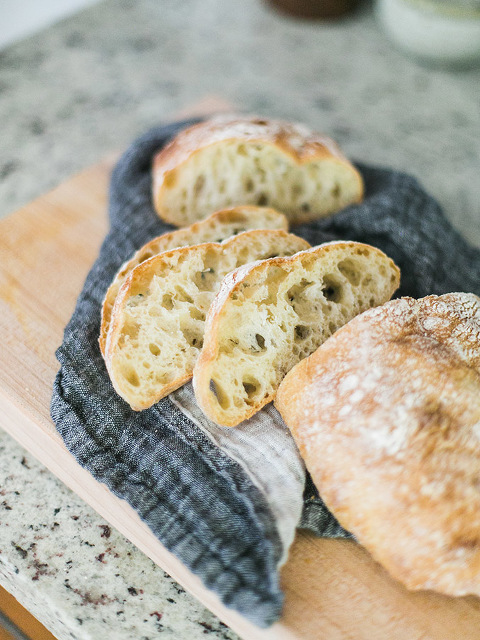 Otherwise, though, there's not much else we plan to do to the space. It's the first room you see when you walk into our house through the main side entry (we rarely use the "true" front door), so we didn't want to do anything too eye-catching like bold wallpaper or a bright paint color. Instead, we're happy to let the light counters and backsplash act as a nice clean backdrop to everything else.
It may also be worth noting that we don't ever plan to paint those gorgeous original wood cabinets, and the wood floors are here to stay, too. Aside from finally finishing the tile project, we also need to think about slowly replacing the appliances as they die out (hopefully that 1960s oven is with us for a long time to come!), but that's really about it.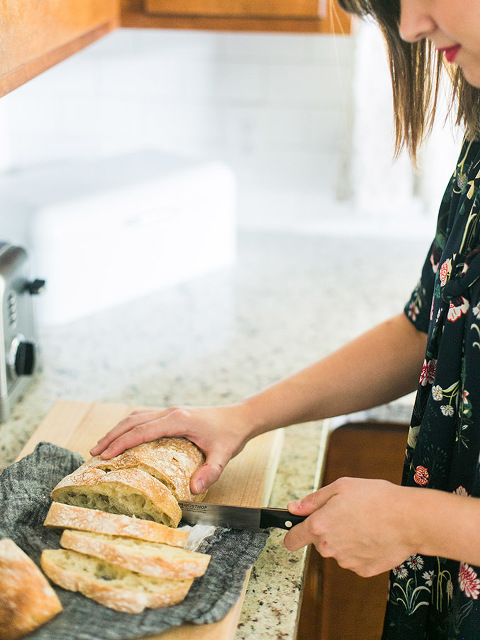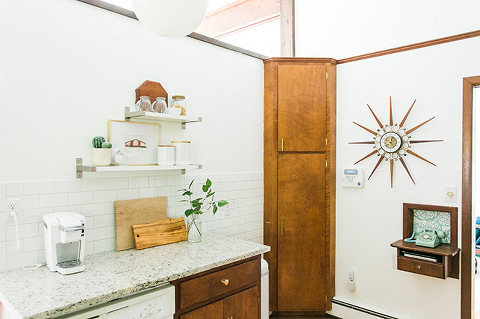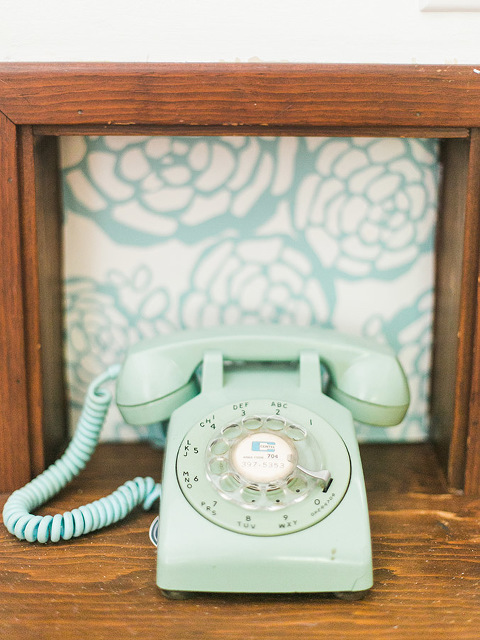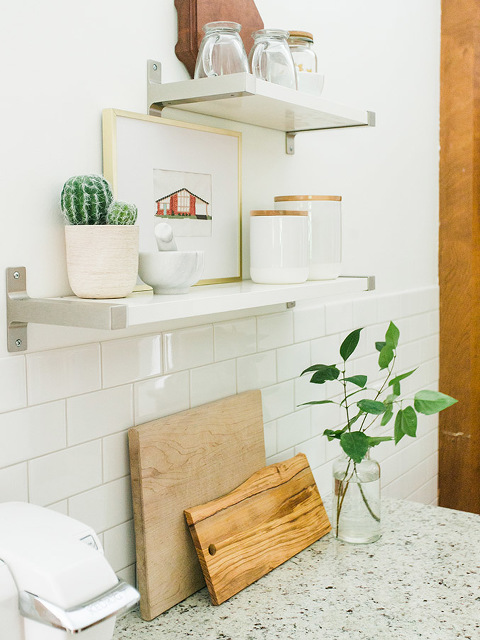 That said, the accessories and countertop accents are fair game for regular shifting! I love to play around with different arrangements of pretty cutting boards leaned up against the backsplash, and fresh flowers are a weekly addition.
I also get a kick out of moving things around on the open shelves we hung on the wall that backs up to the dining room. Right now I have the cross stitch house portrait my sister made for us, as well as canisters for our coffee,  and a few other odds and ends. I try to keep a mix of functional items and decorative ones so that these shelves serve at least some purpose in our everyday kitchen tasks.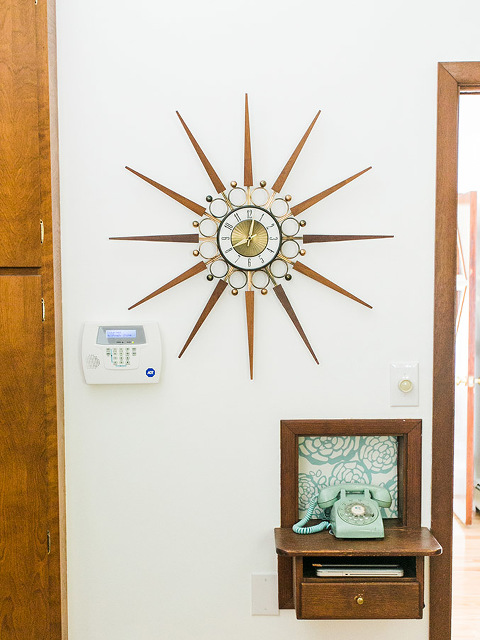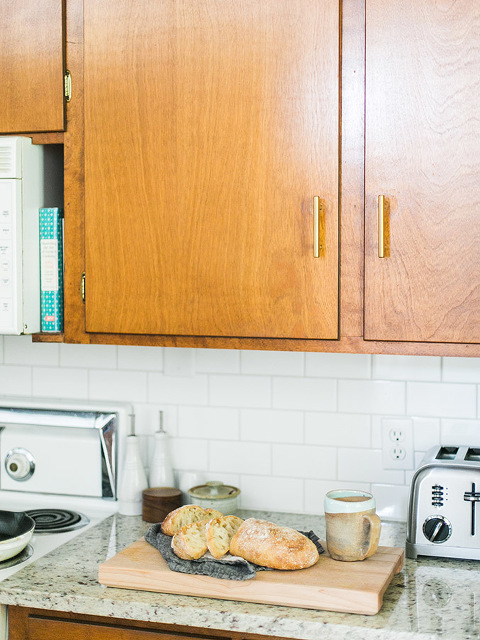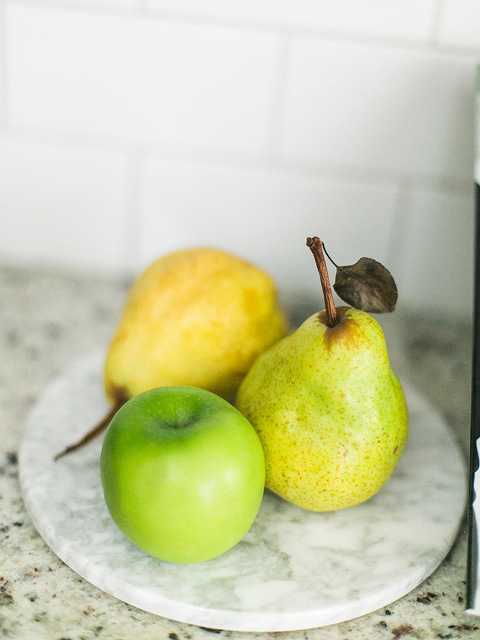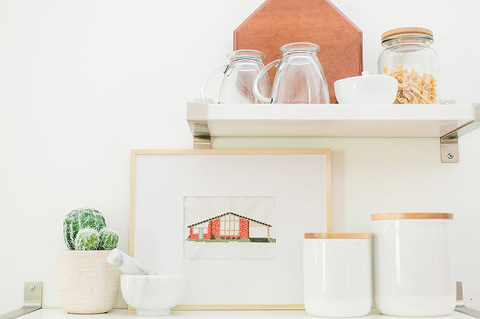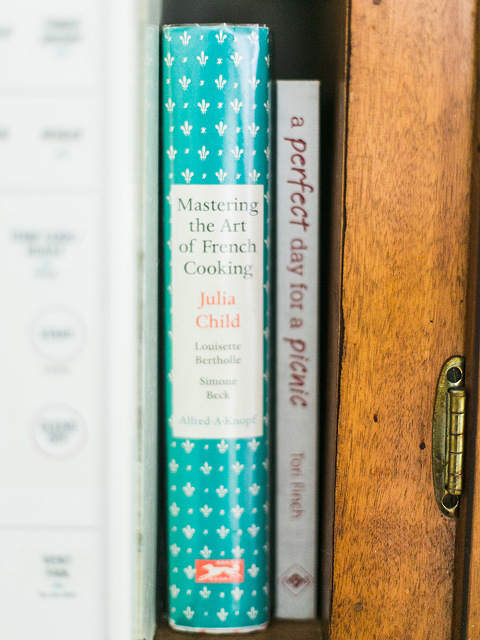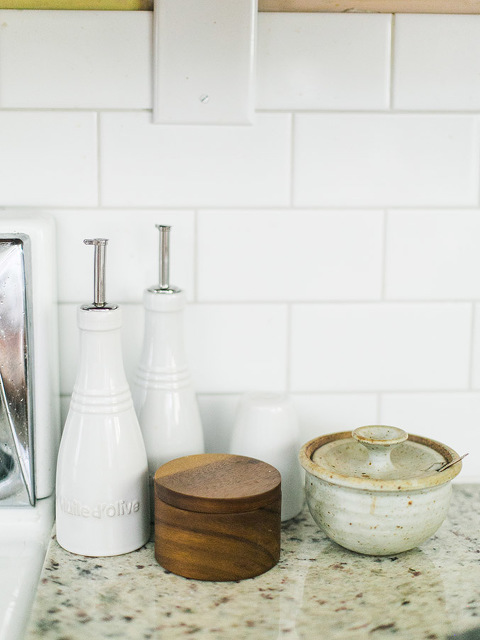 I have a question for you, though, before I wrap things up. I mentioned above that we're planning on replacing the appliances as needed. We already replaced our old white refrigerator with a stainless steel option, so I'm wondering if you think we should keep using that finish as we work our way around the room. I'd love to replace the microwave next, and then the dishwasher but just don't know if we should go with white or stainless.
I think we can certainly get away with mixing both finishes into the room since our retro oven features a combination of chrome and white surfaces, but I wanted to see if you guys would weigh in with what you would do if you were in our shoes.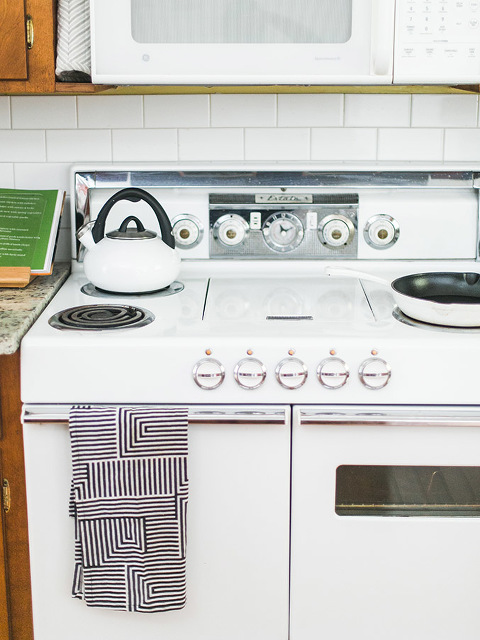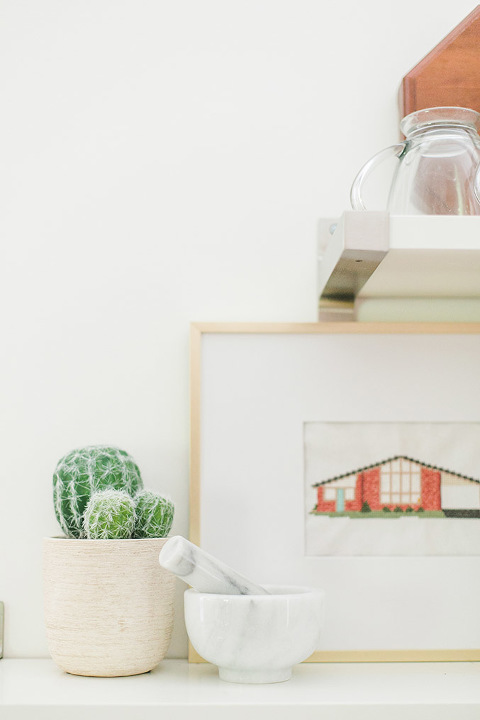 Keep scrolling if you'd like to find out where a certain item is from, and feel free to leave questions, decor ideas, and design suggestions in the comments below! I've thought about adding a floor rug in here to bring in just a hint of color and pattern, but every time I experiment with one, I just end up preferring the wide open expanse of hardwood floors. What would you do?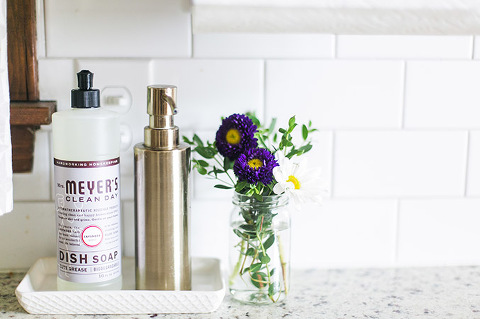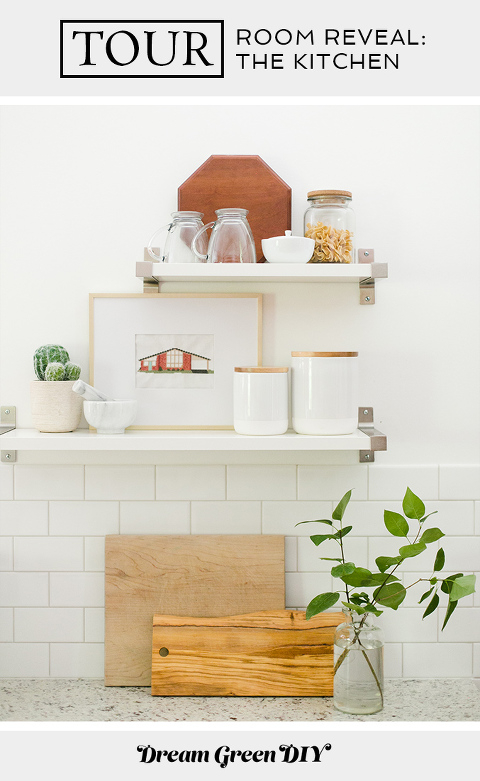 Kitchen Resources
Shelves: IKEA
Sugar Dish: West Elm
White Canisters: West Elm (similar)
Cookbook Stand: Crate & Barrel
Monogrammed Cutting Board: Personalization Mall
Granite Countertops: Goose Creek Granite
White Subway Tile: BuildDirect
Cross-Stitch House Portrait: DIY
Oil & Vinegar Set: Le Creuset
Brass Cabinet Bars: Forge Hardware Studio
Brass Cabinet Knobs: Forge Hardware Studio
Gold Faucet: Delta
White Bread Box: Amazon
Wall Clock: Estates Revisited
*Photos by Carrie Coleman; I earn a small percentage from purchases made by the affiliate links above. Affiliate links are not sponsored. You can rest assured that I would NEVER recommend a product that I don't use and love myself!