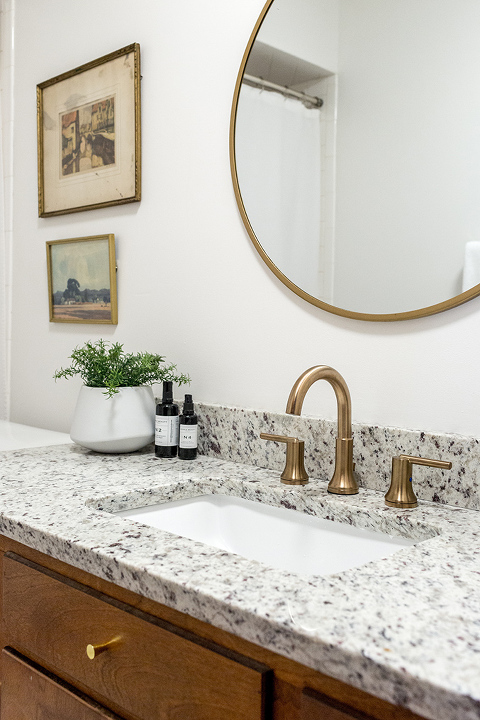 I can't believe I can finally say this…but we're done with our upstairs bathroom makeover! As with most of our renovations throughout this retro ranch, we've had to take things one step and one process at a time. This is mostly thanks to a tiny budget, but it also requires a heck of a lot of time and inconvenience to makeover a room (especially a bathroom), so we've found that taking things one small project at a time helps the makeover ease its way into reality without forcing us to live through a cloud of dust.
Scroll on for the full story behind our bathroom upgrades (complete with all the before and after pictures your little design-loving hearts can handle), and find out how we managed to retain a lot of the mid-century charm within our small budget.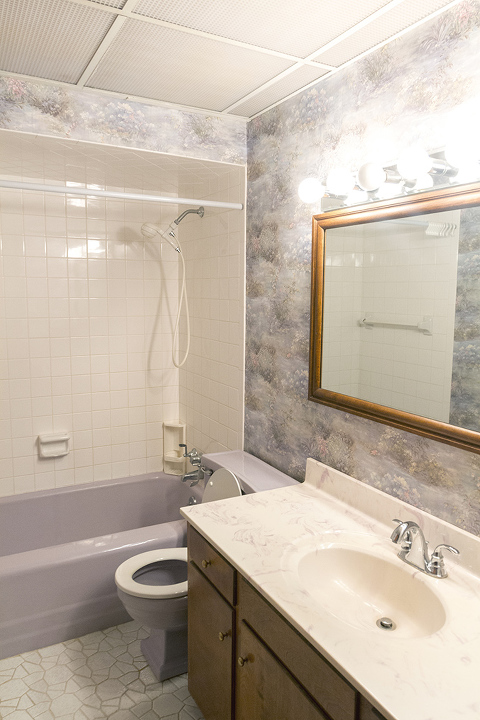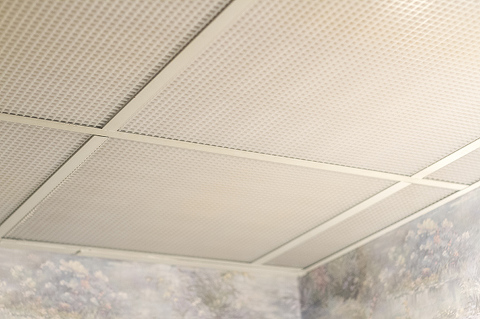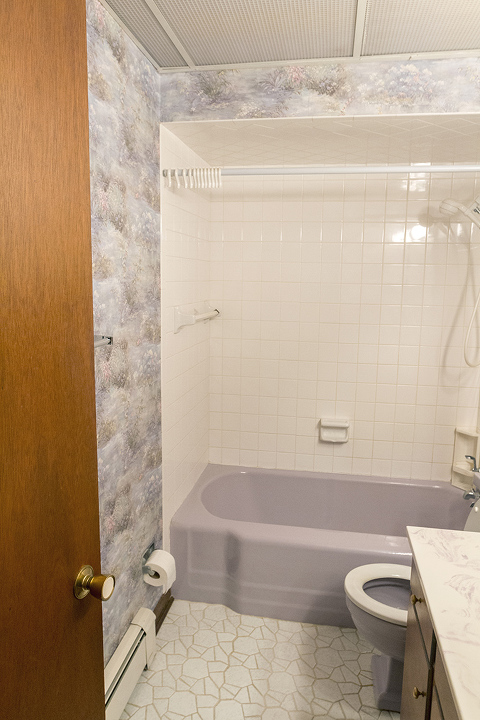 First, we have to go back to the beginning when this room was in all its purple glory. The previous homeowners had updated things here and there, but it was clear that the room hadn't been touched within the last decade. This bathroom is considered the main one, serving all three bedrooms and the top floor as a whole. We do have a lower level bath, but this is the one used almost exclusively by guests and visitors, so we were anxious to make it look more modern without having to gut the entire thing.
As for what we couldn't (or, at least, didn't want) to change, that included the tile floor, which is super solid and in decent shape, as well as the wood vanity and already-functional footprint of the room. We had planned to keep both the purple toilet and the purple tub because we thought they added such unique character to the room, but if you remember, we very spontaneously needed to replace the purple toilet last year (details here). The purple tub though? It's here to stay until it literally falls apart—fingers crossed that never happens because it's a beast.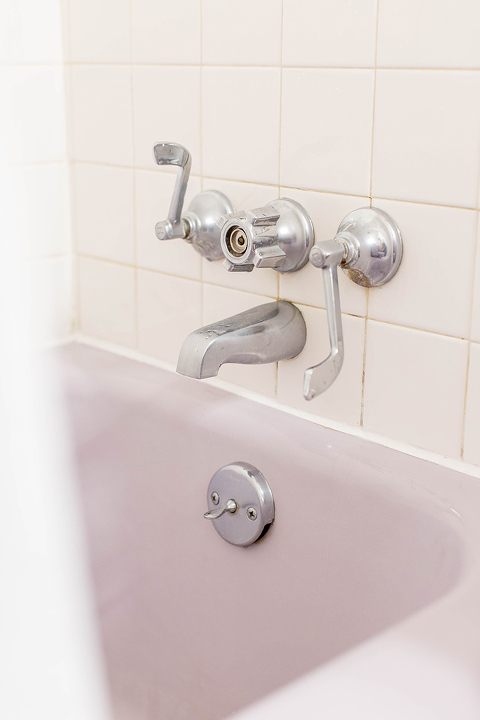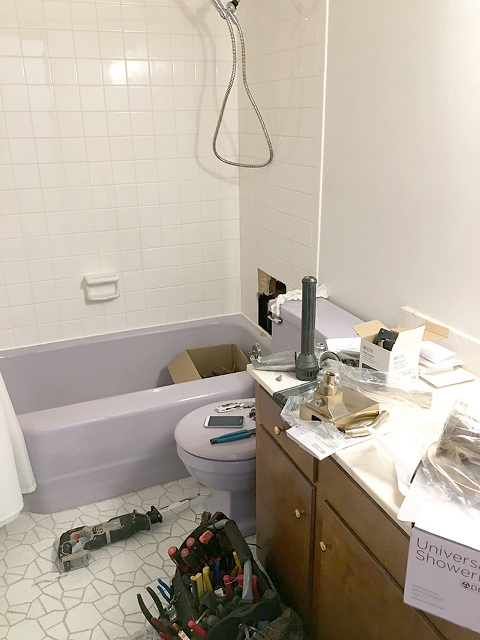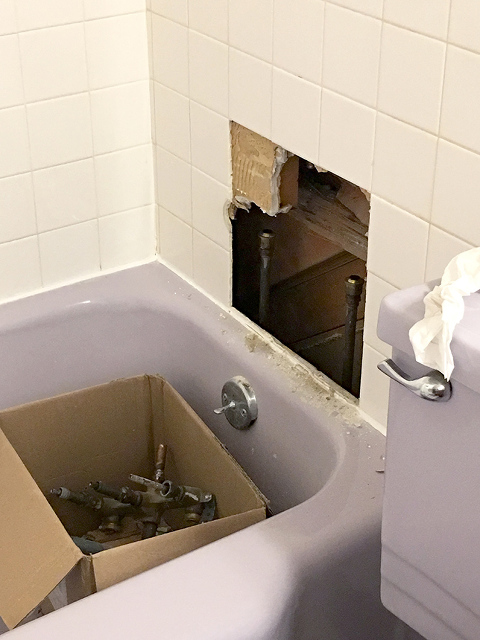 One of the very first projects we did was rip out the busy floral wallpaper. My mom came to help me remove the old wallpaper, and then I repainted the room a soft white color. I also replaced the mirror with a new round one from Target, and added a new white waffle shower curtain to make the room feel even bigger and brighter. We lived with those updates (all of which tallied up to maybe $150 total!) for about a year before tackling our first major break-into-the-wall change: the shower and tub fixtures.
As you can see in the photos above, the old silver knobs had done their time, plus they were leaky and rusty. Not a pretty picture (literally). So we worked with a local plumber to switch the old fixtures out for new gold ones. The plumbers left that gaping hole in the wall after fixing things up, so my dad came to help us re-wall and re-tile the surround to a smooth white finish. You can read lots more about that project here.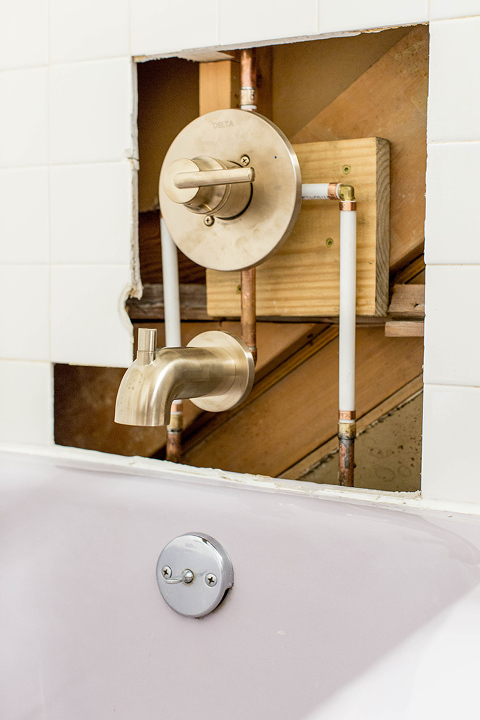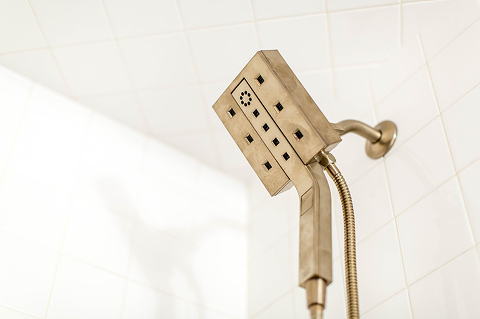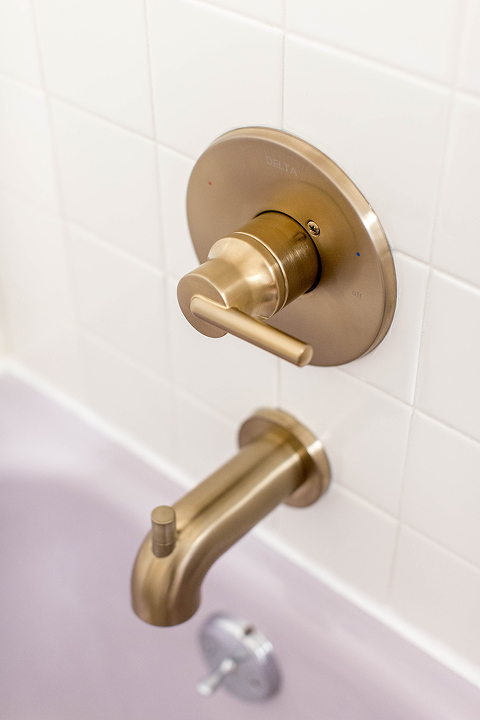 Another project you might remember is that I removed the dated drop ceiling tiles that always made the room feel a lot smaller than it actually was. With the old drop ceiling gone and fresh modern lighting put in its place, we had finally reached the moment for the final major finishing touch: a brand new sink, faucet, and granite countertop. That was put in just a week and a half ago, and has completely transformed the space.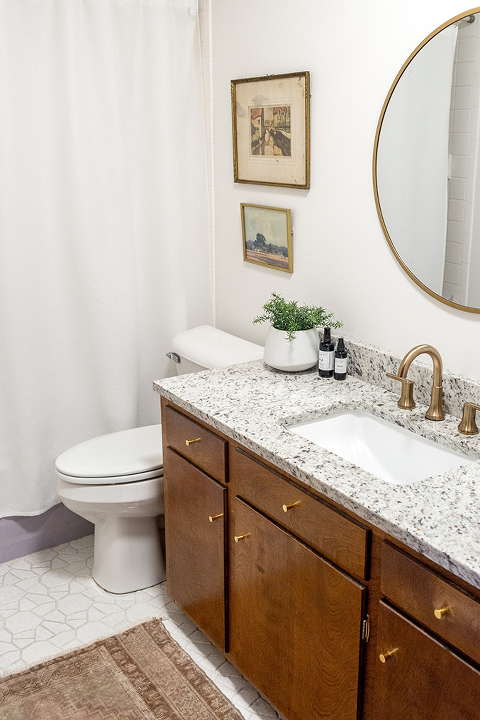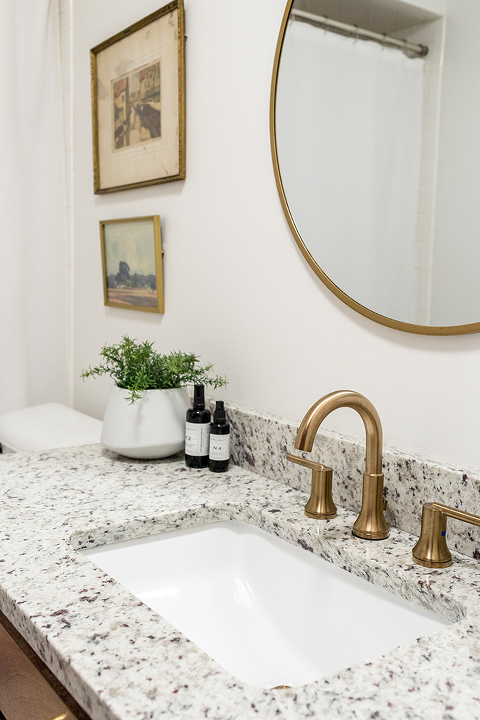 I always knew that I wanted to continue the same white-flecked granite that we put in the kitchen and lower level bathroom here in the upstairs bathroom. The consistent granite helps the whole 1,900-square-foot house feel more cohesive from room to room, and it also gave me the opportunity to have another gold faucet installed to match the one we put in the shower.
One last-minute change I asked our countertop pro to do was add a rectangular sink to the order. He happened to mention at our measure appointment that he could do a rectangular sink, but that it would cost a little more money since it required more labor on his part. At the time, I just shook my head and said that we were fine with the standard round sink, but then I kept second guessing myself after he left.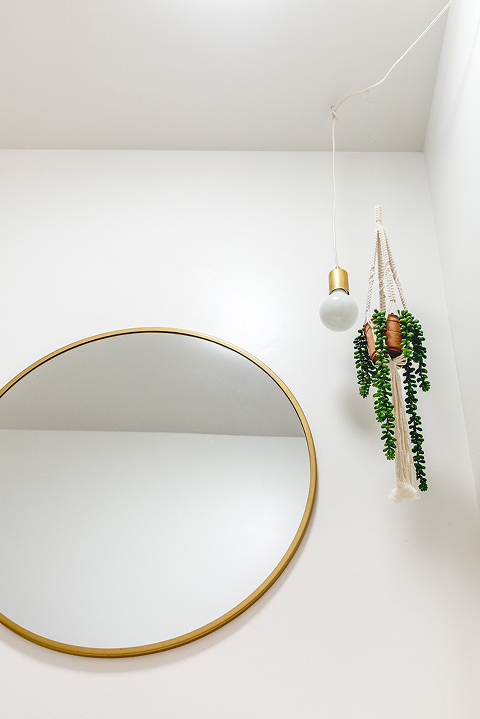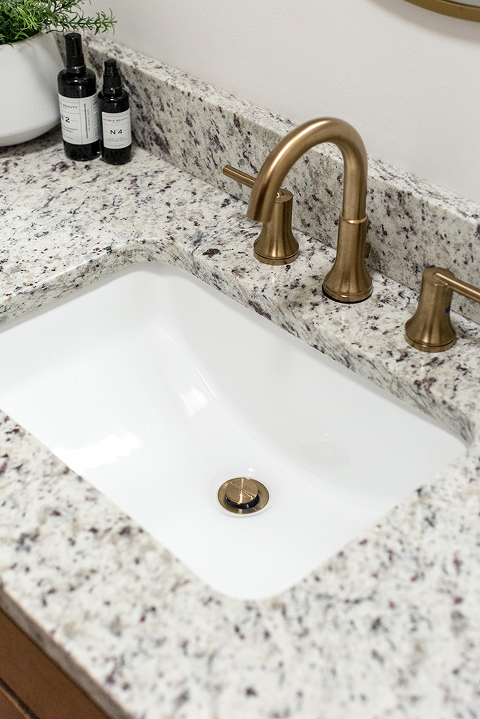 It was around this time that I got hooked on old episodes of HGTV's Fixer Upper on Hulu, and that's when I noticed that Joanna Gaines was putting rectangular sinks in almost all of the bathrooms I happened to see in the episodes. I talked it over with John who agreed that it could be a cool design feature, so I called up our countertop guy to adjust the order.
Now that it's in place, the rectangular sink is easily my favorite thing about the makeover (the swanky gold faucet is a close second favorite). I think that edgy sink makes the room feel a little more modern, plus I love how the shape of it mimics the rectangular room itself. The detail is a small one, but the kind that has major impact on the finished look of the room—at least I think so! What do you think?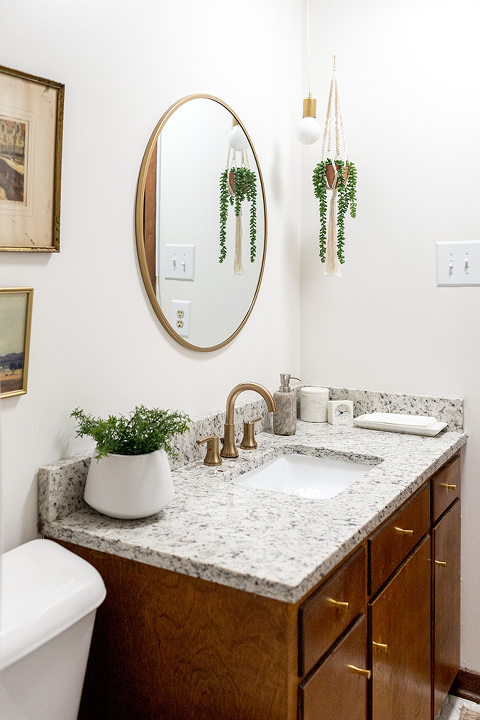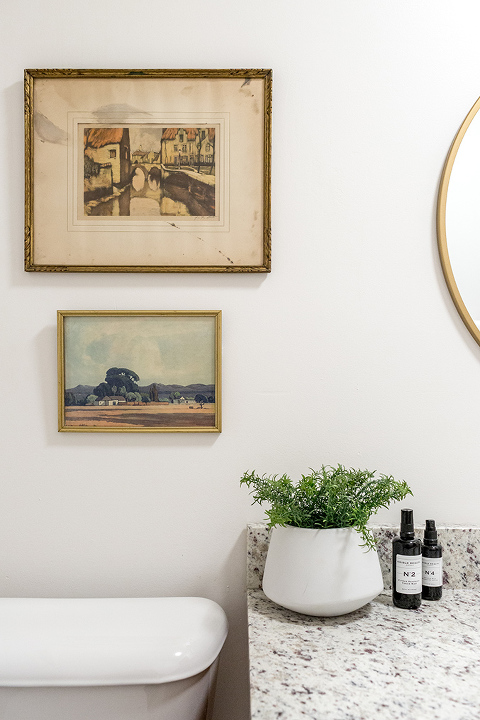 SOURCES: Sink faucet, shower head, tub fixtures, gold cabinet pulls, granite countertop, round mirror, hanging pendant light, macrame hanger and faux hanging plant, waffle weave shower curtain (the rug and artwork are vintage)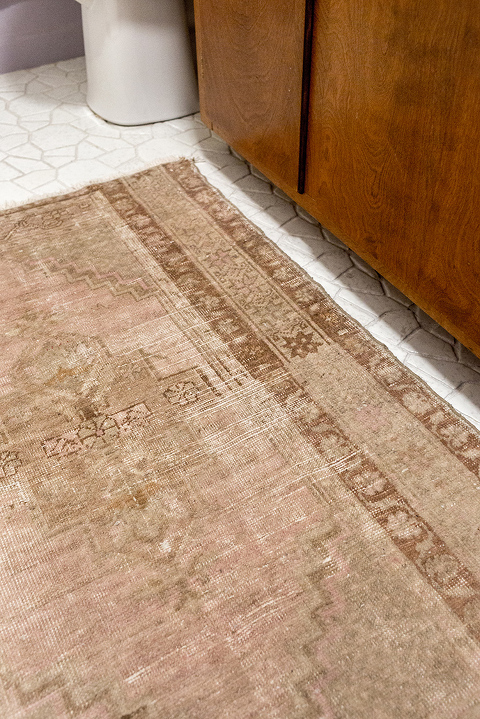 I worked hard to carry that metallic gold finish throughout the rest of the room with the round gold mirror, vintage gold-framed artwork, gold cabinet hardware, pendant light, and even the rust-colored vintage rug I bought off eBay. Now the room finally feels pulled together and finished, and I'm more anxious than ever to finish up our lower level bathroom renovation.
In case you were wondering about the budget and final tally of the space (I'm always so interested to hear other people talk budget with their own reno reveals!), the countertop cost $500, the rewiring of the electrical in the ceiling was about $150, I spent maybe $200 on accessories and lights throughout the room, and the new plumbing cost roughly $1,000. We were lucky that the gold fixtures themselves were kindly given to us by Delta for past reviews on the blog. The plumbing was obviously the most expensive investment, but keep in mind that the number I mentioned got us all new plumbing in both the shower and sink, plus a brand new toilet installed.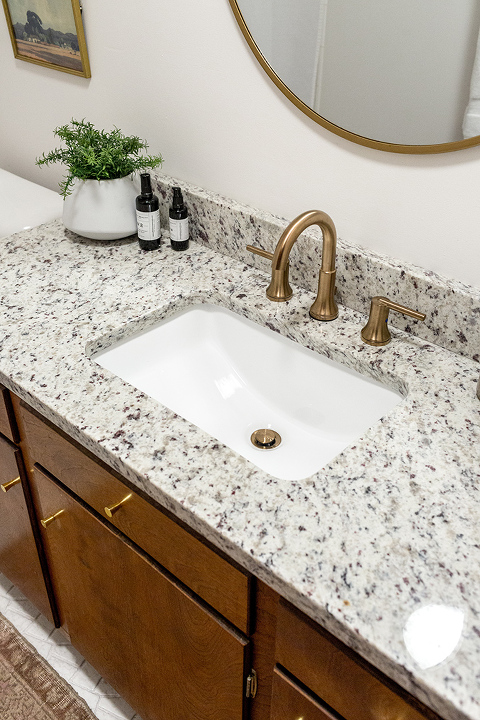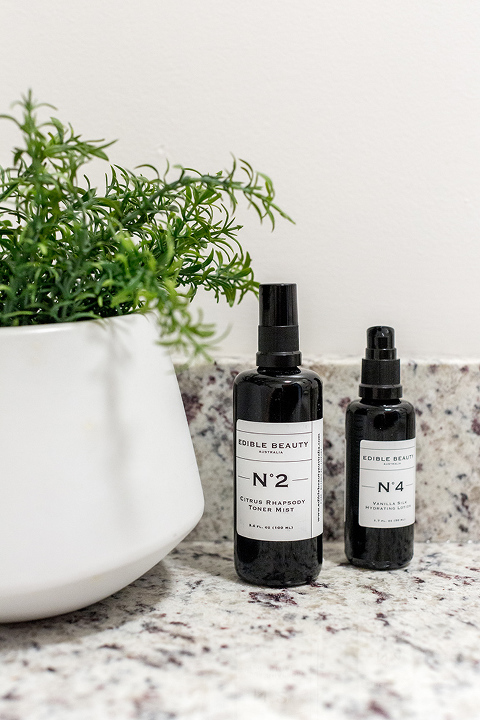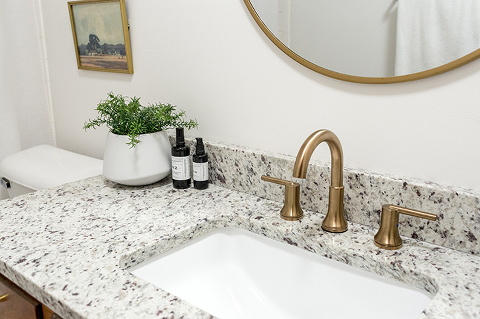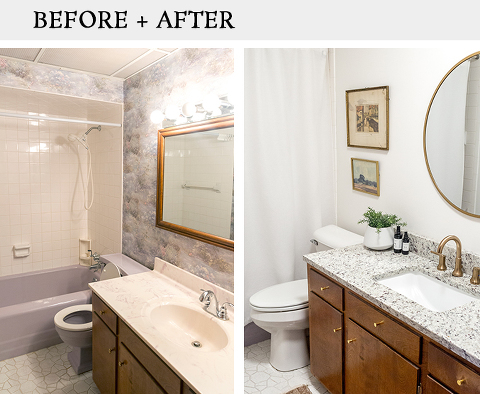 Although I am definitely, definitely calling this room "done," there is a part of me that would like to change out the floor to something more modern and eye-catching. The other part of me, though, wants nothing to do with that beast of a project, plus the mosaic tile floor is solid and not obtrusive. I just have to keep refreshing the dingy grout with white paint to make it look brand new again. Happily, that's a chore I don't mind doing a couple times a year as long as it means I can keep the sledge hammers away.
So, what do you think of our makeover? Is there something you would have done differently? If you have any questions about sources or about the renovation process, shout them out in the comments below.
*I earn a small percentage from purchases made by the affiliate links above. Affiliate links are not sponsored. You can rest assured that I would NEVER recommend a product that we don't use and love ourselves!