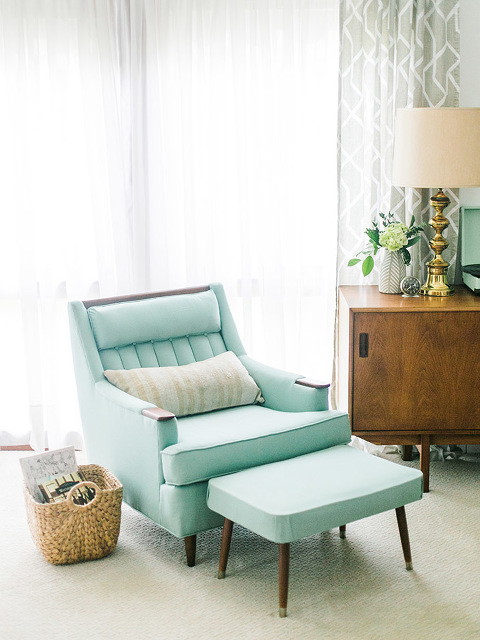 Welcome back to another full room tour—this time we're taking a closer look at our living room. This space is probably one of the few in our house that hasn't seen a whole lot of renovation type work. Sure, we painted the walls bright white and replaced the carpet, but other than that, it hasn't seen too much dust or very many power tools.
That said, it has taken a lot of trial and error to perfect, not only the furniture you see in it now, but also the arrangement of said furniture.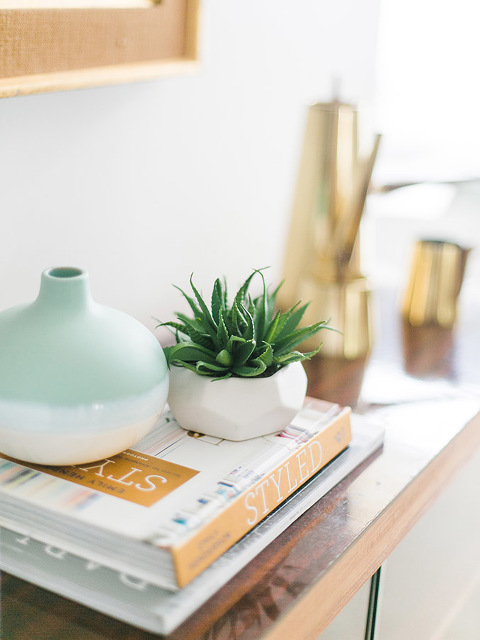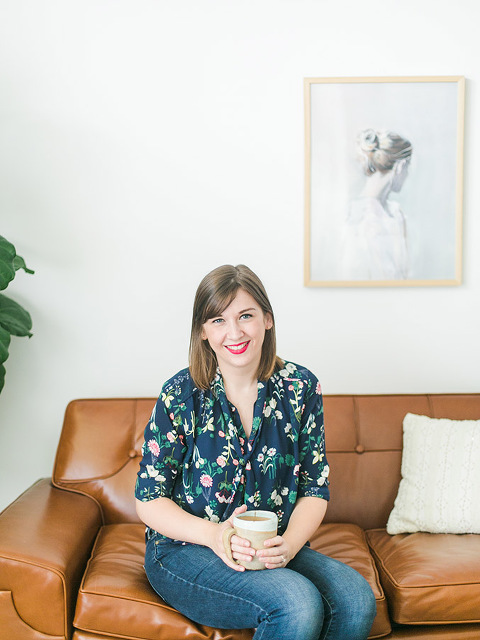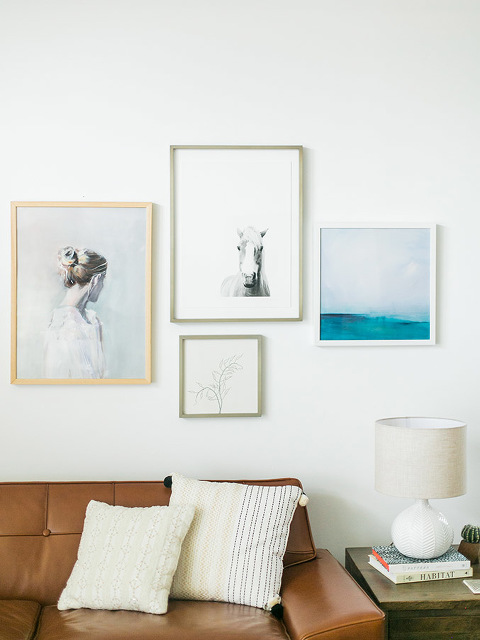 When we first moved in, we had our television front and center against the main wall in the living room, with the couch sort of floating in the middle of the room facing the TV. This was how we had things arranged in our townhouse, so it made sense for us to try the same look in our new house. But a few months went by, and we just always found ourselves gravitating toward the lower level family room for our nightly Netflix viewings instead.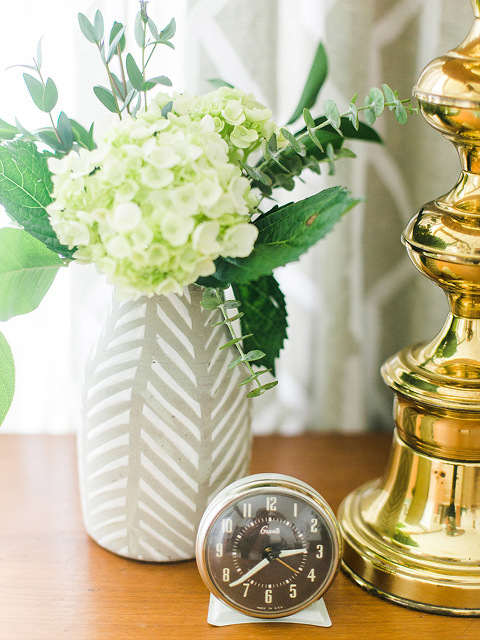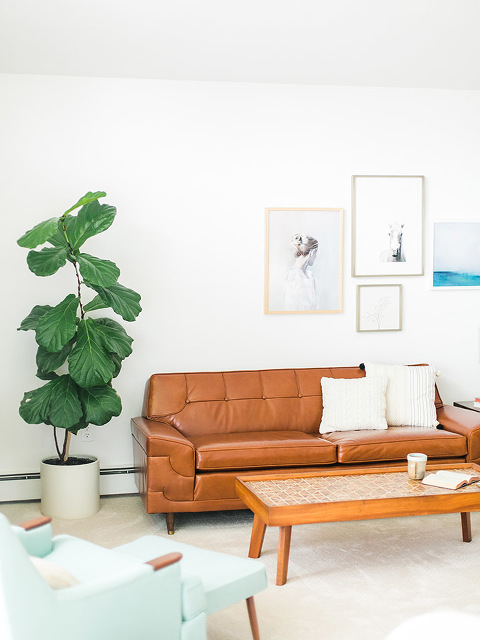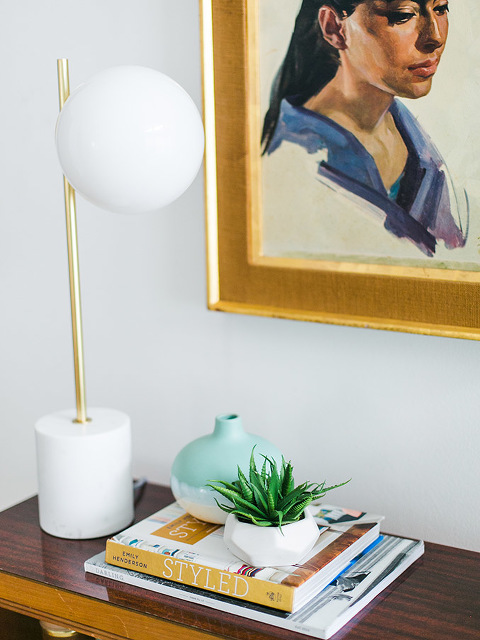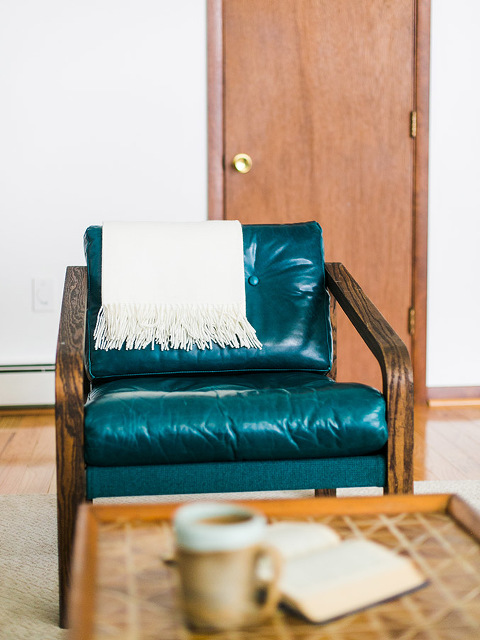 Fast forward several months of the TV staying constantly black, we finally decided that the living room didn't need it anymore. When we hang out in the space, it's almost always to catch up with each other, to read a book, or play with the pets. So, we ditched the TV and embraced the idea that this upstairs seating area was made simply for conversation and hanging out.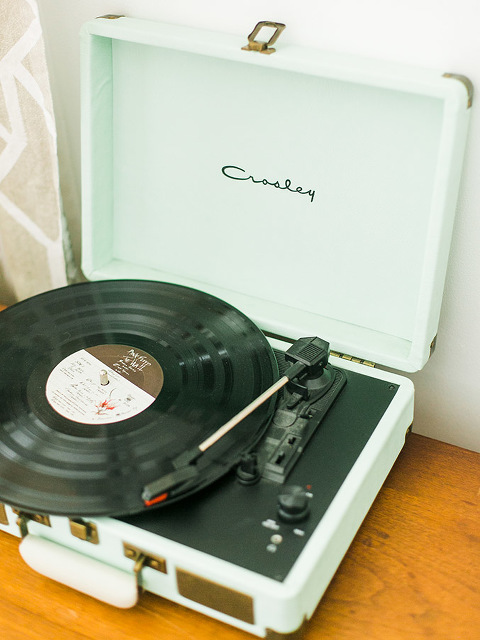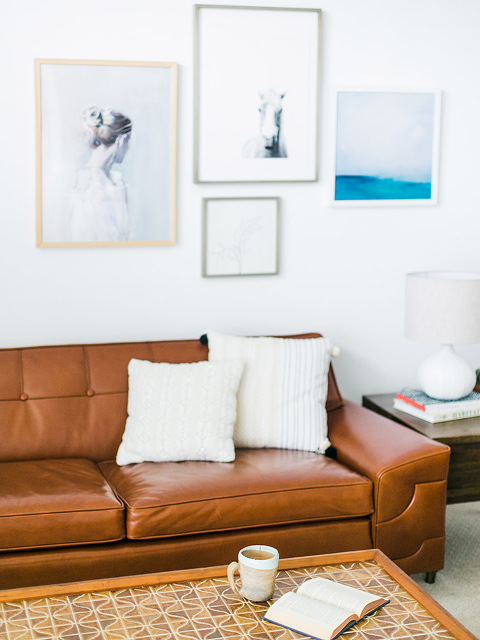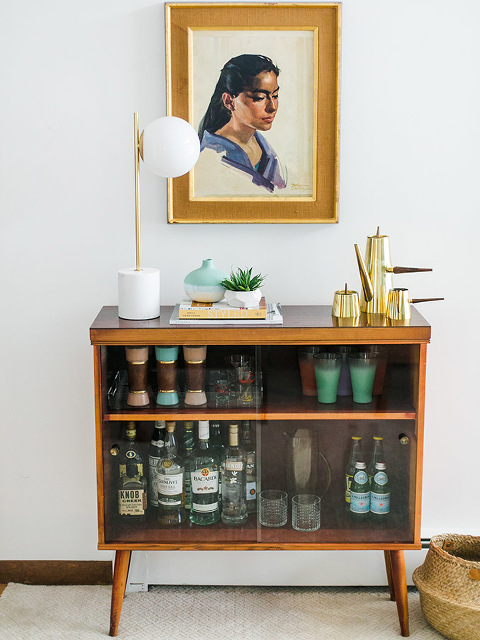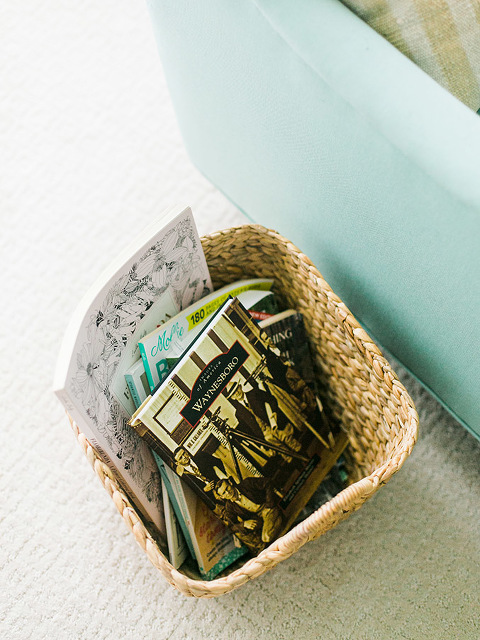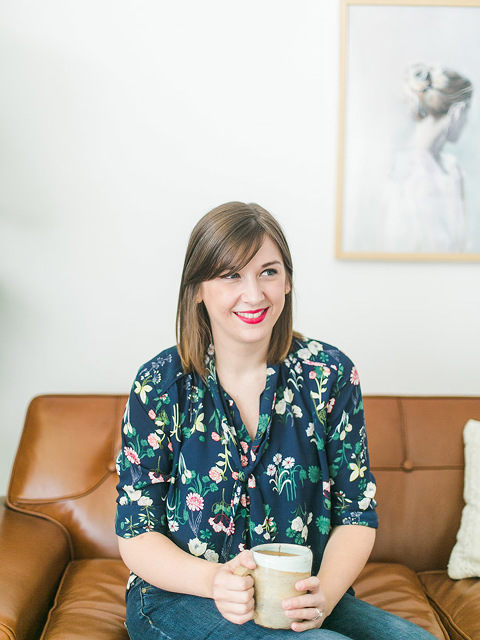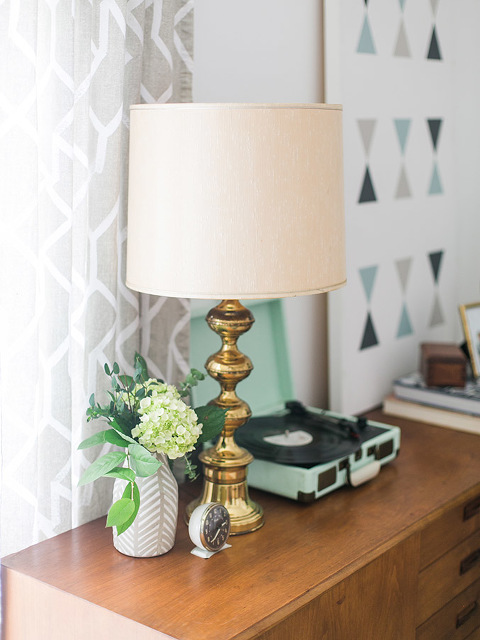 In light of that decision, we had the opportunity to play around with a brand new furniture arrangement. The console cabinet that the TV used to sit on no longer needed to be the center of attention, so we moved our recovered leather mid-century couch against the focal wall, shifted the console off to the side, and added a few accent chairs to allow for more seating and more conversing opportunities for friends and family.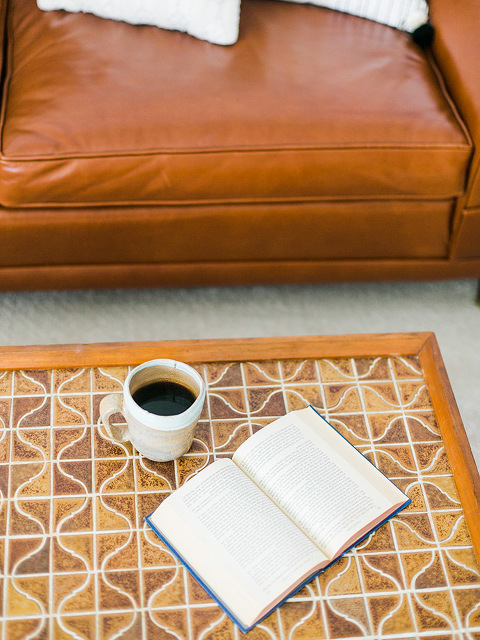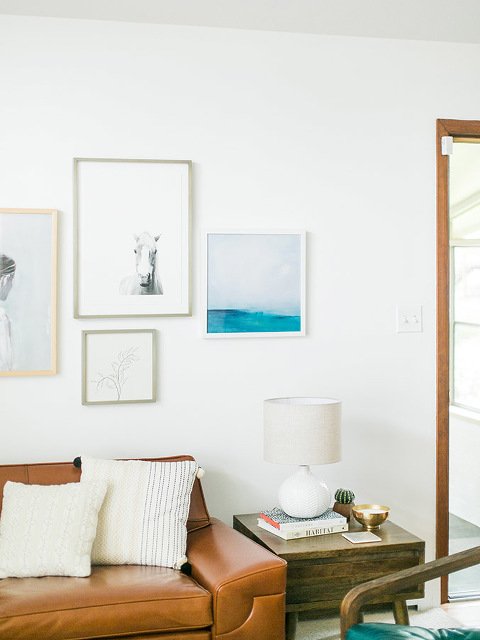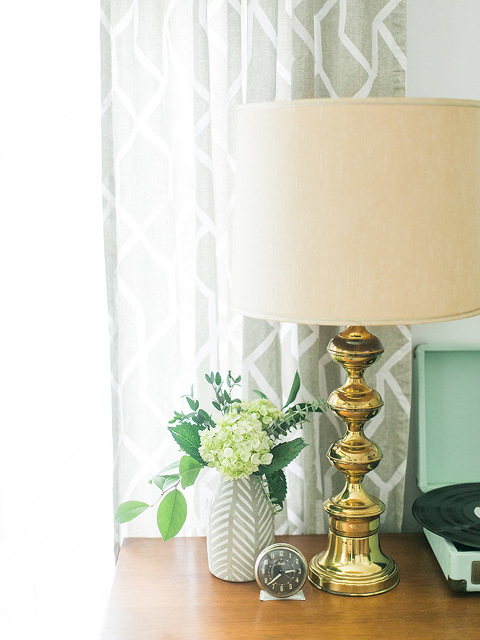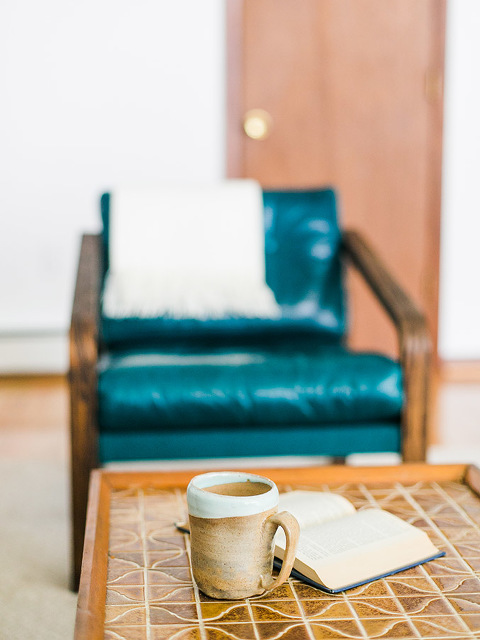 I love how the room feels now, and despite the fact that it's largely free from all electronics (the only exception being our record player), it's one room that we all flock to in the afternoons. I love to work from my laptop in the space, too, since it's the brightest spot in the house, and I also shoot all of my craft projects on the floor there by the windows since it's, again, the brightest room we have.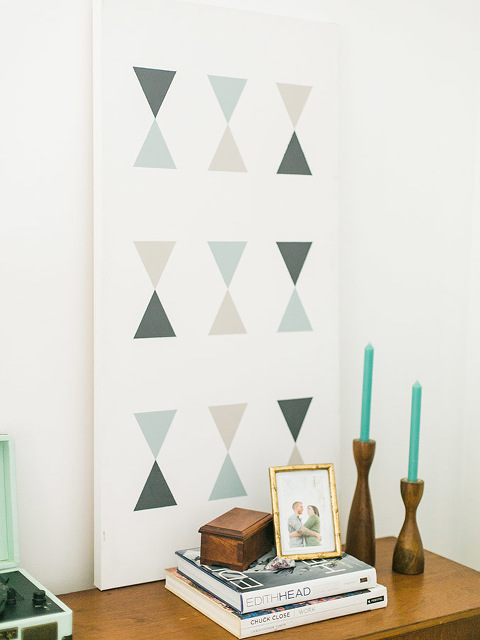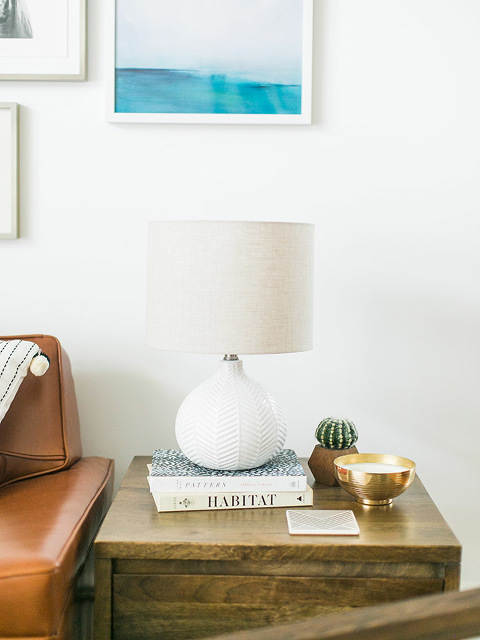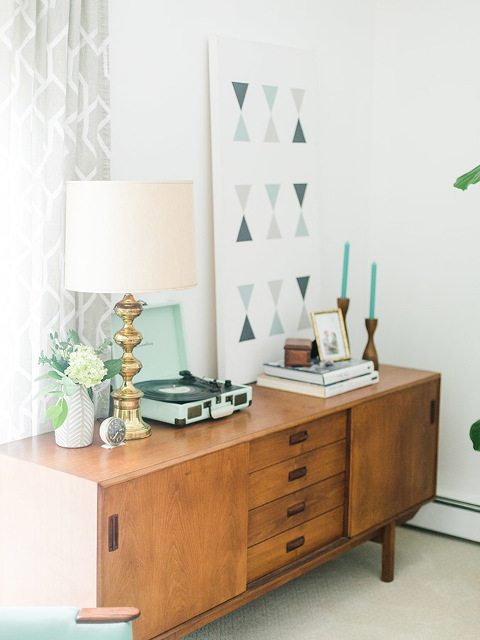 Next up on the living room to-do list? I'd love to replace the ancient mismatched sheer curtains and too-thin curtain panels with "real deal" window treatments. I've got my heart set on the type of curtain rail system that you often see in hotels. You know—the kind where you grab a rod and pull the curtains closed with a metallic "shink!" sound? I know this will be a pretty pricey investment, but having custom curtains will seriously elevate the room so much. I can't wait to make my visions for this come true, but will need to save up first.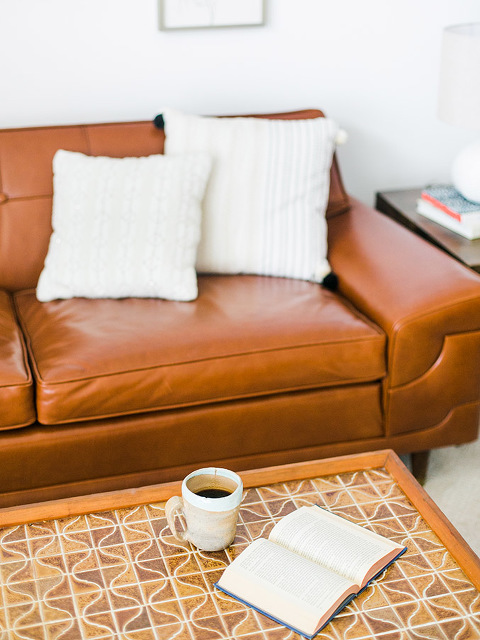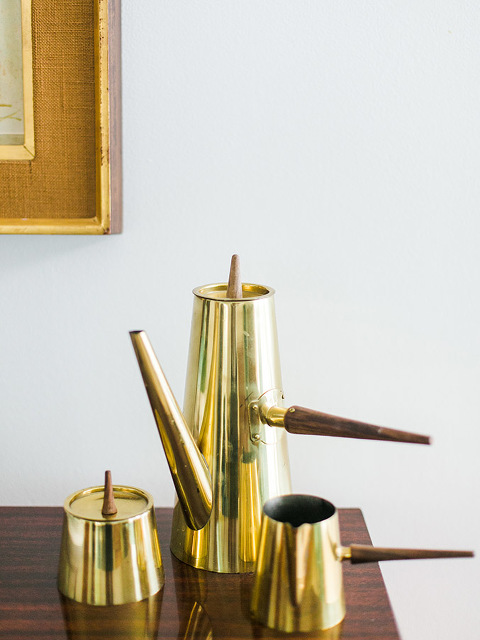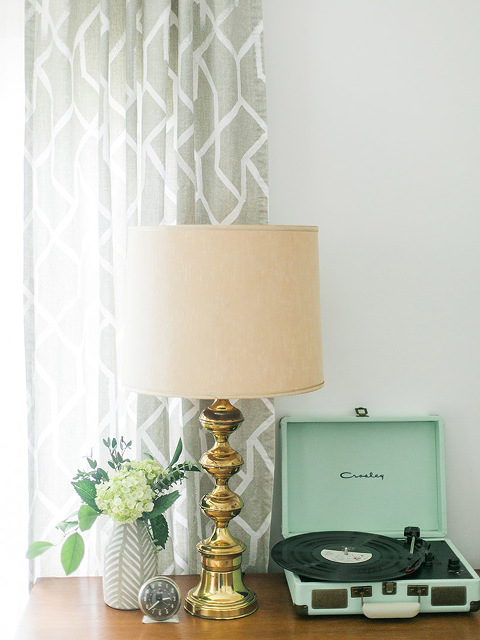 So, what do you think of the current look? Truth be told, I've already switched out the art you see there above the couch for a new collection, but I doubt you're surprised to hear that. I'm constantly making changes around our house, but I've always been that way—rearranging rooms on a whim, tweaking little tabletop vignettes here and there. It helps refresh rooms in our home without having to buy a ton of new stuff or completely redecorate. Are you the same way? I hope I'm not alone! Do tell in the comments below.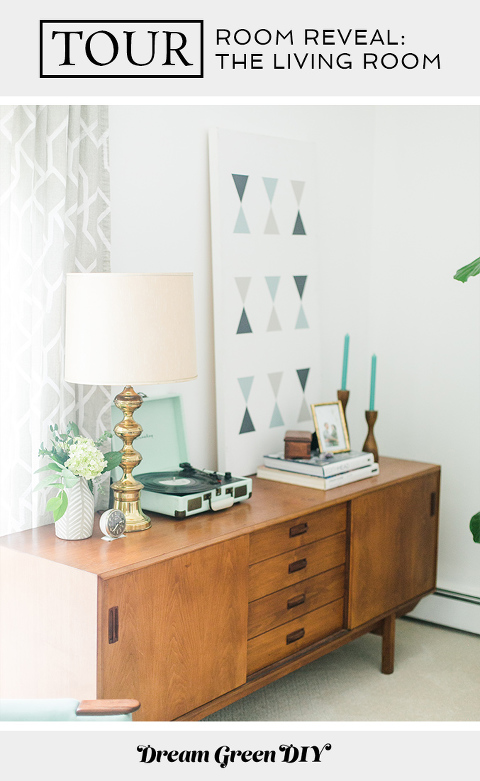 LIVING ROOM RESOURCES
Sofa: The White Pepper
Sofa Leather: Moore & Giles
Female Portrait: Minted
Blue Abstract: Minted
Horse Portrait: Minted
Plant Line Drawing: Minted
Side Table: Home Depot
White Table Lamp: Target
Carpet: Home Depot
Console Cabinet: Circa
Mint Record Player: Amazon (similar)
Triangle Painting: DIY
Large Side Chair: Galaxie Modern
Mint Side Chair Fabric: BuyFabrics.com
Reupholstery: Phil's Upholstery
Curtains: West Elm
Vase: Anthropologie (similar)
Magazine Basket: West Elm
Floor Pot: Modernica
Marble & Gold Table Lamp: West Elm
White Throw Blanket: Meridian
Framed Female Portrait:  Stuarts Draft Antique Mall
Small Side Chair: Estates & Consignments
Side Chair Leather: Moore & Giles
Bar Cabinet: Queen City Marketplace
Tile Coffee Table: Covesville Antiques
*Photos by Carrie Coleman; I earn a small percentage from purchases made by the affiliate links above. Affiliate links are not sponsored. You can rest assured that I would NEVER recommend a product that I don't use and love myself!