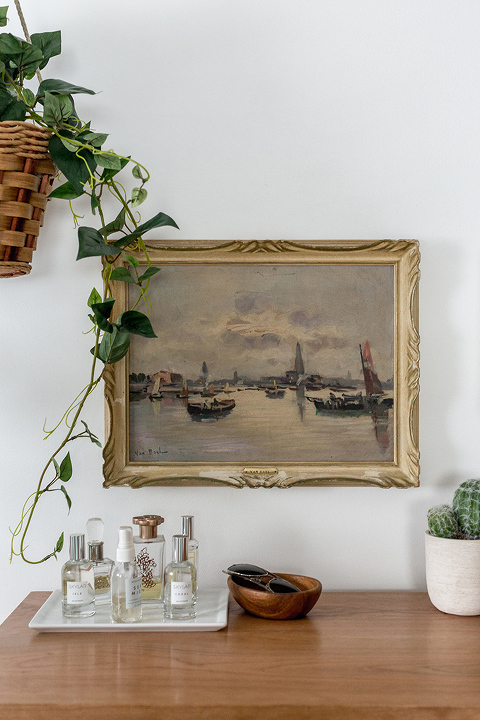 Week 1 | Week 2 | Week 3 | Week 4 | Week 5 | Week 6
Welcome to 'Week 5' of the One Room Challenge! If you need to catch up with this 6-week project, feel free to click those links above, although you'll notice that the 'Week 6' link isn't active yet since the reveal doesn't go live until next week. Today, I'm sharing a few quick sneak peeks of the art and lighting we chose for the room. A lot of it we already had on hand, which helped us save a ton of money, but we also took this project as an excuse to refurbish one piece in particular that had been lying half-finished in our basement for years—yes, years.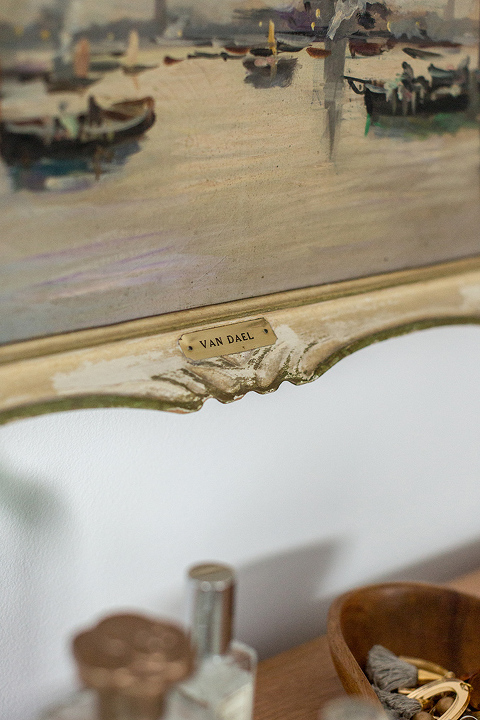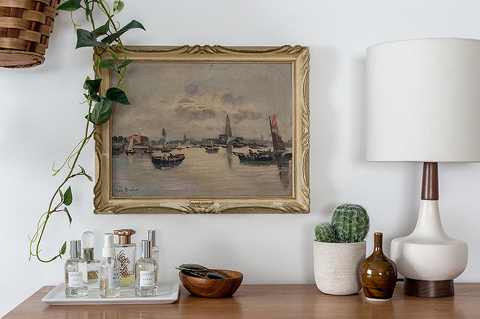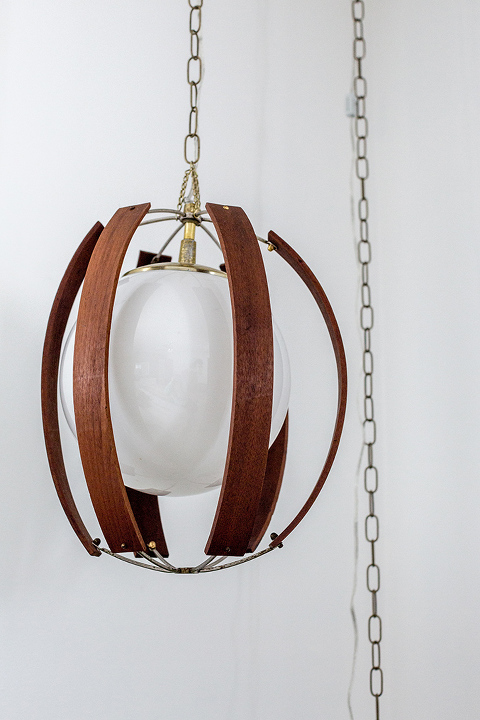 The hanging light you see above has actually been in our collection since we moved into town in 2015. I purchased it for $65 from a secondhand store in Charlottesville thinking I'd be able to find the perfect spot for the light after we got settled and all unpacked. Well, as it turns out, I should have taken my time getting to know our new house before purchasing anything new because there really wasn't a great place to put the hard-wired pendant light.
Late last year I went so far as to put the light in my car to take to Goodwill, but I never did have the heart to hand it over for donation. The cool mid-century shape and unique brass and wood finishes really stole my heart. So, I did what I always do when I'm ready to throw my hands up in defeat over a project: I begged my dad for help.
It took him a few weeks to get the lamp all sorted out (and, I think, quite a bit of stress…sorry, Dad!), but he really managed to bring it back to life. He gave it a deep, thorough clean, and he also reworked the fixture so that it went from a hard-wired light to a plug-in pendant. All I needed to do afterward was hang it from the ceiling to finish, and now we're in love with how it looks swinging in the corner of our bedroom. I'm so excited for you to see it in the full reveal next week.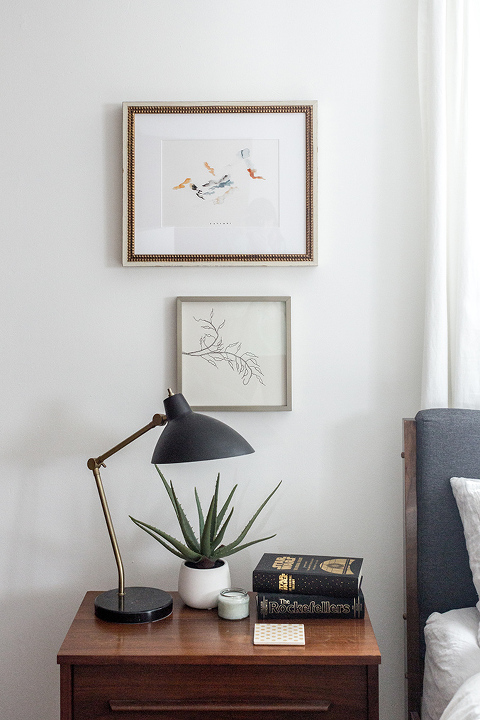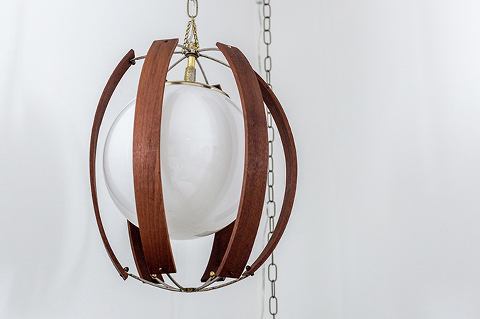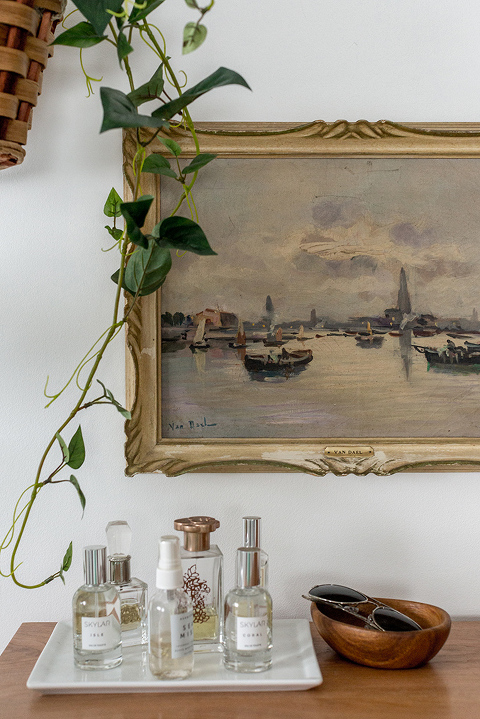 Now, how about that art? The vintage framed painting you see here is a $50 piece I picked up at the Williamsburg Antique Mall the last time I was in town. I haven't mentioned it here on the blog yet because I was looking for the perfect place to hang it, and that turned out to be right above my dresser. My sister isn't a big fan of the frame, but I love how it feels sort of 1950s—like you'd see it in the sitting room of a home like the one in Father of the Bride. The small engraved artist's name on the bottom is another favorite detail that makes me want to keep the painting and frame together forever.
The other pieces in the room are in the same sketchy, abstract style—a watercolor (that's, unfortunately, no longer available online, but is by this artist in case you'd like to know), an oversized abstract pulled from my office, and a leafy line drawing that was once up in our living room. Keeping our art collection down to just four framed pieces is a new record for me, but our brand new faux paneling really deserves to steal the show anyway.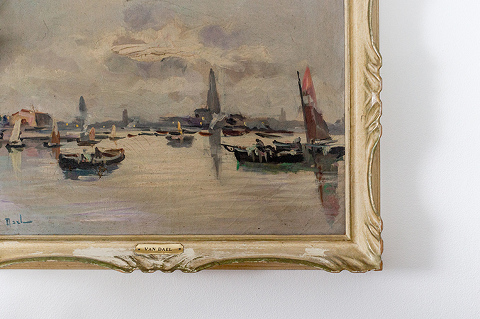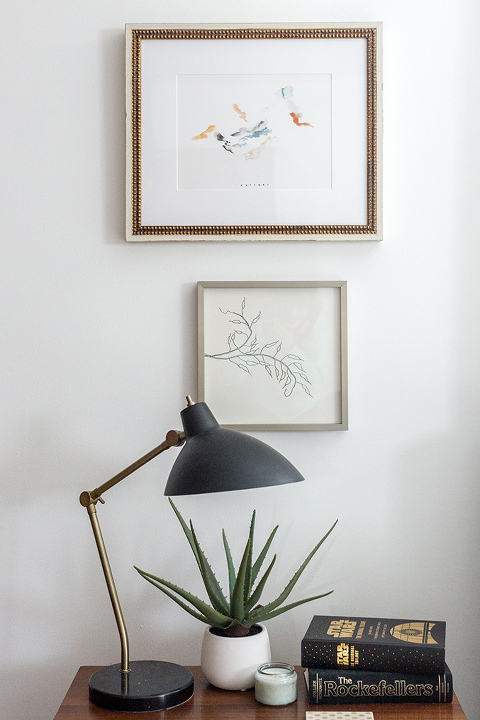 Feel free to leave your thoughts about our progress in the comments below, and then hop over to the One Room Challenge event website hosted by Linda, of Calling It Home, for more design inspiration from my fellow guest participants. I also wanted to mention that I found a way to give you guys the opportunity to see the room before the reveal goes live on the blog next Thursday. Click here to sign up for the Dream Green DIY newsletter, and then keep an eye on your inbox next Wednesday for an exclusive pre-tour of the space. I can't wait for you to see!