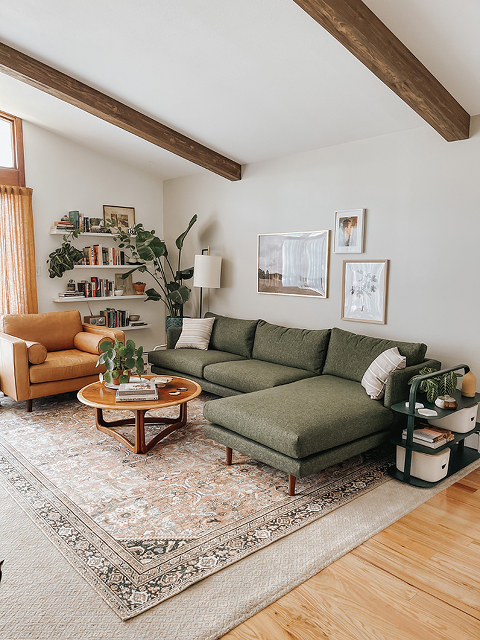 *This post was sponsored by Article. All opinions are my own.
It's finally time to reveal our fully made-over living room with Article! If you need to catch up on this project, click back to Week One here, and Week Two here, but the short version of this tale is that we decided to update the furniture in our living room to give us a better view of the television.
It probably seems like I'm jumping through an awful lot of hoops all in the name of a TV. I swear that we're not the type of people to waste our lives away in front of the tube, but we do enjoy watching shows and movies throughout the week as a little escape from the day-to-day. Who doesn't?! I also love watching quick 15-minute YouTube episodes during lunch, and since the chaise on our existing sectional had been about as far from the TV as possible, I would often find myself sitting on the floor to tune in during my mid-day break.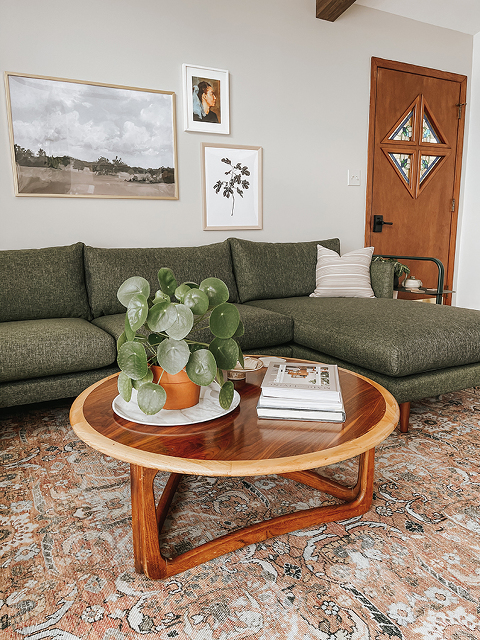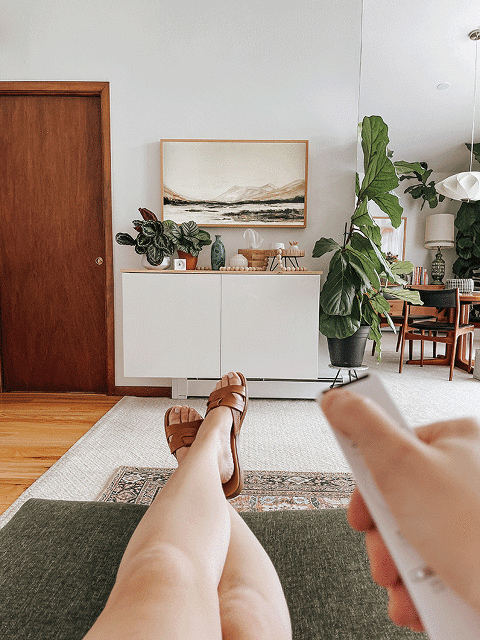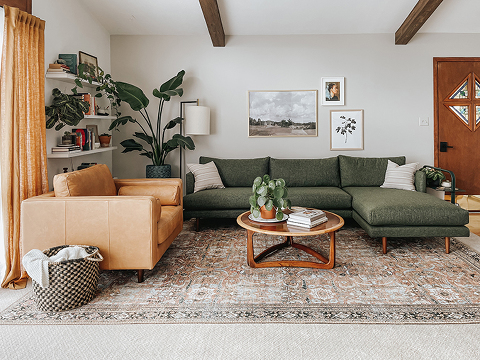 Anyway, it was worth it for us to replace our existing Sven Briar Gray Left Sectional from Article with one that had the chaise on the correct side. If you caught last week's update, you know that we moved our old couch to the guest room to create a lounge in there, and this week I'm sharing the full reveal (and review!) of the new furniture in our main living space, complete with its new Burrard Forest Green Right Sectional and Sven Charme Tan Leather Chair.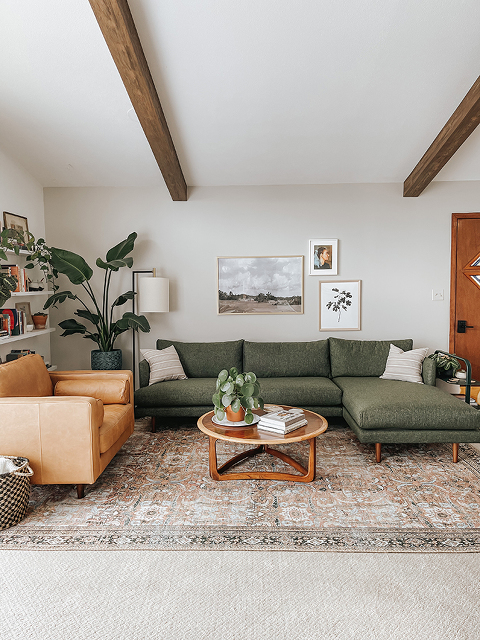 Do you remember the original mood board design that I shared during Week One's update? Well, I think it came out pretty darn close to exactly how I envisioned it! The beautiful Forest Green couch sets the tone for a space that's brimming with energizing color and personality, and I love how the new camel-colored leather chair complements the earthy palette of the space overall.
I put down a new rug that ties together the green color of the couch and the leather, too, and it also incorporates shades of dark gray and blue, which are tones you'll find all throughout our house. Every color in our living room ties back to something similar in a nearby space so that the room makes sense and feels cohesive in terms of our "big picture" design.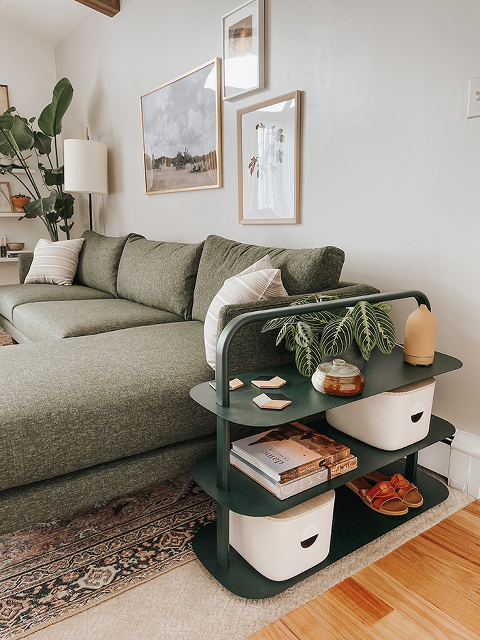 I brought back our existing round vintage coffee table, and decided this makeover was a good chance to put our old photo ledge in storage to make way for a more traditional gallery wall of art. I'll be sure to link up a breakdown of all the resources in the room in the coming weeks, but for today, it's all about that gorgeous Article furniture.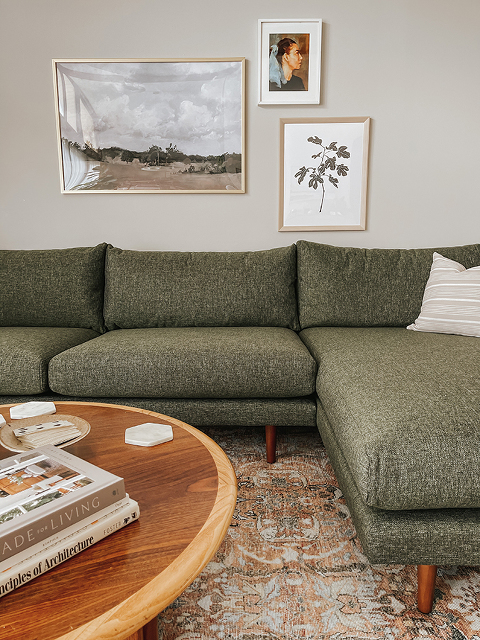 Burrard Sectional
As with any major furniture order, I did lots of research beforehand. I looked up reviews on the Article website, and also on a variety of other personal blogs and YouTube channels. I definitely agree with everything that was said in those reviews now that I've had a chance to try the Burrard Forest Green Right Sectional out for myself, which means that you can count on consistency from Article. I really appreciate that as a customer!
The main thing I read online (besides the overwhelming votes for its gorgeous sleek design, of course) was that the cushions were on the firmer side right out of the box, but that they soften up over time. I've only had the couch for three weeks, but I can already attest to the truth behind that review. The cushions are firm, but they soften more and more each week.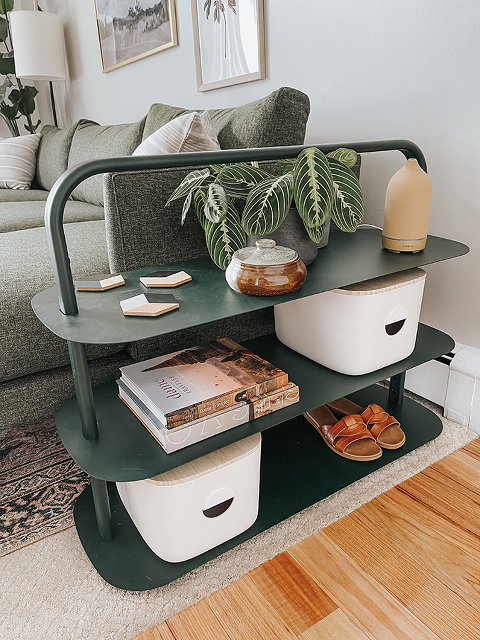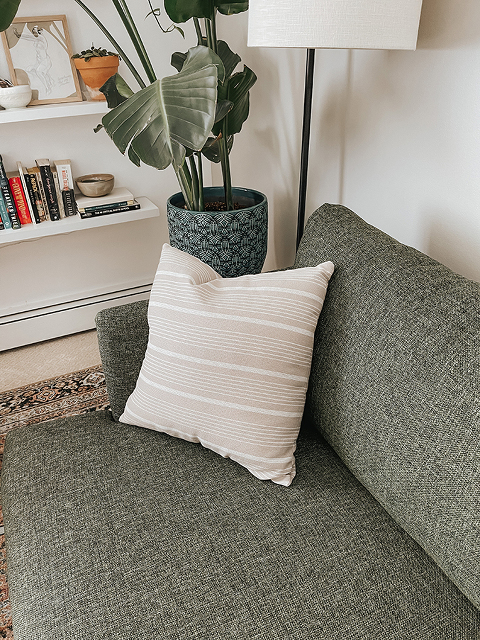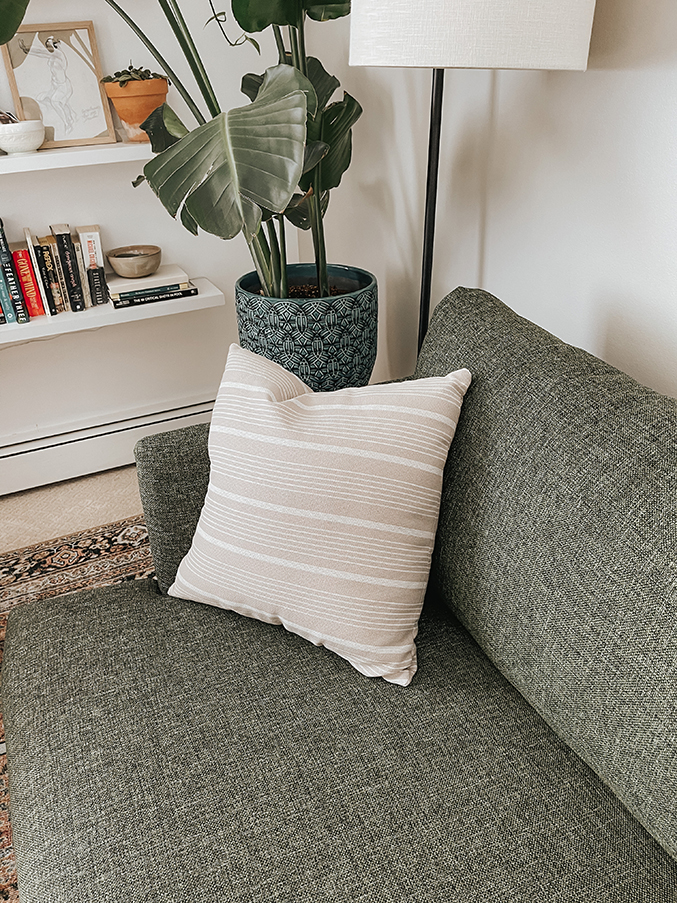 I will say that we are a family who actually prefers a firmer couch seat, so this is perfect for us! It's the ideal blend of support and softness, meaning you sink into it just enough to feel comfortable, but the cushions don't slump or lose their shape under you either. I've had cheap sofas in the past that were 100% uncomfortably firm. This is not that case at all. I'll be sure to share a 6-month update (I already have it scheduled in my editorial calendar) to explain how the "breaking in" process is going.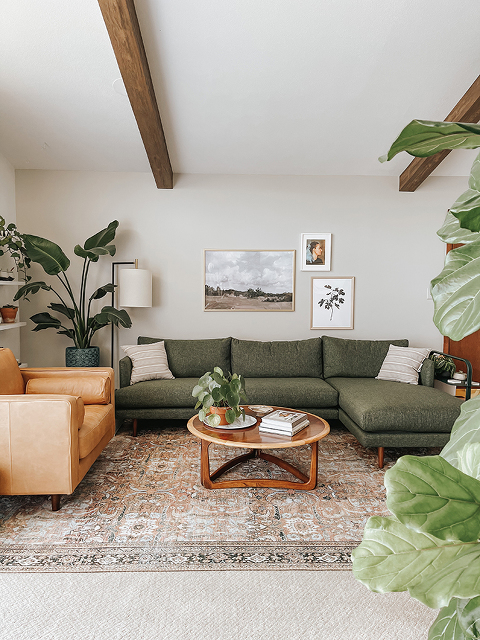 The design of the sofa really is a dream, though. I love the straight lines and how there's no tufting. The "no tufting" detail means that the cushion covers can actually be removed and cleaned, which is a major plus for us since we're pet owners. I read in the reviews that some pilling of the fabric is to be expected (especially where the cushions meet up), but a fabric shaver easily handles that. I'll update you on that in my 6-months-in post, too.
Overall, we're absolutely in love. The color is the perfect muted-yet-statement-making green, and the sleek mid-century design is right up our alley as well.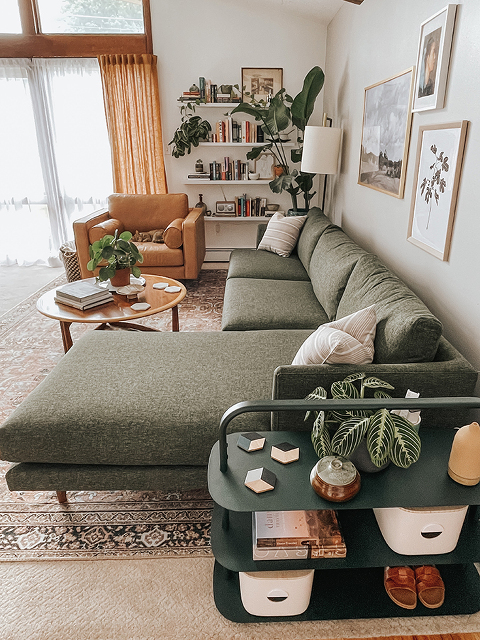 Sven Chair
You know we love our Sven Sectional, so it's no surprise that we absolutely adore our new Sven Charme Tan Leather Chair. I've seen so many other people with the leather version of our Sven Sectional, and I've always been a tinyyyy bit jealous. Now, I feel like we've sort of been able to join that camp with our new chair!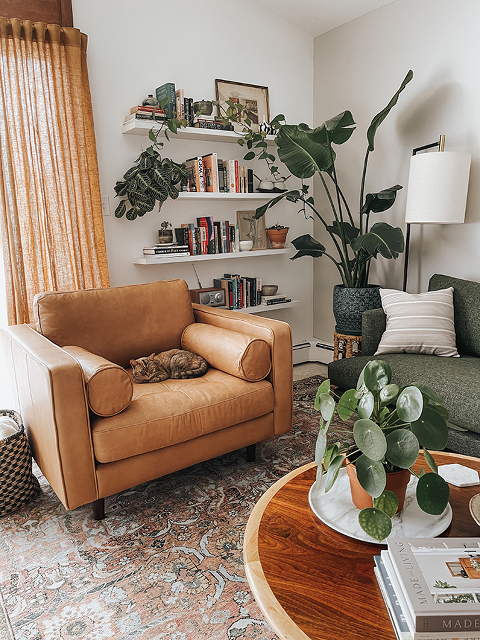 It's just as comfortable as our sectional, but the leather really is a cool contrast to the fabric of our couch. It's buttery soft straight out of the box, but I have a feeling that it's going to soften up even more over time. I will say that the dimensions of this chair are very generous, beefy even, which I appreciate because it means the chair is comfortable to lay in front-ways, back-ways, and side-ways. It's the perfect chair to have ahead of football season. I can't wait to lounge in it with a glass of wine when our favorite teams come back to the field this fall. I'm calling "dibs" right now!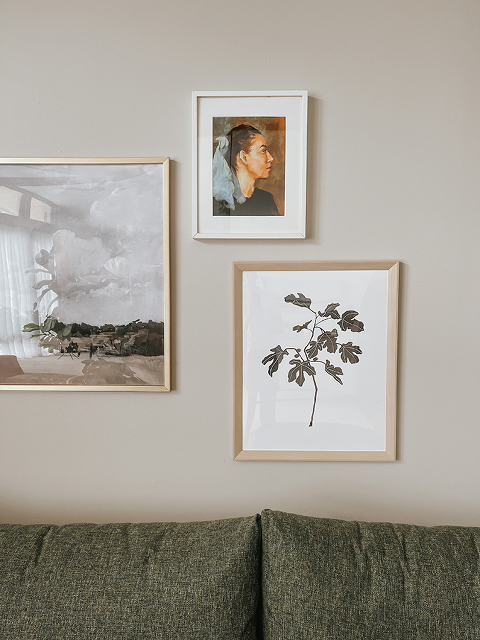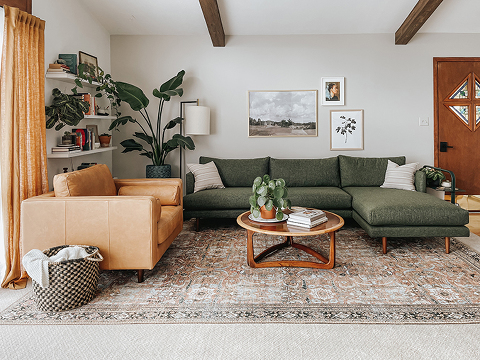 If you can't tell, we're just a little bit smitten with our new living room, and I'm happy to report that it's functioning like a dream. I'm so glad that we decided to take this project on in order to make the space work better for us. If there's some arrangement or piece of furniture that isn't quite working for you right now, consider this your challenge to do something about it. I guarantee you won't regret it.
Check back in six months for an updated review of our new sectional and chair as they both break in around our lifestyle, and big thanks to the team at Article for trusting my vision and motivations for this project. On to the next!
Psssst…Carrie here, coming to you from the future with my six-months-in review now that we've passed the milestone! Click here to read my updated review.