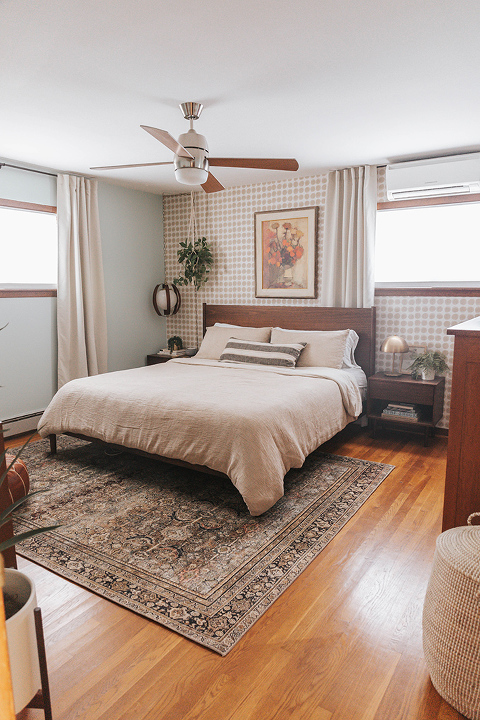 *Today's post was made possible by Loloi, and features gifted product for the purposes of a candid review. All opinions are my own.
I know, I know…How many times can one girl redecorate her bedroom?! Well, first of all, you should know by now that I love change when it comes to home décor, so no room is ever safe from a redesign. Secondly, I've just generally struggled with the design of our main bedroom. This eclectic mid-century space really has taken years to perfect, but I'm genuinely over-the-moon with the current iteration. A new calming aqua wall color, fun patterned wallpaper, plenty of thrifted accents, and my dream bedroom furniture combine to make this room a true oasis. Keep scrolling for the full story, plus a list of all the product resources I could find links for.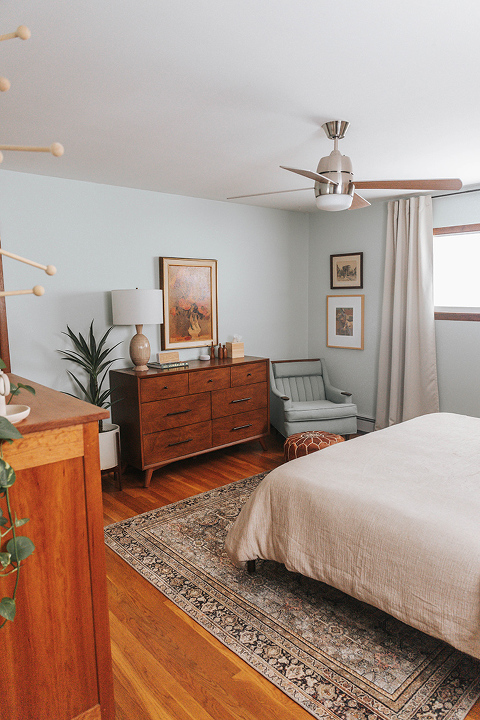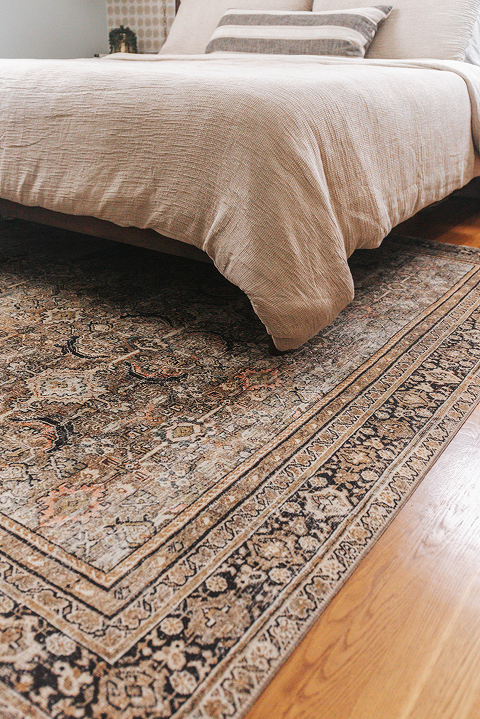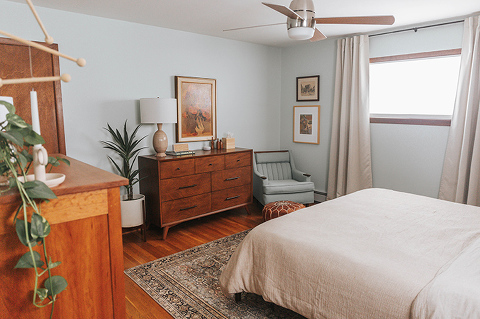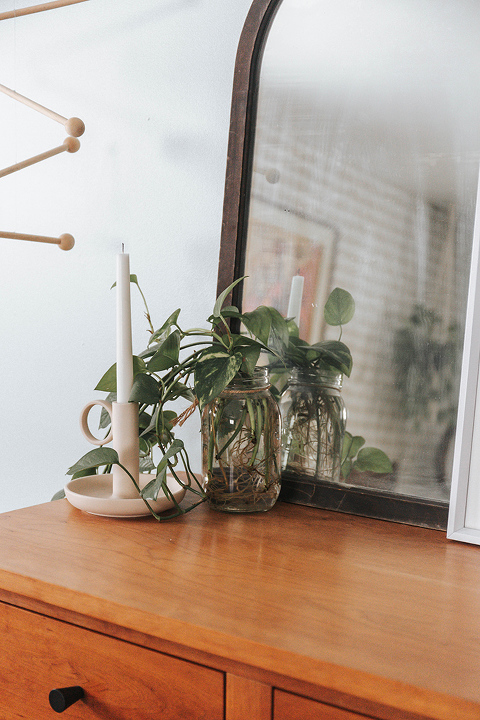 RESOURCES: Bed frame, Nightstands, Brass dome lamp, Oatmeal bedding, Lumbar pillow cover, Curtain panels, Area rug, Wallpaper, Two floral framed prints: vintage by Bernard Cathelin
This updated design hinges on a number of factors: the wallpaper, a refreshing blue/green wall color, and a new rug from Loloi. I've tried making this room look more minimal, and I've also gone "colorful boho," but neither one felt entirely right for us. The look I'm debuting today feels like the perfect middle ground between those aesthetics, plus it nicely incorporates our own natural instincts in design. There's plenty of color and pattern to enjoy, but it feels less trend-specific and more sophisticated. At least to me!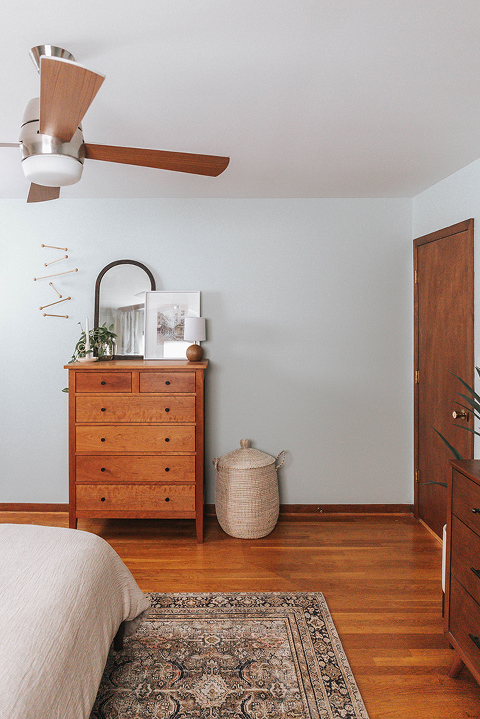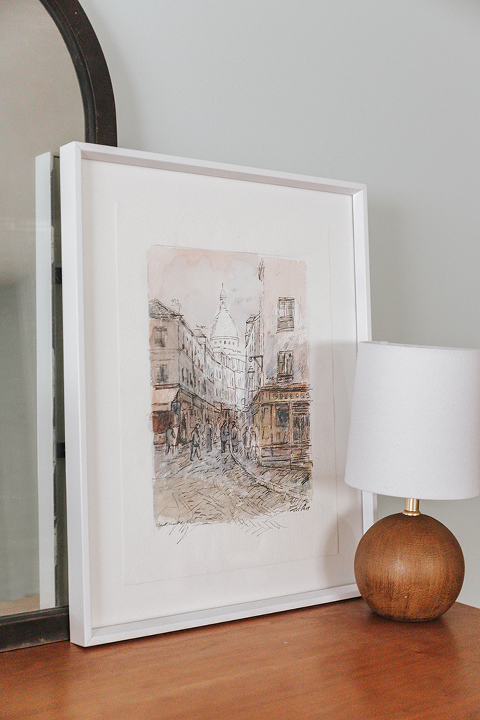 RESOURCES: Mini wood table lamp, Tall dresser: handmade, Similar tall dresser, Similar black arch mirror, Paint color, DIY Wood Mobile, Laundry basket
Instead of letting Pinterest and the Internet influence me, I tried really hard to only bring what we love into the space. Some things feel very "in vogue" this season, like the sleek, symmetrical wood furniture and modern lighting, but the art is something that I chose purely for love rather than using the pieces to fit some kind of home décor trend.
While unintentional, there's a bit of a Parisian theme with a lot of the art I decided to hang in the space, like the vintage city street print you see pictured below (in a frame that matches the wood tone of the furniture, you might have noticed!). The street scene framed and leaning on my tall dresser is an original painting my sister bought for me in France when she was there last December, and the two 1960s floral prints are by French artist, Bernard Cathelin. I chose those specifically because I love the way the orange/red tones complement the bluish green wall color. The piece above our bed also helps break up the somewhat wild pattern of our peel-and-stick wallpaper.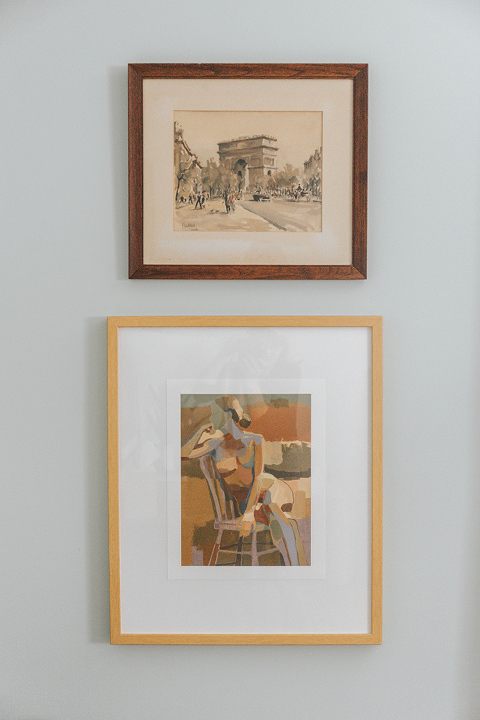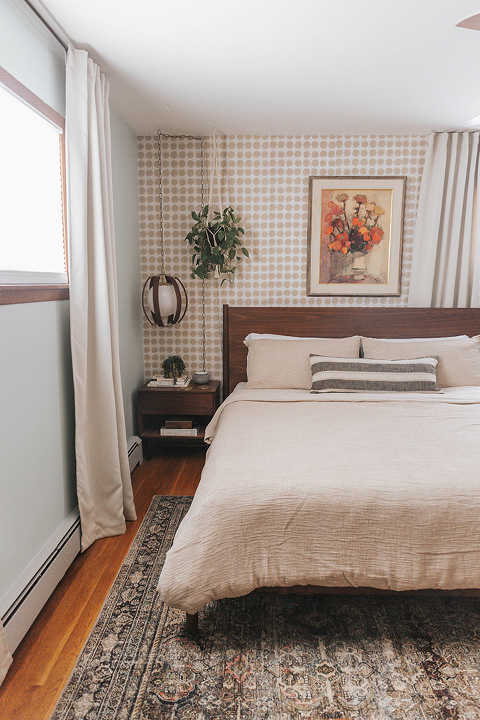 Another piece I have to point out is our new area rug. It's the Layla area rug in Olive / Charcoal from Loloi, and is definitely a new favorite in our collection. John, especially, really loves this piece. When we unrolled it, I was a little unsure about how the colors in the rug went with the paint color and wallpaper (this was before we had the art in place), but his excitement won me over. Once we had the art hung up, it all came together so perfectly, and I'm glad I decided to defer to his instinct.
It's another one of Loloi's flat printed designs, which means it's made to look vintage but without the hassle. The flat texture is so easy to spot clean and vacuum (that's essential for us as pet owners) and it's super cushy under-foot, too. The colors in this rug really are kind of stunning. It has lots of charcoal, olive green, burnt orange, and navy in it, but you'll also find shades of pale pink and aqua blue, which looks so nice beside our "Mist On The Moors" wall color.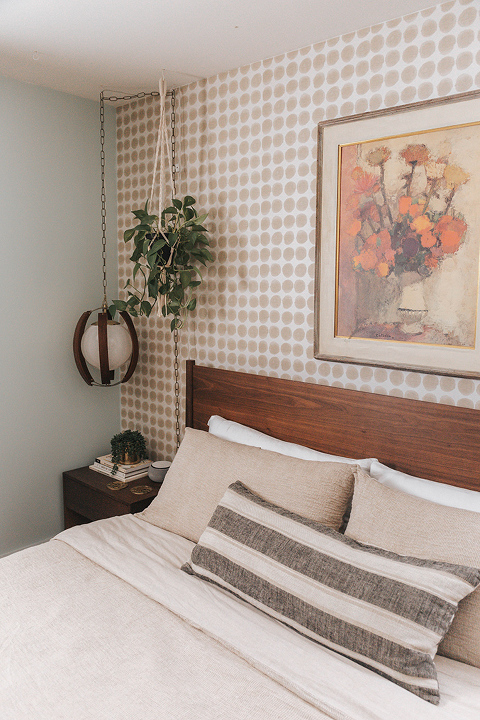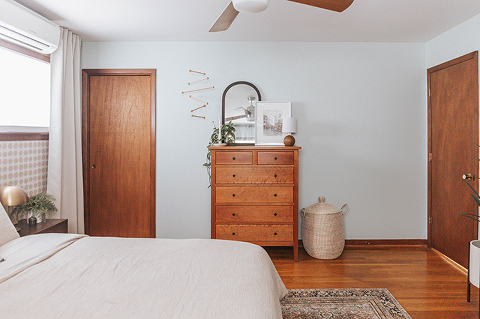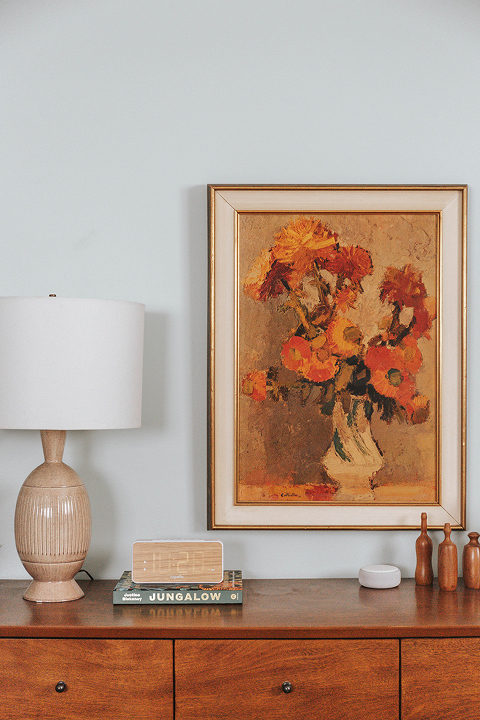 RESOURCES: Low dresser, Figure painting print, Two Paris art pieces: vintage/original, Blue side chair: vintage from Galaxie Modern, Leather pouf, Ceramic dresser table lamp: thrifted, Mid-century floor planter, Faux plant
There's obviously no guarantee that the room will look like this forever, but I'm feeling so much more settled with the design now. It makes me happy everyday to wake up in this space. There's so much to look at when I'm laying in bed, and most of it brings up fond memories and makes me think of special people and places I love. Yes, everything was chosen strategically to fit our home's color palette, but the pieces were also picked because they feel most like "us." I think this room makeover proves that balancing décor choices from both camps (function and sentiment) is essential for a happy final result.
Let me know about your favorite part of the room in the comments, and shout if you have any questions about something we added to the space (or maybe something we left out?). I'm always open to continuing the conversation in the comments section, so speak up! I also put together a new YouTube video tour of this room, which you can watch in this post by scrolling back up a little bit, or hopping over to YouTube here. I'm trying to be more active on my channel this year, so your likes/comments/subscriptions will show me that you'd like to see more. Thanks, as always, for following along!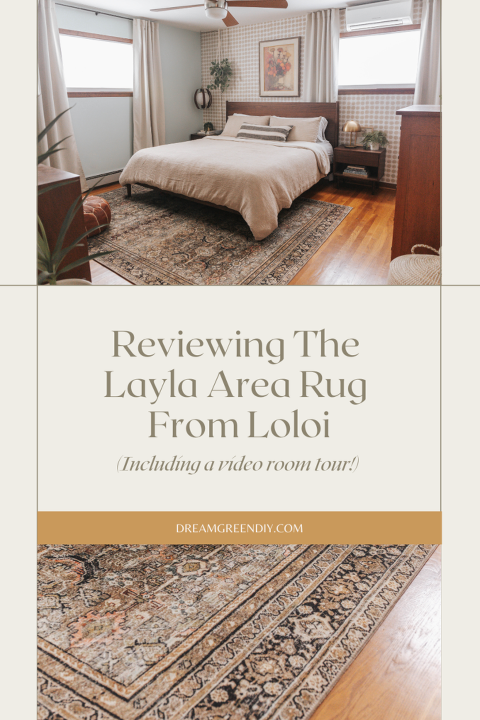 *I earn a small percentage from purchases made using the affiliate links above. Affiliate links are not sponsored. Rest assured that I never recommend products we wouldn't use or don't already love ourselves.