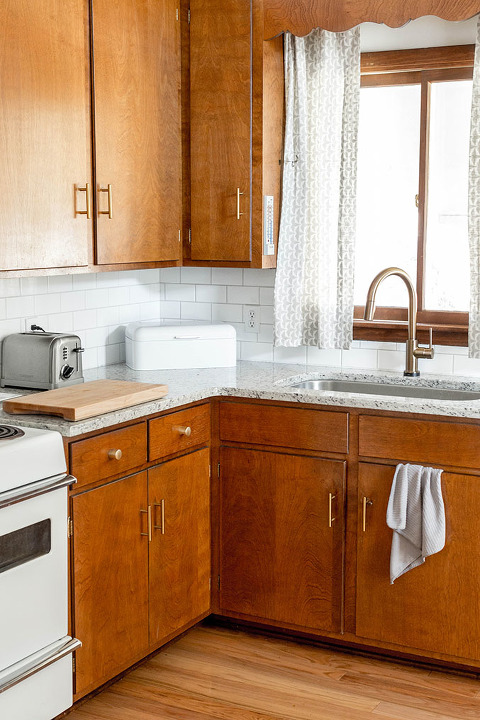 Probably one of the worst things about renovating a home when you're on a tight budget is how looooooong it takes. Each update has to be painstakingly saved for and only then does the research phase kick in. We're talking hours, days, and sometimes even months spent looking at a variety of products and resources from all different brands, and then often times you've got contractors to coordinate on top of it all.
For that reason, our mid-century kitchen has been (and will continue to be) a work in progress for years to come. So far, we've updated the old formica counters with new granite, switched out the two-sided, too-shallow sink with an ultra deep version, added a gold faucet, and installed a white subway tile backsplash. We also removed wallpaper and repainted the space bright white.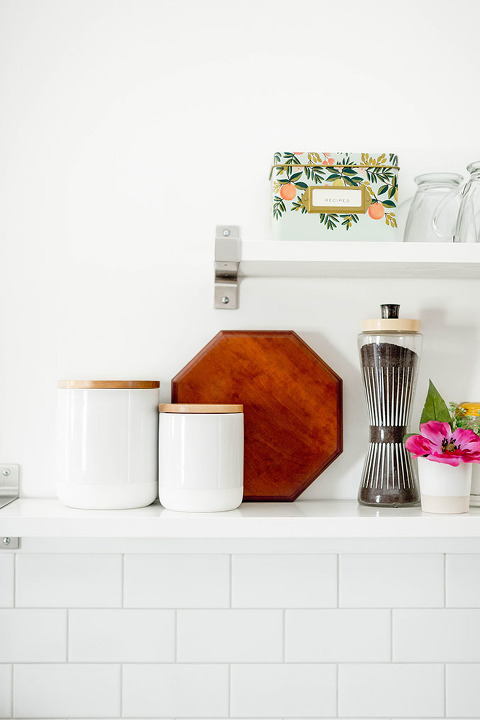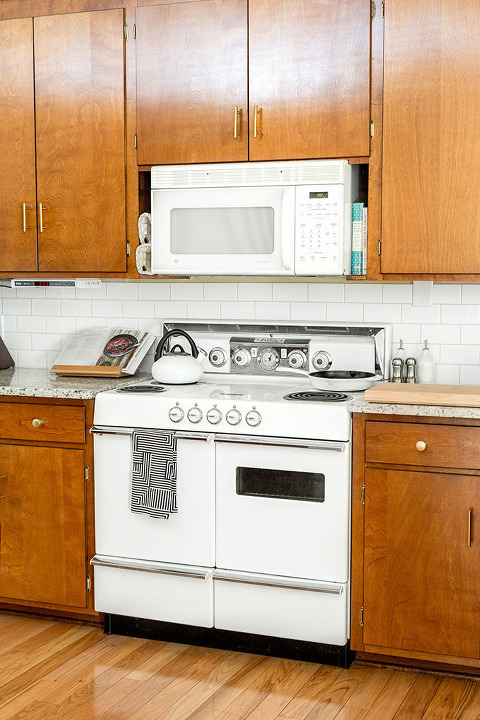 All of these changes helped to breathe new life into the retro space, so much so that I was able to use imaginary blinders to ignore the rest. But then I took over the Better Homes and Gardens Instagram account for the weekend, and this photo of our mid-progress kitchen sparked a heated discussion about how dated the space still looked.
Now, I'm not really one to pay much attention to bitter, inconsiderate people, but a few of the comments hit home, namely where the hardware and scrollwork over the sink were concerned. My dad is coming in a week to help me fix the scrollwork once and for all, and John and I recently took care of a hardware update so that we could all feel a little more satisfied with this DIY reno.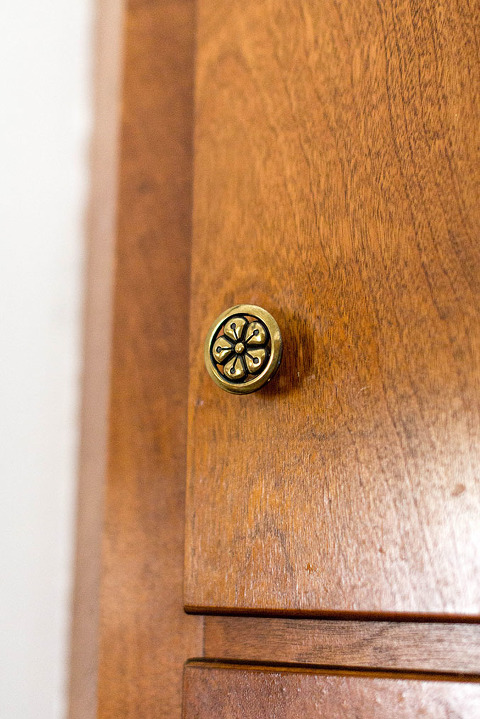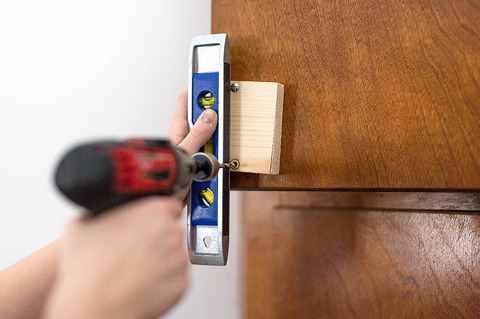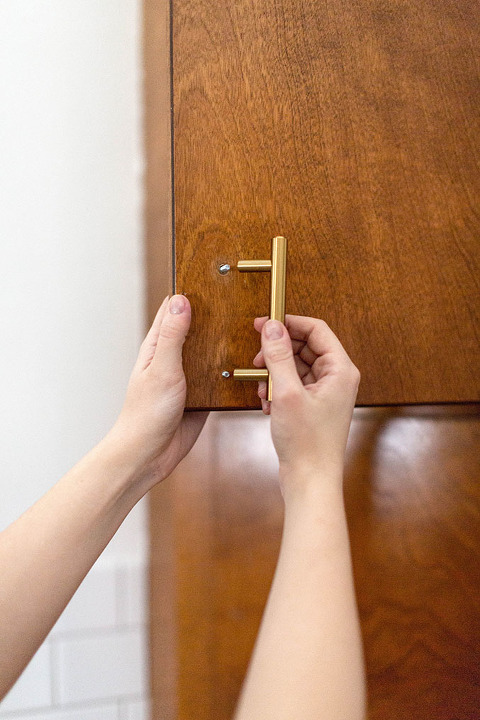 The original brass hardware (which you can see in detail pictured a few images up) was, in my opinion, really cute, what with its pretty cut-out flower design, but this kitchen makeover needed something a little more modern, and a little heftier to feel balanced. So, we packaged up the old hardware to sell or re-home somewhere else in the house, and started the process of screwing in brand new brass hardware.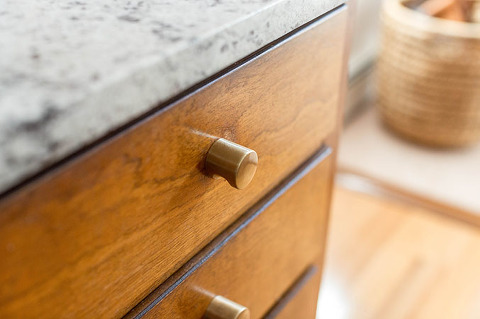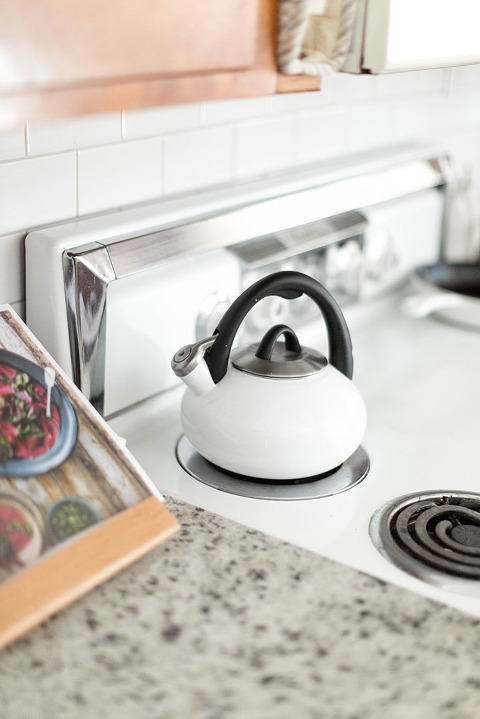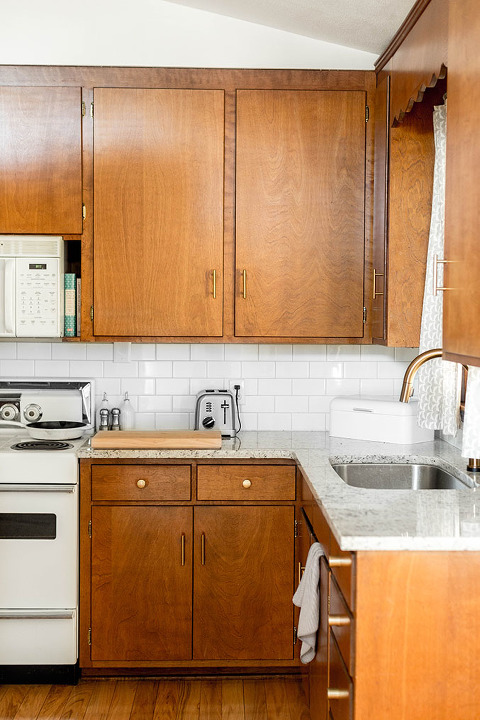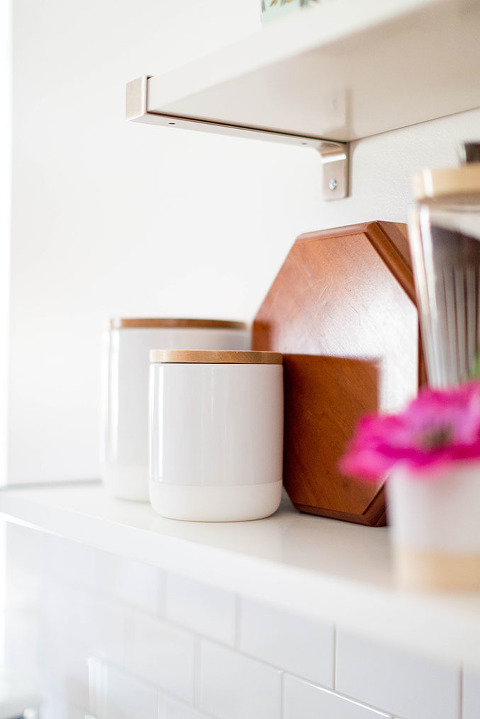 The new cabinet and drawer pulls came from Etsy, via a shop called Forge Hardware Studio. To punch up the personality in our kitchen, we ultimately decided to combine two kinds of hardware silhouettes. For the drawers, we chose single-screw brushed brass round knobs, and for the cabinet doors, we went with 3-inch pulls, again in brushed brass. The total came to about $200 for everything, which seemed like a great deal for such a major upgrade, especially with the large number of cabinets and drawers we have.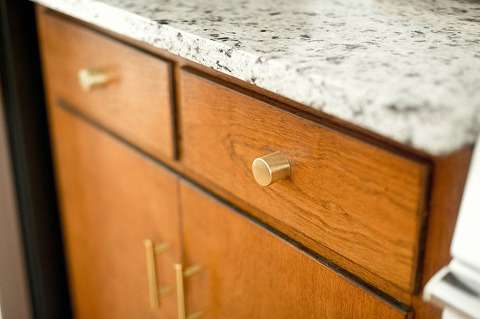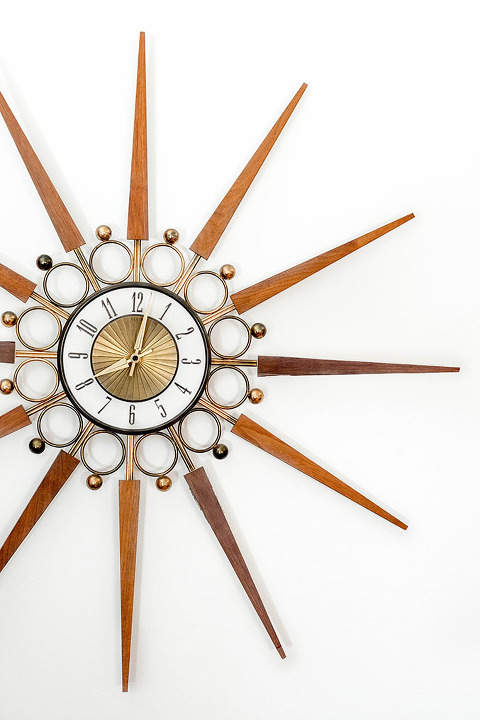 Although a lot of commenters begged for us to paint the cabinets, I'm sorry to disappoint. There's absolutely no way that I will be painting over that gorgeous original wood. Maybe it's more obvious in person, but the grain is pure art, and I could never forgive myself for ruining that. So, new hardware will have to do, and happily, it's all the upgrade we need to feel satisfied.
What do you think of our little upgrade? In case you happened to notice, we also recently upgraded our old white fridge to a new stainless version! The tight space limited our options pretty much to one fridge, but we love the new look (it looks white because of the glare from the windows). All in all, this kitchen is well on its way to being our dream space. Now to tackle that scrollwork…