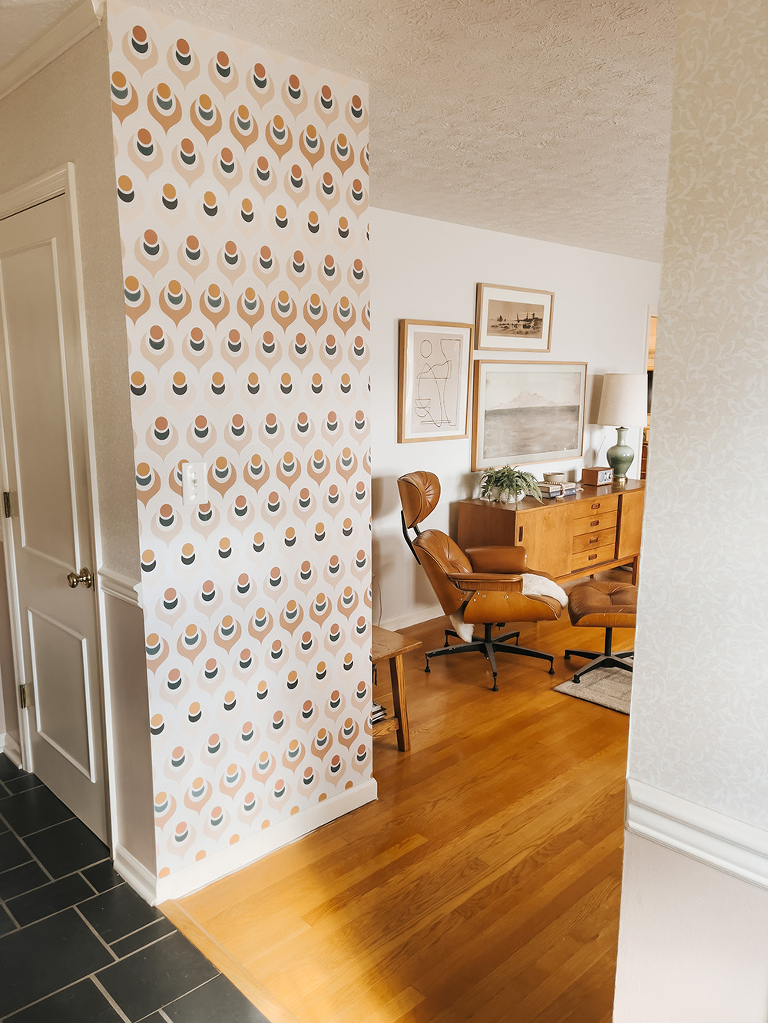 Paint has always been my favorite solution for changing the look of a room while on a budget, but I have to say that wallpaper is quickly climbing the spots on that list. Every time I tackle a DIY wallpapering project it gets easier, and I've come to actually enjoy the process (I can't say that about painting, which is a task I generally loathe). Wallpaper just has this amazing way of totally transforming a space with hardly any cleanup at all, and I've now amassed quite a collection of peel-and-stick patterns thanks to all of the projects I've done over the years.
This has created a slight problem, though. What do I do with leftover wallpaper scraps? Luckily, the brand that I almost always work with now (Fancy Walls) has a handy square footage calculator on their website so you can customize the amount of wallpaper you receive for any one project. This means that I don't usually end up with many scraps, but I'm still left with enough to wonder what I can do with it all. Keep scrolling to read the list of eight simple DIY crafts I came up with that make the most of inevitable leftover wallpaper.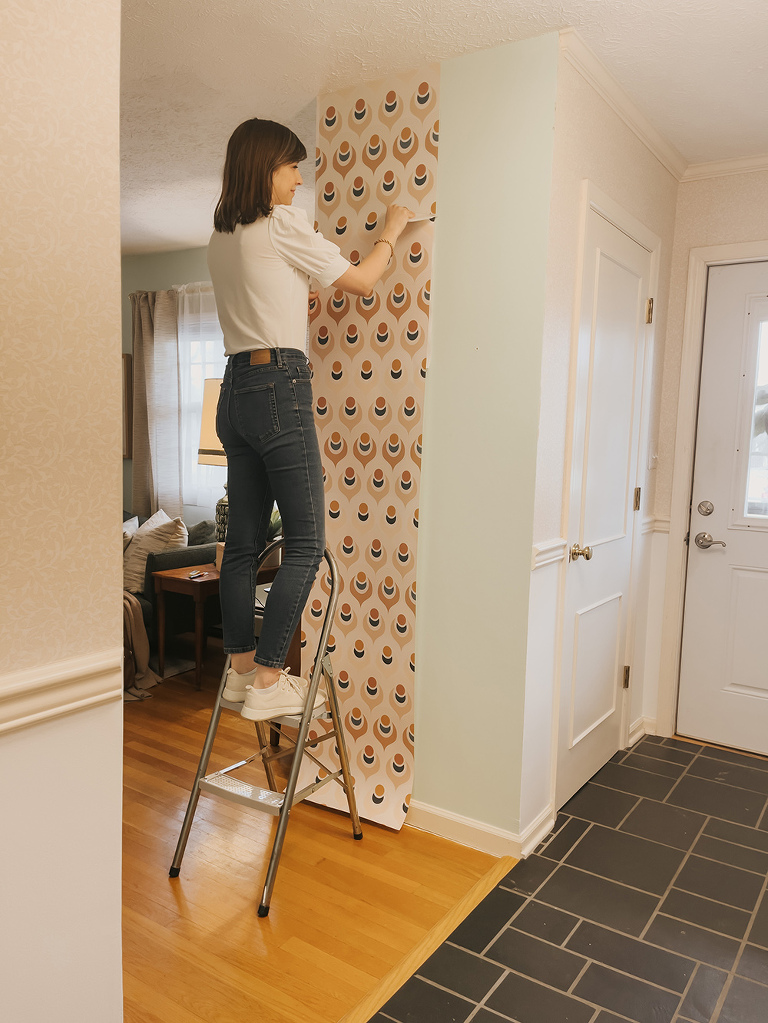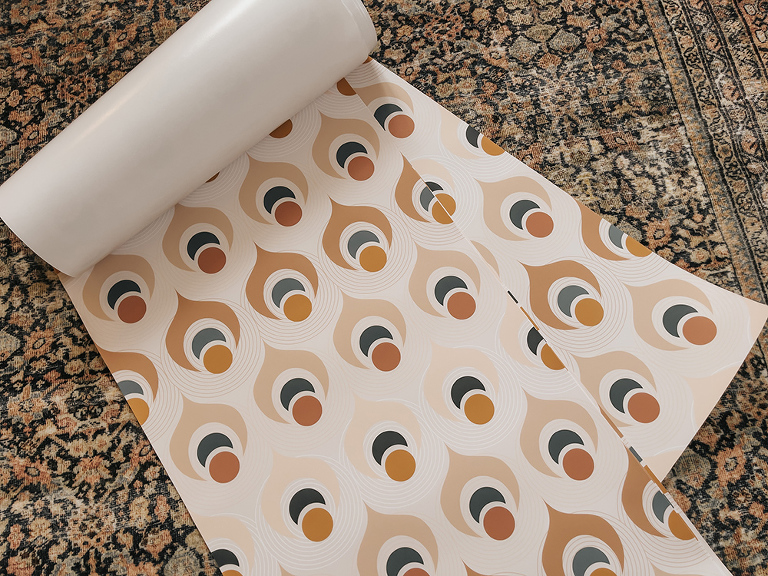 Peel-And-Stick Wallpaper DIY Crafts List:
1. Frame a scrap or two, that way you can turn them into colorful free art prints. You can see the way I framed a swatch in our kitchen (before we painted the cabinets) in the photo below. This is such an easy way to add color to your space, and you can probably do it without spending a dime if you happen to have an empty frame on hand.
2. Makeover a piece of furniture. I love the idea of putting larger strips of leftover wallpaper on the sides or drawer fronts of a dresser, or maybe on a side table tabletop with a piece of cut glass overtop to protect it. There are so many possibilities for furniture projects here!
3. I've used wallpaper scraps to line bathroom vanity drawers before, and that was such a simple yet impactful project. I would love to do this in our clothing dresser drawers next. Lining a tray is another similar way to make the most of scraps, as I proved here and here.
4. If you have enough, I love the idea of cutting a scrap to size just a little bit bigger than a bathroom mirror. Center the wallpaper behind where the mirror would go, and then rehang it in front. This will create a bold patterned "frame" around the mirror, making it a stand-out moment in your bathroom.
5. I'm really drawn to the look of ceiling medallions behind light fixtures, but they can be kind of pricey. What if you cut a wallpaper scrap down into a perfect circle, and installed it on the ceiling behind your light? It would create the look of a medallion without the added expense!
6. When I was in middle school, my friends and I took textbook covering very seriously. We used contact paper to wrap our textbooks, and we spent ages choosing just the right patterns and colors to use. Peel-and-stick wallpaper acts much the same way as contact paper, so I think it could be fun to cover some of my hardback books with a few fun patterns to give our bookshelves added personality.
7. Maybe for the holidays, you could host an ornament-making night with your friends! Purchase plain flat wooden or plastic ornaments from the craft store, and stick wallpaper scraps to the fronts, then hang them on your own Christmas tree or give them away as gifts.
8. Finally, I would love to try using my wallpaper scraps to add bands of color to my collection of planter pots, vases, and other vessels. This is such an easy way to make plain containers look more interesting and customized.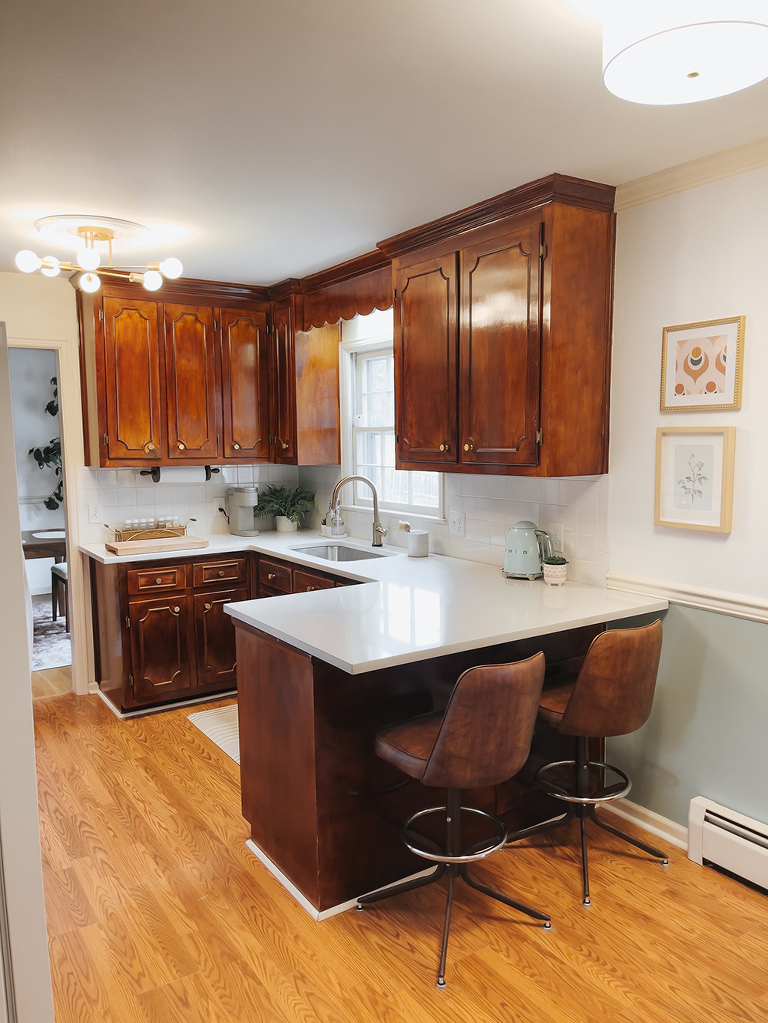 Do you have an idea or two of your own? Let us know in the comments! I'm sure there are so many projects that I didn't happen to think of and left off my list, so please share your creative ideas, too. And in case you're in need of larger scale wallpapering inspiration, here are links to my favorite projects to date: our dining room feature wall, the walls in our entryway, our bathroom wallpaper "tile" project, kitchen feature wall, refrigerator side panel makeover, wallpapered desk, updated closet interior, and bedroom feature wall.