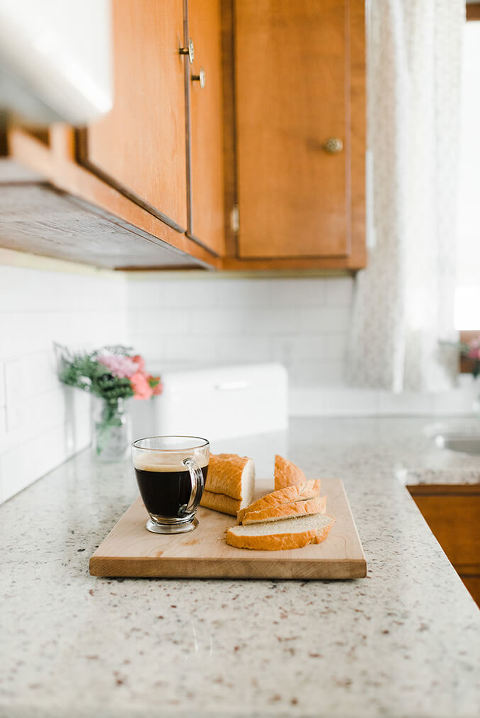 It has officially been a little over four months since we moved into our 1960s home, and things have come quite a long way since that day in October. Almost every single wall has been painted bright, bright white, furniture has settled and closets have been organized and reorganized, fixtures have been changed, and new lights have been hung. But one of the biggest changes of all has happened in our mid-century kitchen.
When we first started out, the space was the BAD sort of retro (think: dated counters, a shallow sink, floral wallpaper), but now things are feeling much more classic and the GOOD kind of retro. To mark the occasion, I invited my friend Andrea Pesce to come take some "After" photos for us and, today, I'm taking you through our updates, one piece at a time.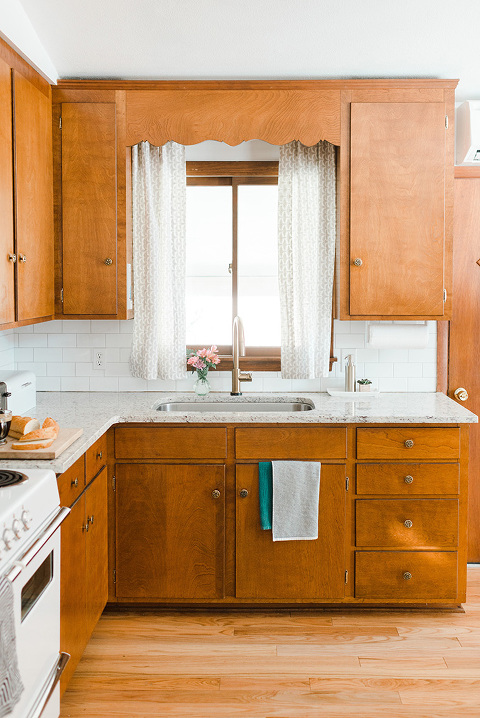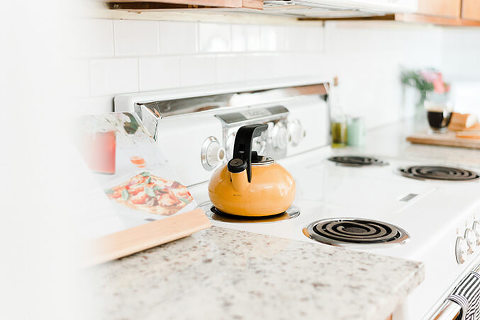 Let's start by rewinding all the way to the beginning. As I mentioned, almost immediately after moving in back in October, John and I went ahead and scheduled an appointment with a local granite countertop supplier so that we could take care of the old formica counters once and for all. For those of you who are local to the Waynesboro, Virginia, area, we worked with Goose Creek Granite, and they were a dream.
In just under a month, we had the old counters and pint-sized sink hauled away, with new gray/white granite counters in their place. The ultra-deep 10-inch sink that the Goose Creek Granite team installed for us was also a major upgrade, as was the Champagne Bronze Trinsic touch faucet from Delta that they put in.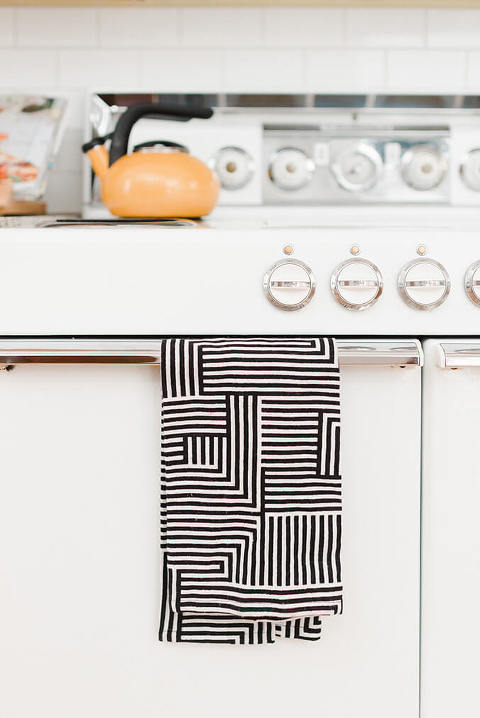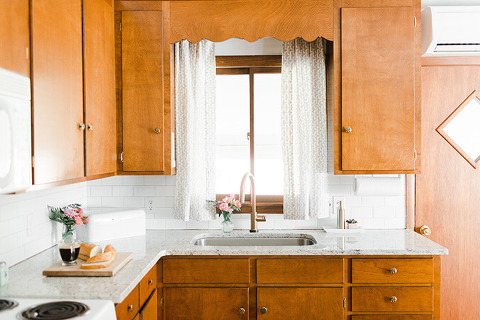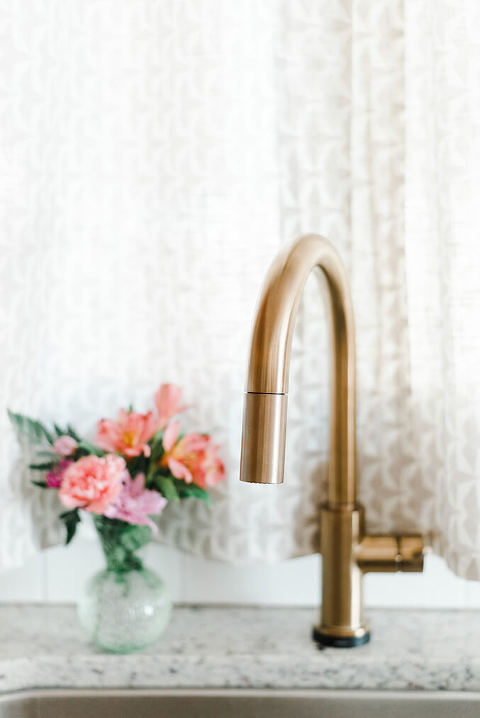 Aside from the counters and upgraded sink/faucet duo, the other major investment of time and energy was our new white subway tile backsplash. Since this was one of the main projects that we took on by ourselves, I'm saving that story for its very own post tomorrow, so keep an eye out for that in the morning, complete with "Before" pictures that will make your eyes hurt.
Happily, today, I'm just sharing the lovely, styled-for-the-Internet "After" photos. Let's just say that, in real life, we have not one, not two, but THREE different kinds of coffee makers out. We have an obsession—there's no denying that. But for now, here's our lone white Keurig coffee maker.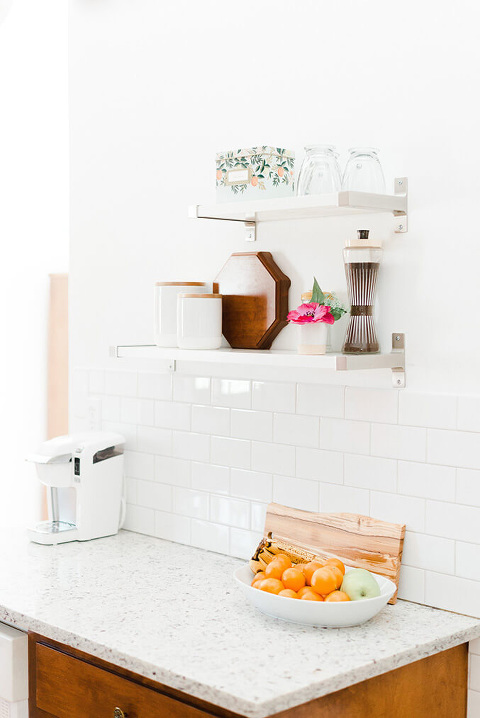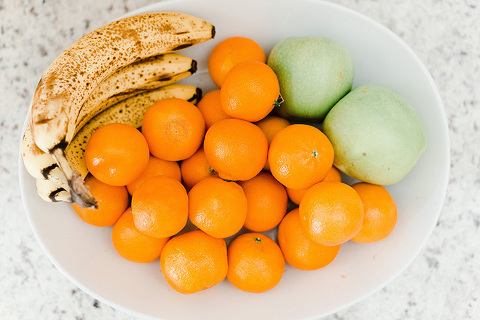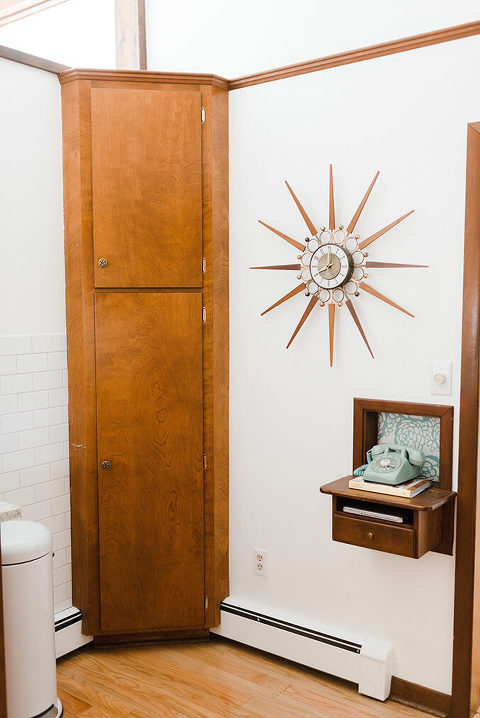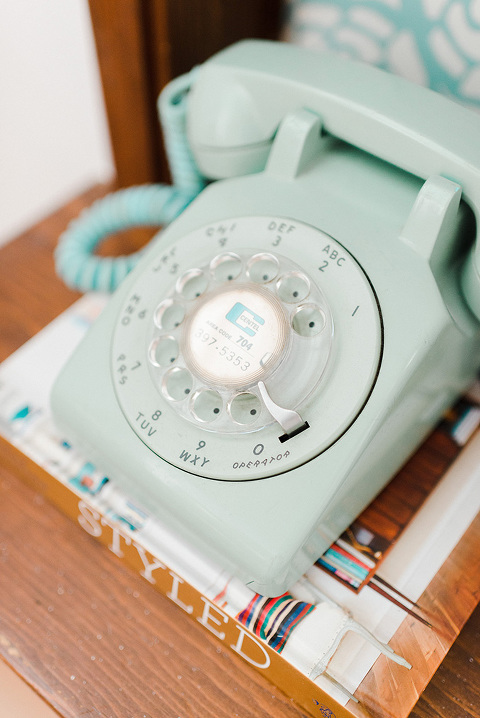 Although I'm head over heels for our updated kitchen and can see us enjoying it for at least 10 more years before touching a thing, part of me wonders if someday I might be itching to go the extra mile and paint the cabinets white, too.
What do you think? Would you leave them as-is? The original wood finish is beautiful, and I like that it matches the wood trim throughout the rest of the house (which I don't plan on painting), so maybe I should just leave it alone. Maybe some new hardware would do the trick? I'm also considering removing the scroll-y wooden piece over the sink, but am not sure how to tackle that without damaging the surrounding cabinetry.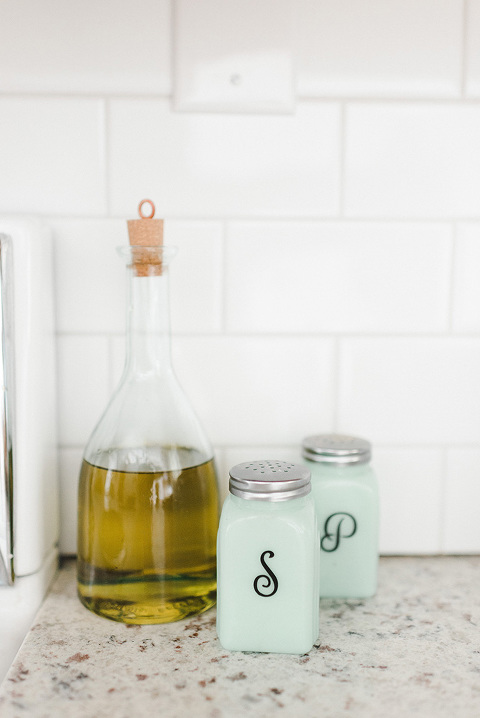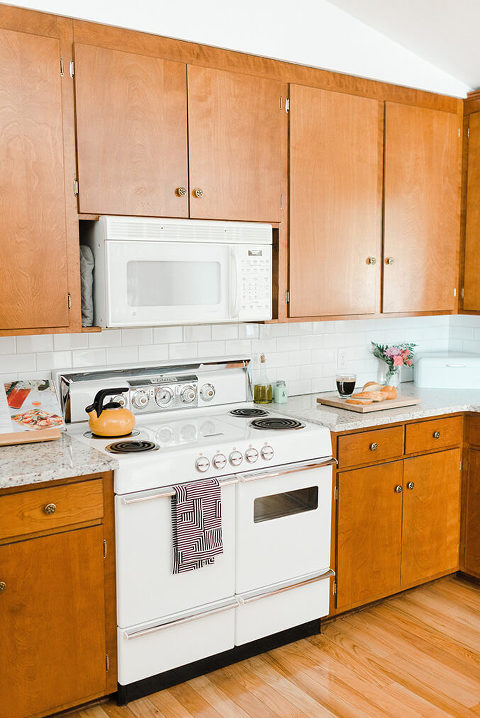 Like most things in our lives, it's all a work in progress, but for now, you'll find me leaning against our new counters with a cup of coffee in hand, drooling over the bright white surfaces and shades of lavender and gray throughout. Stay tuned tomorrow for the (long-winded) story behind our white subway tile project, complete with even more "After" photos!
RESOURCES
Bronze touch faucet // white subway tile // glass coffee mugs // wall shelves // granite counters // white bread box // recipe card box // raw edge cutting board // white oval fruit bowl // white Keurig coffee maker // curtains // gold soap pump // silk bud vase flower // white canisters // Styled, by Emily Henderson // wallpaper in phone cubby // white trash can // oil dispenser // cookbook stand // tea towel (similar) // tea kettle // geometric cutting board, starburst wall clock, telephone, mint salt & pepper shakers, and coffee container are all vintage or handmade)
(Photos by Andrea Pesce for Dream Green DIY)